When Dr. Paul McGaha read the 2015 Healthy Texas Babies Databook reporting Smith County as having one of the highest infant mortality rates in the state — and high numbers of women not receiving first trimester maternal health care — he asked himself, "How do we teach our moms to take care of themselves so they can teach their children to take care of themselves and change the trajectory of families for generations to come?"
McGaha is an associate professor and chairman of the Department of Community Health at the School of Community and Rural Health at The University of Texas Health Science Center at Tyler.
He knows that social determinants of health, the conditions of daily life such as where someone lives, what kind of job they have, their education, their economic status, social norms and political policies play a role in maternal and infant health problems in East Texas.
"Is your ZIP code a better predictor of your health than your genetic code?" he asks, "Yes, in most circumstances, it is. We're trying to mine down deeper into how we can improve those social determinants of health. Education is probably the biggest factor related to one's health status. The higher the level of education, the healthier that person is."
McGaha sees a future of separate health care systems — nonprofit organizations and individuals working together to achieve a common goal of improving birth outcomes and women's health in East Texas.
"We knew we needed to do something about those high infant mortality rates here," McGaha said. "I think state decision-makers knew we needed to do something too, especially among African American mothers who have a higher infant mortality rate. It's twice as high as the general population rate in most areas, not just Tyler."
Out of these talks it was decided to bring two national programs to Tyler under The University of Texas Health Science Center at Tyler — Parents as Teachers, a home visiting program that teaches moms and dads parenting skills and Nurse-Family Partnership, an income-based program for first-time expectant moms who are matched with a registered nurse for support through the child's second birthday. The center also partners with Tyler's three colleges for a peer preconception program.
In addition, leaders at The University of Texas Health Science Center at Tyler were approached by colleagues in Austin through Health and Family Services to start a program specific to those high infant mortality rates especially among African Americans, called the Healthy Families Program. Smith County and Hildalgo County were invested in to develop programs specifically to look at systems of care and how they can be improved to allow women to feel more welcomed into those systems of care. The programs encourage pregnant women to seek prenatal care earlier and to make the system more friendly and inviting to women. Out of these discussions came the idea to bring the national Centering Pregnancy program to Tyler.
McGaha is seeing first-hand what a partnership like this across health care systems looks like with the Centering Pregnancy program that started in December. It's a partnership between UT Health East Texas and Tyler Family Circle of Care that is funded by the Health and Human Services Commission in Austin. Centering Pregnancy is a different approach to prenatal care that focuses on group learning in a group setting.
"I think moving forward for community issues, you're going to see more thinking outside of the box type stuff," he said.
When Bianca Billops, 25, of Tyler, went to deliver her fifth child — a daughter named Peyton — Billops felt empowered, educated and confident about her birth plan because she was enrolled in Centering Pregnancy at Tyler Family Circle of Care.
Billops, who has anemia, was prepared for the possibility that she would need a blood transfusion because she had been tracking her health and knew she had low iron. She was able to communicate with her doctor and have paperwork filled out in case she needed it, and she did. She received two blood transfusions after delivery.
"I learned that my health during the pregnancy is important for my baby," she said.
Peyton is now 3 weeks old and Billops has completed the Centering Pregnancy program.
"You get a lot more information out of the Centering Pregnancy group sessions than you do at an office visit," Billops said.
Each cohort of women attend 10 two-hour sessions together. They have two facilitators, one doctor or nurse-practitioner and a medical assistant that works with them. At Centering Pregnancy, mothers are screened for depression and anxiety at every appointment. There's a counselor and a social worker on staff who can get moms plugged into counseling or to other resources such as the Andrew's Center or a psychiatrist.
Centering Pregnancy Prenatal Care at Tyler Family Circle of Care
Centering Pregnancy is a prenatal maternal health program that uses a support group setting to empower and educate women in their birth experiences. It's a partnership between UT Health East Texas and Tyler Family Circle of Care that is funded by the Health and Human Services Commission in Austin.
At the start of each session the women sign in, check their own blood pressure, record their own weight and see the doctor for a belly check and urine test if needed.
They place beads in cups to vote whether they are feeling good or bad about topics like relationships, stress, transportation, exercise or sleep.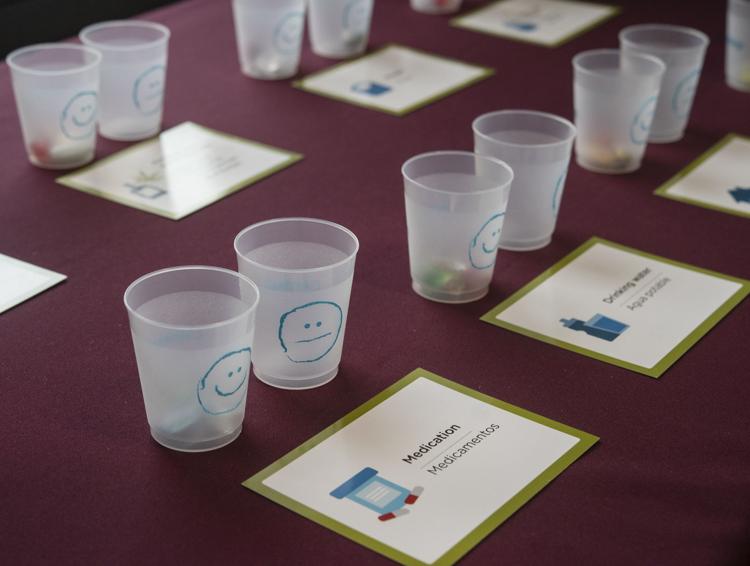 The topics and activities for each session are written out on the wall.
While the doctors facilitate the sessions, the group members lead the conversations. Each cohort of women can relate to each other because they are grouped by similar gestational age.
"We are able to rely on other people within the discussion so it empowers the women and it amplifies their voices," said Dr. Josephine Huffman, OB-GYN at Tyler Family Circle of Care. "I am loving it because I get to know people so much more than with a traditional prenatal appointment."
Family Circle of Care is a federally qualified health center. They take all patients, including those on Medicaid and patients who have no insurance.
"Our goal is for there to not be barriers to care," Huffman said.
Nurse Amy Bozeman and new mother Markya Batee, 20, exchange infants at Batee's Tyler apartment. Batee is handed a large baby doll with a clear skull with a model brain that jiggles inside when baby is bounced, thrown or swung. Bozeman gently holds Batee's daughter, 3-week-old Zhaiva Phillips.
As a client of Nurse-Family Partnership, Batee is learning about shaken baby syndrome at today's home visit.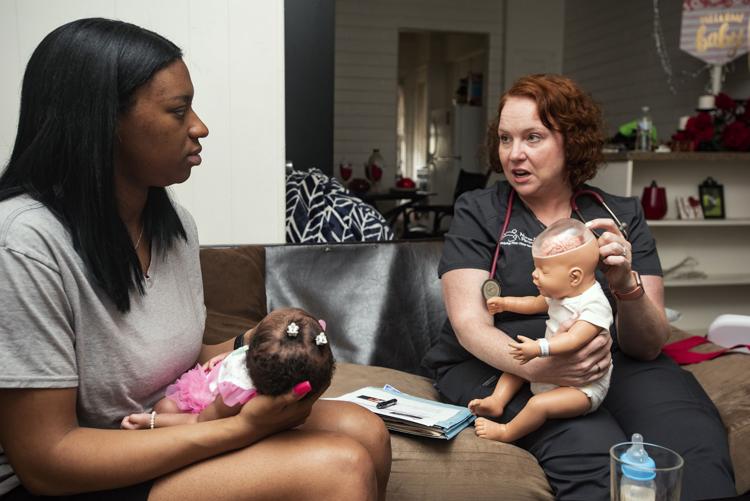 Nurse-Family Partnership, a service of The University of Texas Health Science Center at Tyler, is a national program that is designed to educate expectant women and families. Through this program, women who are first-time mothers are paired with a nurse who makes home visits.
When the nurses visit expectant moms, they make assessments on the mom's health, teach her to check her own blood pressure, and educate her on the danger signs of pregnancy.
"We try to help moms to learn how to read their body," Young said. "Because of the issues of preeclampsia and hypertension, each mom that we work with we give them a blood pressure cuff and teach them how to use it and track their blood pressure and take those readings into their doctors. We educate them on what's normal and what's not normal."
The program also hosts special events throughout the year to bring their clients together. For Mother's Day, they held a lunch event with speakers and vendors providing information on services such as pregnancy support groups and child nutrition.
Through a grant they were also able to host an infant CPR and choking class for their clients.