It's the name of a new class at Expectant Heart Pregnancy Resource Center and the first question CEO Shannel Newton asked when learning about the role doulas play in supporting women with pregnancies.
Doulas are nonmedical people who are trained to provide emotional and physical support services to expectant and postpartum women. Research shows that having a support person at a birth can provide a more positive birth experience for the mom and can lead to less medical interventions during the birth.
Newton was a teen mother, and had a negative birth experience.
"I dealt with the shame and all of the sadness that comes from being a teen mom and doing it on your own," Newton said. "I was 15 years old with a brand-new baby."
When Newton learned that Expectant Heart, which is in Longview, was eligible to provide doula care at no cost to their clients, she jumped on board.
Newton said that she, like many of the center's clients, came from a poverty mentality where doulas would be considered a luxury. She's proud to be able to now provide a service that she feels should be available for every woman carrying a child, not just for those who can afford it.
"Doulas provide support that a lot of people know that they need but are afraid of asking for, or they are unable to afford, or they're unable to even know that they need it," she said.
Newton said that mothers and women in general of any race or nationality are good at putting themselves behind other people and helping others but not focusing on themselves.
"We need someone who says, 'I'm here for mama.'" she said. "Not to take away from the dad or her mother or anyone else, but to really focus on the fact that oftentimes we as women get lost. The hospitals, with all due respect, have sometimes turned the labor process into a factory."
Newton and her staff want to make doula care a norm in Longview. They've started by educating their clients and the public about doulas.
Every month they have a class called Doula Who? The class exposes the clients to what a doula is, and afterward the clients can elect or decline free doula care.
The only qualifications to be a client at Expectant Heart is to be pregnant or have a child who is 3 years old or younger. The center is open to anyone who lives in Texas; it is not limited to Longview residents.
"We are part of the Texas Pregnancy Care Network," Newton said. "Anytime we are providing labor support or any type of support, it will allow us to be reimbursed for any type of counseling service we provide."
Started in 2012, Expectant Heart began as a place that offered free pregnancy tests and classes. Newton took over as CEO on April 1, 2014. Since 2012, it has grown from 44 clients to over 2,100 clients served since 2014. Plans are underway to reach more rural areas of East Texas with a satellite office in Mount Pleasant.
Services have expanded to include ultrasounds, doula care and a boutique where clients can earn points to go shopping for baby items.
Clients earn points in an "earn while you learn" system by attending classes, having a hospital visit, having face-to-face interaction with Expectant Heart staff, or talking on the phone with staff.
"It's a way for the parent to feel like they're not just accepting handouts," Newton said. "Clients can do the work they need to do for their babies and do it without any shame, which is what our goal is. We want our clients to have no shame in anything that they do, no matter how the baby was conceived."
Expectant Heart also helps families who are adopting as well as those in the Child Protective Services system.
They get community referrals from places like the Workforce Center, the Women, Infants and Children Program and Buckner International.
Newton said the women who sign up to take doula training at Expectant Heart are participating in an entrepreneurial opportunity.
"It's a dual benefit by having and hosting this training for the community. Our doulas-in-training can come and serve our clients that are in their community while getting the hours they need to get certified," Newton said.
Currently Expectant Heart is offering doula training, and women of all backgrounds, including Newton herself, are in the process of becoming DONA-certified.
The women in training now range in age from 20s to 50s and have varying life experiences. Many of the women decided to become doulas after their own negative birth experiences. Some have had miscarriages. Some have had abortions. Some have given their babies up for adoption. They all want to use their skills to be a birth advocate for others.
Teresa Peel, 52, of Daingerfield, had her first child her freshman year at Stephen F. Austin State University in 1987. She went into labor in her dorm room when she was 18.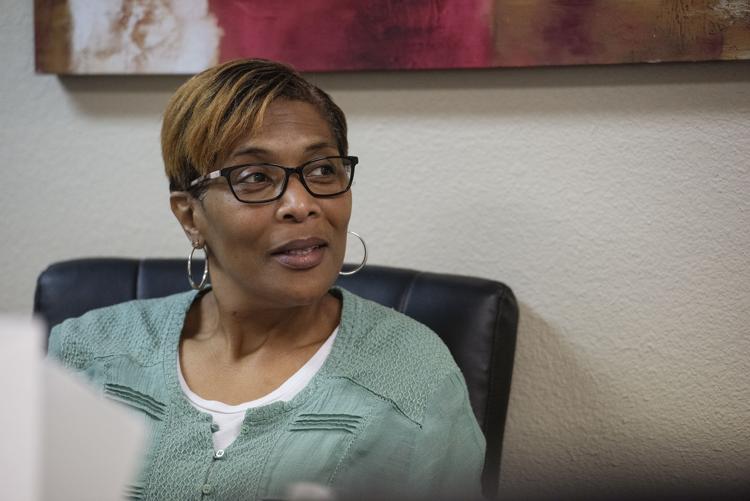 "I knew I was pregnant, but I was in denial," Peel said. "I didn't take a pregnancy test. I didn't see a doctor. I was embarrassed and scared. Getting pregnant can define who you are and who you're going to be, so I was a black dot on the family there for a minute."
Peel had not told anyone she was pregnant, including her parents. The day she went into labor she called her cousin, who was also a student at SFA. He took her to the hospital.
"In the process of my parents not knowing and no one knowing I was pregnant, the hospital inserted a person for me to give the child up to for adoption," Peel said. "But they hadn't said anything to me about it except to mention to me that adoption was an option, and that I could have the baby and just go on back to class."
Luckily, Peel's parents arrived shortly after the birth and were there to advocate for their daughter and new grandchild.
"They tried to make my parents believe that I had consented to the adoption," she said. "If my parents had arrived an hour later, the baby could have been gone."
Marissa Holt, 34, of Pittsburg, wants to become a doula because of the pressure she faced from her religious family when she got pregnant at 18.
"Christians are so pro-life, but they are also so judgmental," Holt said. "I want to tell people it's OK to be Christian and to have a child out of wedlock. Everything's going to be OK, and to decide to give your child up for adoption is also OK."
Casie Williamson, of Diana, found Expectant Heart when her daughter became pregnant and was considering giving the baby away or having an abortion for financial reasons.
"When she came to Expectant Heart for help, her perspective on her pregnancy changed," Williamson said "This is the only place where she feels she isn't being judged."
Angelia Gipson, 37, of Kilgore, has always been interested in work surrounding the medical field.
"I worked in a nursing home, and that's what gave me my passion to help," she said.
Gipson has had several miscarriages.
"When I heard about this program, I knew it was for me," Gipson said. "I knew that I was never going to be a doctor, I was never going to be a midwife, but this was something I could do to let me help someone who has possibly gone through something I've experienced myself. I can tell them that I do know how you feel and I do know your pain."
While in the hospital herself she's seen firsthand women being disrespected and not listened to by medical professionals.
"I want to be the voice for someone who may not know what to do or what questions to ask," she said.