A strong second half for the second week in a row clinched a playoff spot for the Tyler Legacy Red Raiders for the third consecutive season.
Legacy outscored North Mesquite 28-6 in the final 24 minutes to take a 42-20 win on homecoming Friday night at Christus Trinity Mother Frances Rose Stadium.
It was Legacy's first win at Rose Stadium since Sept. 3 over Tyler. It was technically the Red Raiders' first home victory of the season as they were the visiting team in that crosstown rivalry.
"It feels good," senior defensive back La'Brendo Flowers said. "The fact that it happened on homecoming on a full moon night in my senior year, I couldn't ask for it to be better."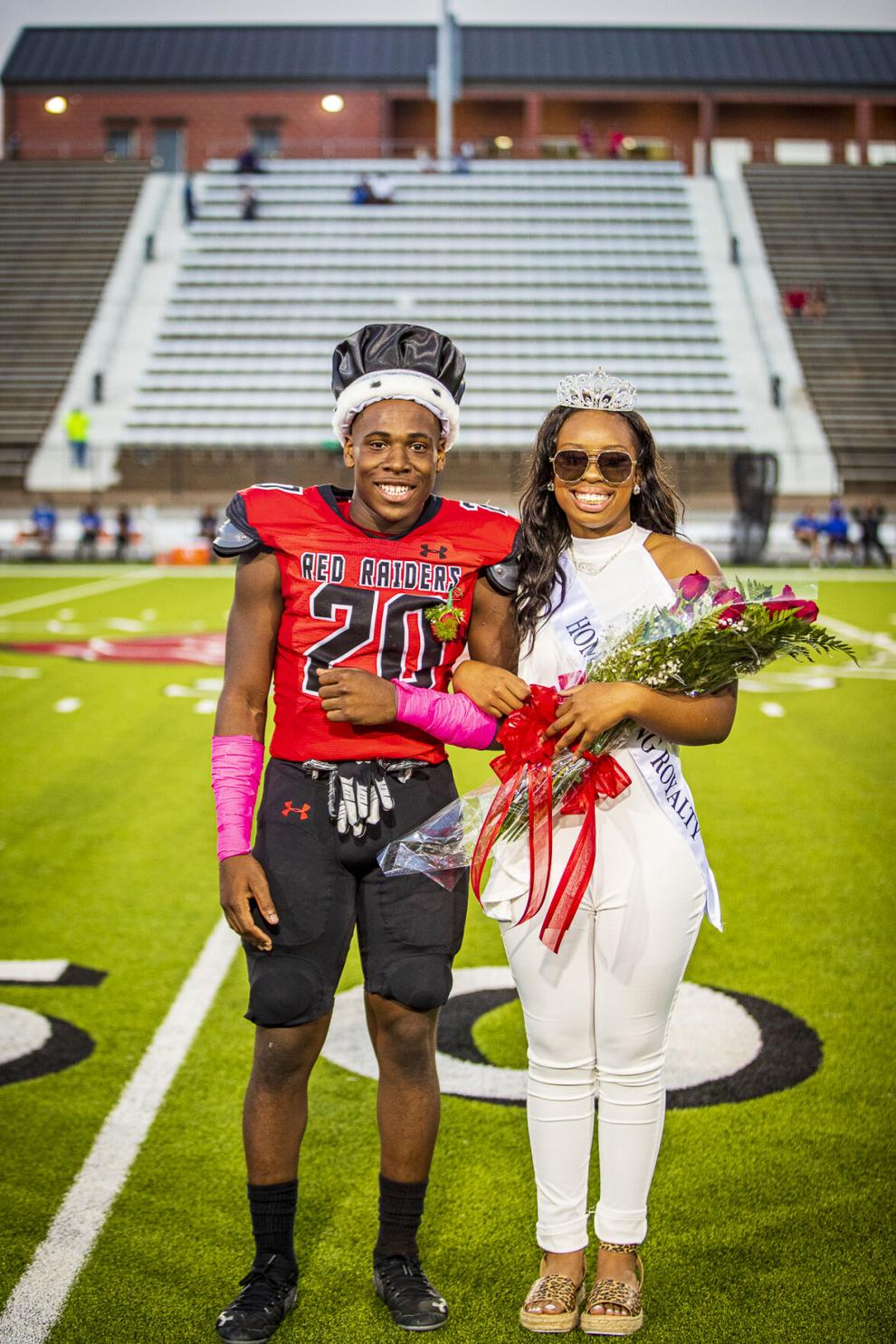 Flowers was also named the homecoming king before the game, and Aneesia Blackburn was named the homecoming queen.
When the game started, Legacy forced a quick three-and-out and then went 54 yards on five plays for a touchdown. On fourth and 6, Bruce Bruckner threw a screen pass to Bryson Donnell, who went 49 yards to the 1-yard line. Jamarion Miller scored on a 1-yard run on the next play to give the Red Raiders a quick 7-0 lead.
North Mesquite answered less than a minute later with a 52-yard run by Kobie Norman to tie the score at 7.
The Red Raiders needed just five plays to respond as Bruckner scored from 14 yards out to give the Red Raiders a 14-7 lead with 4:28 left in the first quarter.
Early in the second quarter, Legacy faked a punt in its own territory and was stopped short. North Mesquite scored two plays later as Luke Seder found Cam Tyler for a 47-yard touchdown to tie the score at 14.
After a punt by the Red Raiders, North Mesquite had a 16-play drive that led to a 42-yard field goal attempt by Geovanni Almaguer. The kick was no good, but a penalty allowed another try from 36 yards, which was also no good.
The game was tied at 14 at halftime.
Legacy got the ball to start the second half, and the Red Raiders went 57 yards on six plays to score on a 4-yard run by Miller to take a 21-14 lead.
After the Red Raiders stopped the Stallions on fourth down, Miller scored on a 56-yard run on the next play to push the score to 28-14 with 6:11 left in the third quarter.
With North Mesquite punting up against its own end zone early in the fourth quarter, Jordan Ford blocked the punt and returned the ball 10 yards for a touchdown to make the score 35-14 with 9:31 to play.
North Mesquite punted on its next possession, but recovered a fumble on the return.
North Mesquite got on the board with 2:53 to play as Tyler threw a jump pass to Kaemon Tatum on a 4-yard pass to make the score 35-20. Legacy quickly added one more score as Donnell scored on a 54-yard run with 2:40 remaining.
"There were a couple of things there in the first half, we hadn't seen it before, and they did a good job," Legacy head coach Joe Willis said. "In the second half, we really showed our focus and imposed our will on them. Defensively, I thought our coaching staff did a good job of understanding what was going on."
Legacy had 11 tackles behind the line of scrimmage on Friday, many coming from Jordan Renaud. Cayden Starks also had a big game defensively for the Red Raiders.
"I thought Jordan stood out to me, and Cayden Starks did a really good job on the back end tonight," Willis said.
"We came out sluggish in the first half, but we had to realize that if we come out like we ended the game, we will be a hard team to beat," Starks said. "It felt great to get this win."
Donnell had 10 carries for 142 yards and a touchdown, and he caught two passes for 48 yards. Miller had 12 carries for 124 yards and three touchdowns.
Tyler ran for 84 yards on 16 carries, caught four passes for 81 yards and a touchdown and was 2 of 2 passing for 11 yards and a touchdown for North Mesquite (1-7, 0-4).
Legacy (5-3, 3-1) will play at No. 6 Rockwall-Heath next Friday.
———
Tyler Legacy 42, North Mesquite 20
North Mesquite    7       7       0       6 — 20
Legacy                14     0       14     14 — 42
First Quarter
TL — Jamarion Miller 1 run (Christian Baxter kick), 7:18
NM — Kobie Norman 53 run (Geovanni Almaguer kick), 6:27
TL — Bruce Bruckner 14 run (Baxter kick), 4:28
Second Quarter
NM — Cam Tyler 47 pass from Luke Seder (Almaguer kick), 9:15
Third Quarter
TL — Miller 4 run (Baxter kick), 9:31
TL — Miller 56 run (Baxter kick), 6:11
Fourth Quarter
TL — Jordan Ford 10 punt block return (Baxter kick), 9;31
NM — Kaemon Tatum 4 pass from Cam Tyler (Run failed), 2:53
TL — Bryson Donnell 54 run (Baxter kick), 2:40
NM            TL
First Downs         17             13
Rushes-Yards      43-144       29-310
Passing Yards      125            51
Comp.-Att-Int.    8-15-0       6-12-0
Punts-Ave.          5-34.6       4-43.5
Fumbles-Lost       0-0             1-1
Penalties-Yards    6-30          7-66
Individual Statistics
RUSHING — North Mesquite, Cam Tyler 16-84; Kobie Norman 17-69; Ja'Lan Hicks 2-9; Elijah Baesa 1-4; Luke Seder 7-(-25). Legacy, Bryson Donnell 10-142; Jamarion Miller 12-124; Aaron Sears 4-29; Bruce Bruckner 2-12; Jett Stanger 1-3.
PASSING — North Mesquite, Luke Seder 6-13-0 104; Cam Tyler 2-2-0 11. Legacy, Bruce Bruckner 6-12-0 51.
RECEIVING — North Mesquite, Cam Tyler 4-81; Ja'Lan Hicks 3-32; Kaemon Tatum 1-4. Legacy, Bryson Donnell 2-48; Eli Howard 2-3; LaDavion Butler 2-0.