A group of students from the University of Texas at Tyler picked Habitat for Humanity of Smith County CEO Jack Wilson's brain for bits of construction management wisdom as walls were raised in front of them on the organization's 112th home early Saturday morning.
For Habitat's newest home at 1309 Shaw St. in Tyler, these honors Capstone Construction Management students will manage the build alongside Habitat staff.
UT Tyler student Kierstin Rosipal, of Carrolton, plans to work in residential construction management after she graduates in 2021. She says being able to work on-site at the Habitat for Humanity home is helping her gain experience she'll use in her future career.
"Being on site makes it easier for me to digest what the books are telling us in class," Rosipal said.
Classmate Wyatt Gasser, of Baton Rogue, Louisiana, plans to go into commercial construction management.
"They're teaching us all they know on how to manage projects," he said. "It's all about managing people, managing when your supplies show up, basically it's taking a piece of property, clearing it out, pouring concrete and building a house and all the steps no one thinks about."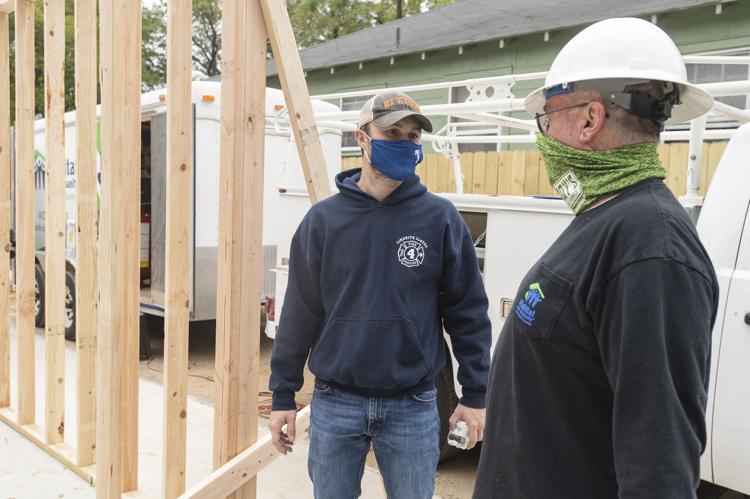 Helping with the physical construction of this home is a crew of volunteers from First Presbyterian Church of Tyler. The construction could take three to four months depending on weather conditions. The church is sponsoring the home with a $50,000 donation in additions to their manpower.
This house is one of six Habitat homes that will be built on Shaw Street. It's the fourth housing development on land Habitat has acquired through the City of Tyler's Housing Infill Program.
"What we build is an affordable, energy efficient home for a lower-income family who could not qualify for a typical bank loan," Wilson said.
Habitat is in the final stages of selecting the new homeowner for the Shaw Street home.