Disparities in health among people from different races, ethnic groups, income levels and hometowns are among the things that will be researched at a new campus in Tyler.
The University of Texas Health Science Center at Tyler's new building for the School of Community and Rural Health had its grand opening and ribbon-cutting on Thursday at the health science center campus on U.S. Highway 271.
"This facility is all about serving our community, and working every day to improve the quality of life for East Texans," said Dr. Kirk Calhoun, the president of the health science center.
The 87,000-square-foot, $45 million building is three stories high and situated across the driveway from the main campus of the health science center. Amenities include an ergonomics center and a community teaching kitchen.
The building also is the formal home to programs to train doctors in family medicine, rural family medicine, psychiatry and occupational medicine; and it will offer new residency programs in general surgery and internal medicine starting in 2020.
The school also offers three master's degree programs in biotechnology, public health and health administration; is home to the Center for Population Health, Analytics and Quality Advancement; and has a program that pairs nurses with women with high-risk pregnancies.
"It's a very vibrant and exciting institution right now, and this building will contribute immensely to that," Calhoun said. "I've tried to urge faculty here and all of us to make sure that our home is open to the community to address its health care challenges, the issues that exist, and improve the quality of life here."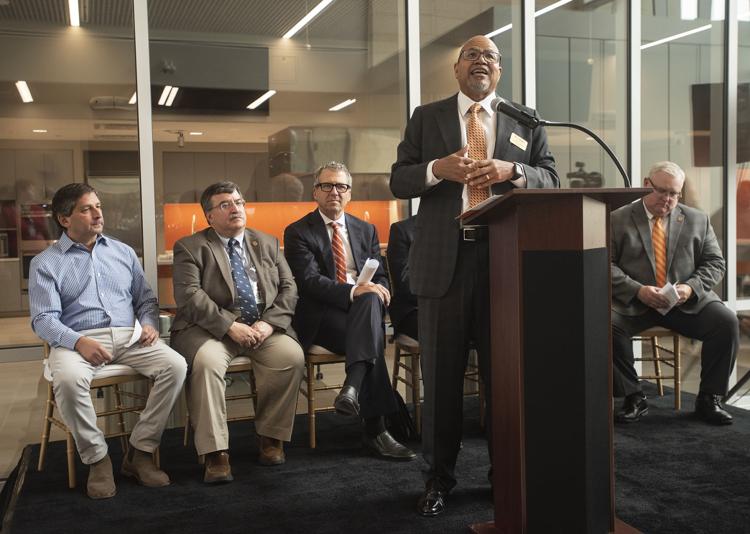 He said the three goals of the School of Community and Rural Health are to discover new knowledge through research, to share that research knowledge with others, and to make a better community and human condition.
"This wonderful structure is about collaboration," said Dr. Jerry Ledlow, the school's dean. "It's about engaging, teaching, learning and doing spaces, very open and collaborative. It will shape us and be a catalyst to a synergistic effort that was not readily available before.
"Elements of the school were distributed across six, seven different areas, some of which were off-campus for a little bit of time," Ledlow said. "And now most or all the faculty, students, staff, residents are in this one building, and that makes a huge difference."
The University of Texas System has 14 academic and health care institutions. Tyler is one of three cities in Texas that is home to two system institutions, the health science center and UT Tyler. The other cities are Houston and San Antonio.
Kevin Eltife, the chairman of the UT System Board of Regents, said there were times over the years that the health science center was on life support, at risk of being closed, but leaders at the health science center and in the community fought to keep it.
"Had it not been for the sheer determination of these people that came before us to give it the time and treasure it, we wouldn't be standing here," Eltife said. "We wouldn't have UT Health East Texas right now. This place would've closed. We would've never had the Ardent-UT merger.
"What I really hope is that 20 years from now people look back on all of us that were here today and they say, 'You know, those people really did something for our community' because at the end of the day that's what it's about," he said.
"It's not about the facility," he said. "No offense to the architect or the contractor. We love the building. But you know what, it's not about the building. It's about people. It's about the patients we serve, the students we serve, our neighbors who need help."