Groucho Marx, the comedian known for his big mustache, round glasses and iconic humor, is being brought to life at Tyler Civic Theatre in show that explores his life.
Performances of "Groucho: A Life in Revue" are set for 7:30 p.m Friday and Saturday and at 2:30 p.m. Sunday at the theater, 400 Rose Park Drive. Tickets are available at the box office and online at tylercivictheatre.com.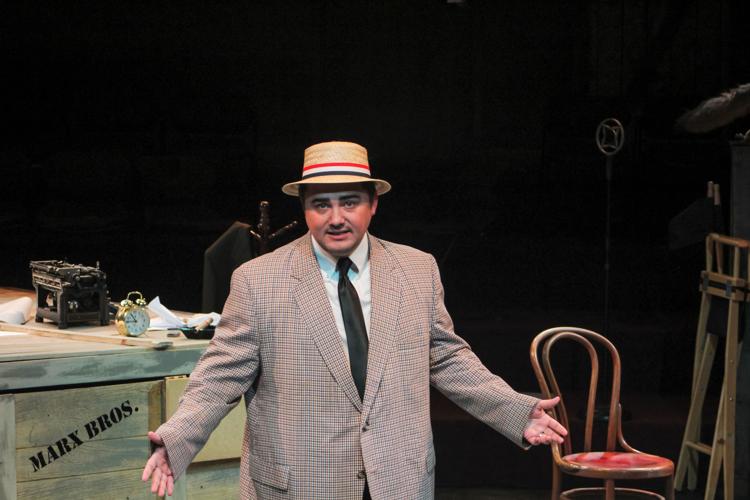 Performances will continue May 16 to 19. 
"It has so many laugh lines throughout the show," director Roger Pharr said of the play. "Looking back, there's humor in his (Groucho's) personal life. Even when tragedy struck he would address that with humor."
Pharr said the play will introduce Groucho to a generation unfamiliar with his humor.
"This is a night when people can just come in and laugh at the same things that their parents and grandparents laughed at," he said. "I want people to feel like they had and evening where they just laughed at funny stuff at just simple humor." 
Pharr said the show uses props authentic to the time period and that Groucho will be presented his trademark cigar to add authenticity of the character.
Nicholas Moy plays Groucho Marx.
Of all of the famous Marx siblings, Groucho was "the most hardworking, dedicated, kind of serious of the group," Moy said
"There's really three different parts to Groucho," Moy said. "You have Julius Marx the man, which is his given name; you have Groucho, which you see when he's doing TV appearances or his TV show or interviews ...; and then you have a whole another level that is a caricature and that's what you see in the movies and that's the grease eyebrows and mustache and he's eccentric and larger than life."
Moy said he began to better understand Groucho when he heard this quite by the comedian: "If I didn't know sadness I wouldn't spend my life trying to make people laugh." 
May said the play pays tribute to "a legend who really changed the face of comedy." 
Presentation to explore aspects of grief
Hospice of East Texas and the Tyler Civic Theatre are partnering on "To Live Until We Say Goodbye," a free stage show which explores grief from different perspectives.
The presentation of monologues and dialogues is set for 2 p.m. Saturday at Tyler Civic Theatre, 410 Rose Park Drive. 
After the show, clergy and bereavement counselors will be available to answer questions.  
"The Red Velvet Cake War," 7:30 p.m. Saturday and 2 p.m. Sunday, Cherokee Civic Theatre, 157 W. Fifth St., Rusk. Tickets: Adult, $13, $15 (at door); student, $10, $15 (at door). Information: cherokeetheatre.net.
"The Christians," 7:30 p.m. Friday and Saturday and 2:30 p.m. Sunday, Henderson Civic Center, 122 E. Main St., Henderson. Tickets: Adults $15, students and seniors, $12. Information: hendersoncivictheatre.org.
"Peter Pan," 2:30 and 7:30 p.m. Saturday, ARTrageous Studios and Initiative performing at Tyler Junior College's Jean Browne Theatre at Tyler Junior College. Tickets: $8. Information: artswithamission.com.