Tropical Storm Nicholas, which popped up in the Gulf of Mexico over the weekend, is expected to make landfall on Texas' Coastal Bend sometime this afternoon or evening, according to the National Hurricane Center.
A tropical storm warning has been issued for nearly the entire Texas Gulf Coast. A tropical storm warning means that tropical storm conditions are expected somewhere within the warning area. Tropical storm-force winds are winds that are sustained for one minute between 39 and 73 mph.
According to the National Hurricane Center, at 10 a.m. Nicholas was located about 45 miles NE of the mouth of the Rio Grande and moving north at about 12 mph. The NHC expects the storm to continue on that path, with a north-northeastward on Tuesday.
On the forecast track, the center of Nicholas will pass near or just offshore of the coast of south Texas this morning and move onshore along the coast of south or central Texas late this afternoon or this evening.
The NHC's 10 a.m. report said maximum sustained winds are near 60 mph with higher gusts. 
Strengthening is forecast today, and Nicholas could reach the northwest Gulf coast as a hurricane. Weakening is anticipated on Tuesday and Wednesday while Nicholas moves over land.
Tropical-storm-force winds extend outward up to 115 miles from the center. A Weatherflow station on South Padre Island recently reported a wind gust of 45 mph.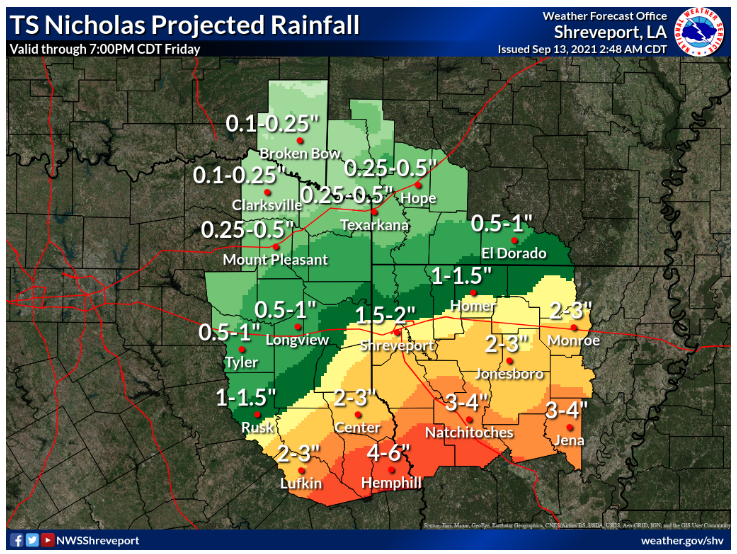 EAST TEXAS IMPACT
At 10 a.m., Tyler, Longview and much of East Texas remain in the storm's cone of uncertainty, meaning the weakened center of Nicholas could pass over the region sometime after landfall.
According to the National Weather Service, there is a 10-20% chance that Tyler, Longview and the rest of East Texas could experience tropical storm-force winds at some point over the next three days. The NWS says the earliest likely arrival time of any tropical storm force winds in East Texas would be around 8 a.m. Tuesday, though winds could arrive sooner, depending on the speed of the storm. 
The National Weather Service office in Shreveport said Nicholas could lead to heavy rain and isolated flash flooding across the southern counties and parishes in East Texas and North Louisiana.
Given the current track, the threat for heavy rainfall and possible flash flooding may become more of a concern across parts of lower East Texas and North Central Louisiana by mid to late week, according to the NWS Shreveport office. They added that depending on later storm track and intensity, this threat could also expand farther north to include more of the region up to the Interstate 20 corridor. In addition, some weak and short-lived tornadoes may also be possible; as is the case with any inland tropical system.
Projected East Texas rainfall from Nicholas ranges from a half-inch to an inch in Tyler and Longview to upwards of 3 inches possible in Lufkin. The Shreveport office says the threat of heavy rainfall and flash flooding will increase later this week with the remnants of Nicholas. Expect as much as 3-6 inches of rainfall to be possible over Deep East Texas into parts of North Central Louisiana through Friday.
The next report from the National Weather Service is expected at 4 p.m.