Tim Frost and his family were in their pajamas, laying in bed one evening when he received a complete surprise phone call from renowned skateboarder Tony Hawk's management team.
Months prior to the phone call, Tim Frost reached out to Tony Hawk for an opportunity to record a song with the sound of Hawk skateboarding. Frost had completely forgotten about the email he sent the agency, but the seed he planted that day soon blossomed into a flower of opportunity, and that was the beginning of the friendship the Frost family would soon establish with Hawk.
The Tyler Paper previously reported a heartwarming story about Tim Frost's son, Odin Frost, and his childhood best friend, Jordon Granberry, going viral last year when they graduated together at Wayne D. Boshears Center for Exceptional Programs School.
Odin's dad shared a side-by-side photo of Jordon and Odin as children and another as young adults, posing in similar positions, which really showcased the longevity of their unique friendship. The unplanned photo quickly became a trending story across social media platforms.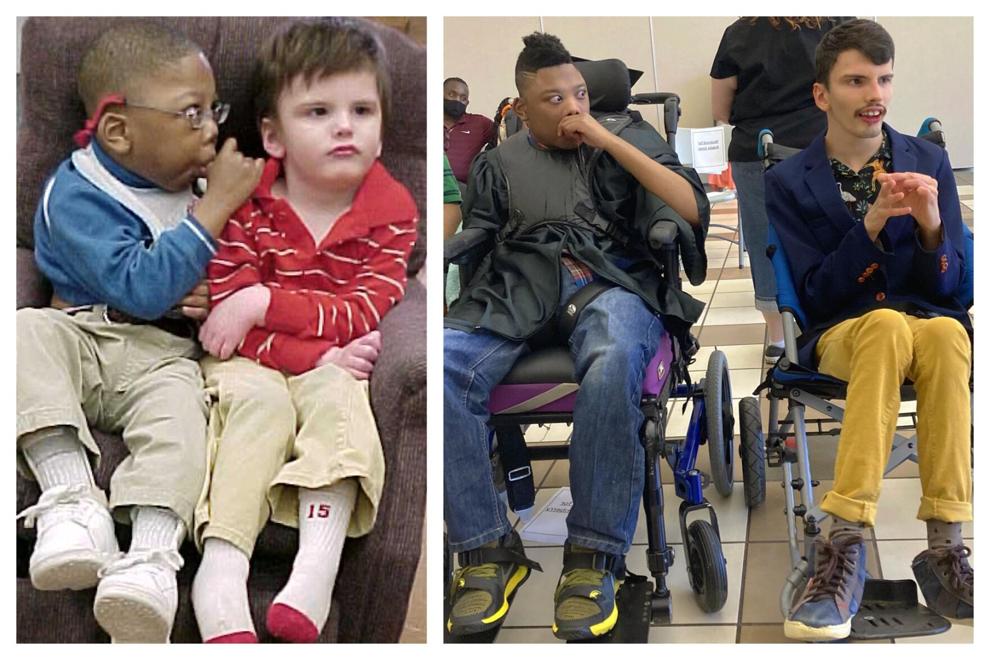 Due to COVID-19 concerns, Odin and Jordon haven't seen each other as often as they used to, but Granberry's mother and Frost came up with the idea of going on weekly strolls at the park.
From the viral photo, the Frost family had friends who designed illustrations of the two. Friends encouraged the family to take advantage of this viral opportunity, put the illustration on merchandise and earn some money to take care of their family.
From what they've sold on timfrostspeaks.com, the entire portion of sales for their "Different is Good" sweatshirt has gone to Granberry and Odin. Granberry's income from the merch mainly goes to his medical costs, and Odin now has a savings account.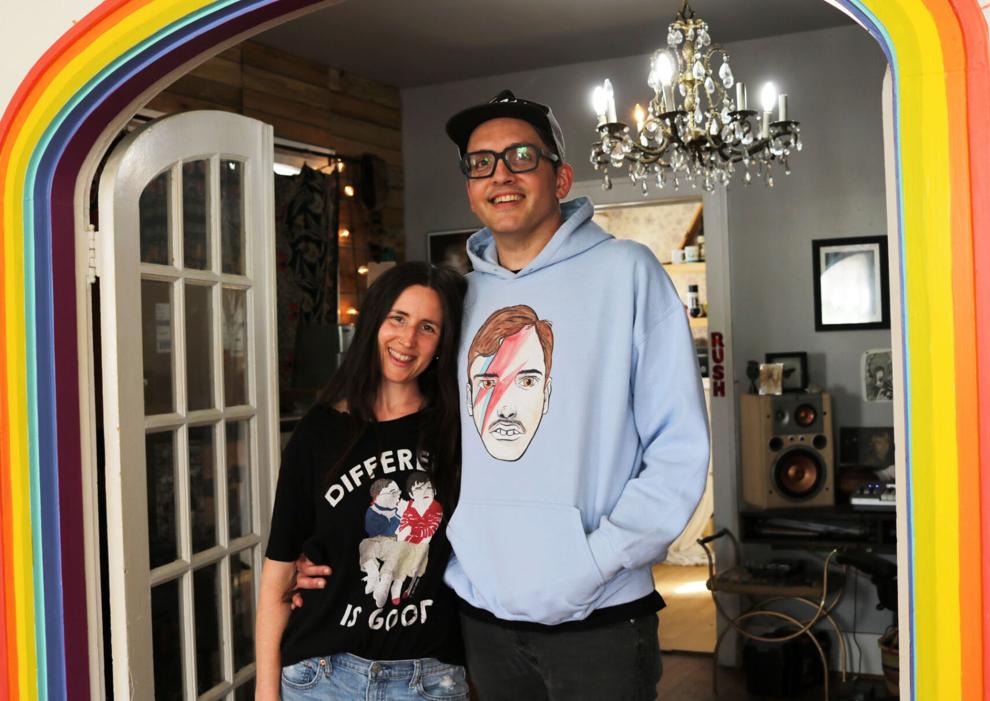 At the beginning of the video in which Tony Hawk sent over to Odin's dad, he gave the boys a shoutout.
"Hey Odin, Jordon, what's up? It's Tony Hawk. This run's for you," Hawk said in a video for the creative project.
The idea first came to Frost when Odin would listen to YouTube videos of skateboarding, a sound that really soothed Odin, who has autism. His dad had always loved skating. He wasn't good at it, but when the idea of creating a song first crossed his mind, he thought of Hawk.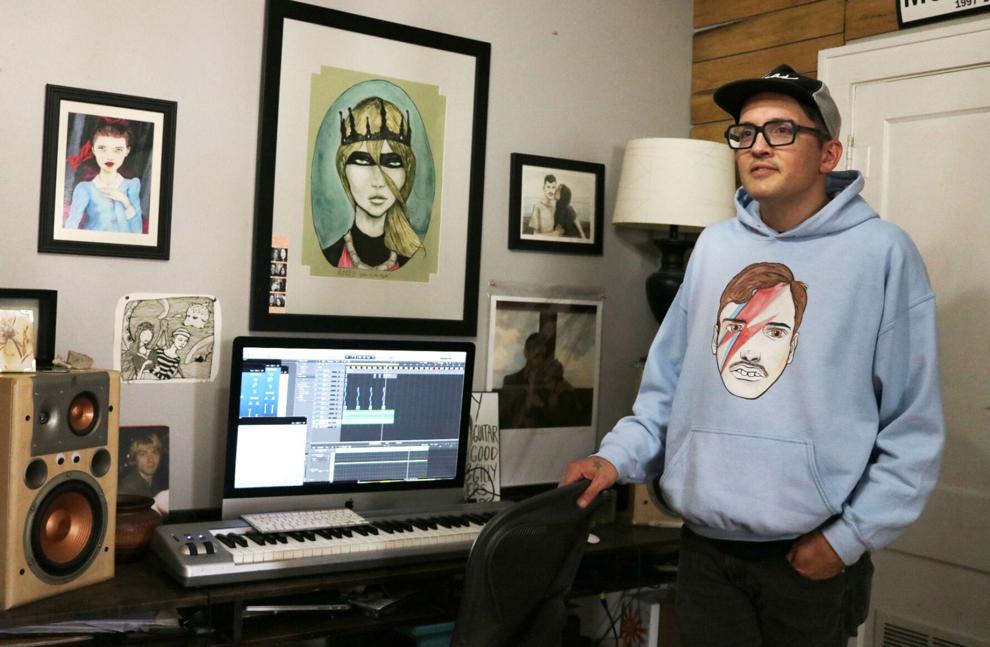 Frosts' motto is one he's always stuck to, "You never know 'til you ask." It was in early last September when the creative sound engineer began to collaborate with Hawk.
Odin had always grown up around music, with his father being a sound engineer and his mother, DeAnda, being a vocalist. Although Odin can't verbally speak and has autism, he understands everything going on. Anytime he's heard his parents making music, he sways to the rhythm of the song, even to the washing machine.
After receiving the video from Hawk, Frost began sending clips of samples to Hawk to see what he thought. Throughout the process, Odin sequenced and recorded samples on his iPad, which were then exported to the computer.
"Odin does a lot of cooing and awing, and I wanted him to be a huge part of this, so I got his vocals and I put those into the song as well. I just made this choir sound and reverb on his vocals and everything, then I started adding drums," Frost said.
One day while DeAnda was listening to the song, she finally had something to add. She wrote a chorus and it all came together. Frost also added Odin's heartbeat to the song. The heartbeat is a small detail Frost added to make it more about his son, who inspires him.
"The whole idea was to kind of capture the idea of our worlds colliding. Tony Hawk, we're a little East Texas family, and we just felt that the spirit of all of it collided and came together," DeAnda said.
"The song, he's going up and down on this ramp, it gives you the feeling of the ocean too, and the sound of the ocean and we've always been drawn to the ocean and nature and Odie loves the ocean, just like sitting in his chair, we'll take him down to the ocean and watch the waves crash," she said.
As an engineer, Frost tried to map out the song to actually go "around your head."
"If you hear it in headphones, the sound actually goes up, around your head, that way it encompasses the feeling of the ocean, the waves, just a peaceful feeling. I wanted it to feel all of the dynamics. I wanted it to be perfect," Frost said.
Frost said his childhood hero, Hawk, and his everyday hero, Odin, all came together in one song, which eventually became a family project.
"I was like, this is beautiful. This is bigger and way better than I expected. We sent it over to Tony and his people and they absolutely loved it and they thought it was the coolest thing. I was happy with that. As long as they were pleased with it, I was pleased with it and Odin thought it was really cool, I thought, this is great. This is the end of this," Frost said.
The song, "Dropped In," was published in December and became available to stream on Spotify and Apple Music.
To the Frost family's surprise, Tim received a direct message from Hawk himself, inviting the family to go out to a surf ranch in Waco. The family considered all the logistics, especially COVID-19 precautions. Hawk reassured the family everyone would get tested a week prior and a week after, and that a stay would be accommodated for them.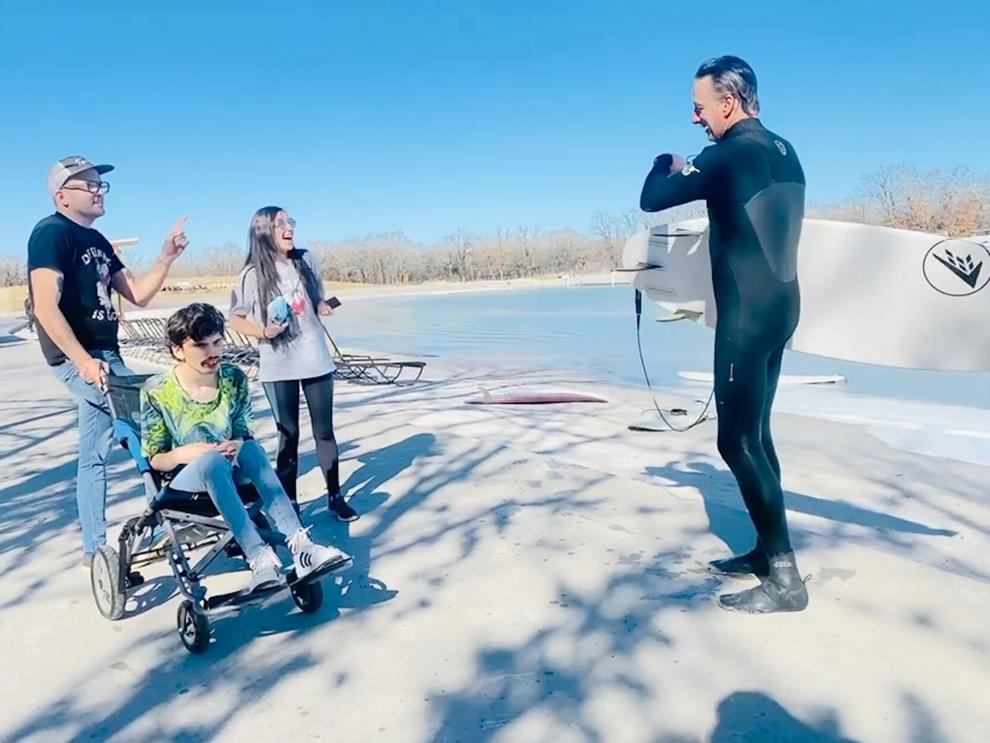 "I was just like, 'Oh yeah, this is an opportunity of a lifetime. Of course I'd love to do this, so we did" Frost said.
Odin had never stayed in a hotel before in his 18 years of life, so the family overprepared. It was Christmas season in December, so the family even took a small Christmas tree for him. When they arrived at the hotel, they also spent a few hours decorating the room so he'd feel at home.
"We were a little anxious, like oh my God, he's not going to like being stuck in a hotel room, but he did so good. We went to restaurants and ate outside, and the coolest thing is that, he knew he was supported to do whatever, so me and Tim, of course, we got him, but we were a little unsure about not only Tony and maybe one or two people close to him, but we were with a whole team, so it was like a group of 14, 15 people, that we had never met, that didn't know Odin, that didn't know why we were there, so we were really nervous," DeAnda said.
The Frost family said Hawk's team was very involved with Odin, even when Tim wasn't video recording. Ironically, instead of Odin getting his merchandise signed by Hawk, Hawk asked Odin for his autograph.
Hawk and his team made the family feel comfortable and relaxed, and he even assured the family this wouldn't be the last time they all hung out together.
The Frosts especially appreciated the fact that they took the time to know Odin and what he was like, because according to the family, most of the time, people just do it for the cameras or even ignore the fact that someone is different.