The city of Tyler is moving forward with a $1.2 million project that will bring bike lanes to streets around the city in the next few years.
The Tyler City Council is planning to authorize $186,469 in spending to pay for engineering costs on the project at its regular meeting on Wednesday.
The project will add 130 miles of bike lanes across 12 bike routes in Tyler streets. The lanes will be painted on city-maintained roads that are wide, flat, and low-traffic.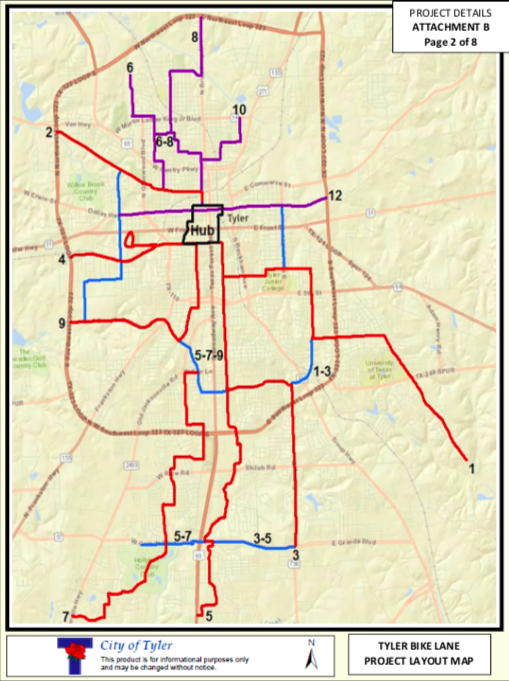 Mena Souliman, a civil engineering professor at UT Tyler, has been working on the project since 2015 with a team of graduate students. The money the City Council is scheduled to authorize will go to UT Tyler for Souliman and his team's work.
The money his team is receiving is for preliminary design, design development and final detailed design work on the project. The work is scheduled to start with data collection on June 1. A full design package is due to the city on Nov. 15, 2019.
Souliman's preliminary model proposed bike lanes be built in a circular area, or "hub," in the center of the city near the intersection of Front Street and Broadway Avenue, and then have bicycle routes branch out from the hub as "spokes."
The money for design is coming from revenue from the half-cent sales tax, which is one of the city's main sources of revenue. Additional money for the project will come through a matching grant from the Texas Department of Transportation, which has given the city four years to finish the project.
"The university has done a lot of research already but we have not officially started the design process," said Peter Eng, a traffic engineer for the city of Tyler. "This (money being allocated on Wednesday) is to allow the university to develop the project and allow the city to pay them."
Eng predicted it would take about two years to construct bike lanes throughout the city. That estimate includes a little under a year and a half for design work, plus several months for construction and striping.
While the city has four years to complete the project, Eng said additional time may be required for items such as landscaping and lighting to supplement the new bike lanes.
"For transportation, for safety enhancement, of course we are interested and excited about this," Eng said. He said the project will give bicyclists a way to travel through the city and allow people to be more active.
A map of the proposed bike routes and a full copy of Wednesday's meeting agenda are available at TylerPaper.com.
TWITTER and INSTAGRAM: @_erinmansfield