A recent inspection from the United States Department of Agriculture alleges that several tigers, lions and other animals who later died at Tiger Creek Animal Sanctuary in Tyler did not receive proper care.
According to the USDA inspection report in April obtained by the Tyler Morning Telegraph, animals listed in the report showed "clinical signs for weeks, sometimes months, without being examined by a veterinarian." In a follow-up report on June 7, the sanctuary did not have any violations.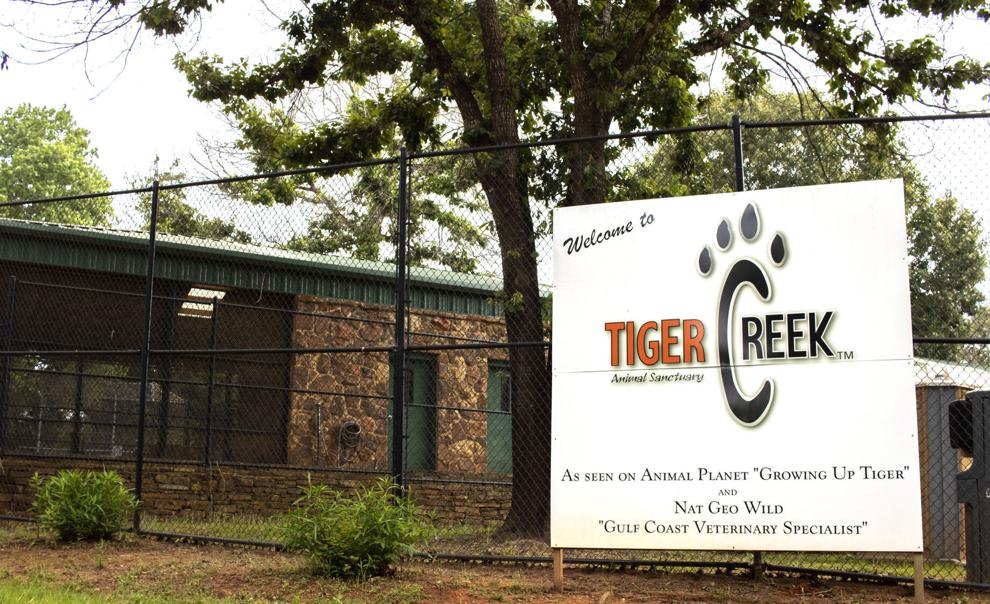 Emily Owen, director of Tiger Creek Animal Sanctuary, said the accusations regarding a lack of veterinary care were a result of a lack of documentation and record-keeping. She pointed out the facility was not fined and no action was taken against Tiger Creek for the violations. She also blamed disgruntled former employees and said the sanctuary has never let an animal go without veterinary care.
"We've had the same standard for over 25 years. It was all just back to record-keeping," Owen told the Tyler Morning Telegraph, adding documents were missing in the non-compliant items identified during the inspection were not presented at the time of the routine inspection because they were left in the hands of a former employee who she said, "decided to be really irresponsible with them."
Owen added, "People in our line of work are very passionate, so when we're forced to end somebody's employment, a lot of times we experience backlash and retaliation because they're upset."
The April inspection stated, "all animals, especially geriatric animals, must be monitored daily by a qualified individual and a mechanism of direct and frequent communication with the veterinarian needs to be established." The inspection also said five tigers were euthanized and three died of causes relating to their health. Six animals that did not have records of acquisition provided. Animals without records include two bobcats, a tiger, a lemur, a raccoon and a fox.
Owen said the records were simply not on file as they should have been and they were able to contact their veterinarian to get copies of the needed records.
For the animals that were euthanized with no records of them being examined, Owen said many times the animals they rescue are older.
"Unfortunately as it goes, with an older population, cats do get sick and die. Nobody went without exams. Everyone was provided immediate care anytime an issue showed up," Owen said.
The USDA did not impose any fines or injunctions against Tiger Creek for the violations received from the USDA.
The inspection stated the facility must make, keep and maintain records or forms, which fully and correctly disclose all required information concerning animals.
In the most recent inspection report which was prepared on June 7, Tiger Creek Sanctuary had no noncompliance items identified during the inspection.
"Our inspector did tell us that the grounds are beautiful, all the cats are beautiful, she said they were perfect, exactly as a tiger should look. Everyone out here is very healthy. We don't have any geriatric issues that are ongoing, causing any concern. She said all of our cats are very healthy," Owen said.
Regarding a photo of a dead tiger, Tibor, the blog "Roadside Zoo News" claims to be taken on Tiger Creek Animal Sanctuary grounds, Owen credits Netflix's "Tiger King" docuseries for influencing and encouraging the former employees to make places like Tiger Creek Animal Sanctuary seem negative.
"The 'Tiger King' hysteria played a big part in fueling a lot of these animal activist groups, people that sit behind a keyboard and don't really have any clue what actually goes into the health and care of these animals. It is expensive, it is detailed, it takes a lot of work. We've been here for over 25 years, we've never had any issues and we know we're not going to have any issues going forward," Owen said.
Owen said vets on site look at their animals every two to three months, considering there are no illnesses presented. She said they have been upholding their mission and are committed to providing care to any animal in need.
"We will definitely do a better job of securing our records and we know that in the future, we won't have this problem," Owen said.
Lori Cavitt, attending veterinarian for Tiger Creek Animal Sanctuary, said euthanasia is not a decision that is taken lightly.
"Euthanasia is not taken lightly. It is a very difficult thing to do and a difficult decision to ever make on anything, honestly. We consider the quality of life for these animals because these animals can't tell us when they're hurting and suffering. We have to watch them ourselves and we have to determine that based on our professional opinion and our professional evaluation," Cavitt said.
For instance, Cavitt said, if a tiger has such severe arthritis in their old age that they're unable to stand up or become paralyzed because of compression on the spinal cord, and is urinating on themselves because they're paralyzed, this would not be considered quality of life for the animal, who may become depressed.
"That's a bad way for that tiger to die. They won't eat, they'll starve to death, they'll get an infection and die of an infection and that's just not fair to that animal. Those are situations we would decide to euthanize and no, it's not easy anytime, no matter who or what it is. It's very difficult on everybody," Cavitt said.
Details of Tiger Creek's inspection
The April inspection report begins with a female tiger born on July 8, 2007, Kumari.
There were no records available for Kumari until Sept. 7, 2019, forward. Records for Kumari for the twelve years prior were not available at the time of the inspection. The records indicate that from Sept. 7 until she died on Sept. 25, 2019, she was not eating her complete diet. Records indicated on Sept. 19, 2019, Kumari was observed eating dirt. The following week on Sept. 24, 2019, Kumari was spayed and died the next day. There were no records indicating she was examined by a veterinarian before her surgery on Sept. 24.
The first animal reported to be euthanized on the April inspection was a female lion, Kenya, who was born in 1999. According to the inspection, records from veterinarians show Kenya was bloated on June 3 last year, and was breathing heavily on June 9. Kenya was euthanized on June 17. According to the inspection report, there were no records indicating Kenya was examined by a veterinarian between May 31, 2020, and the day she was euthanized.
The second euthanized animal, according to the inspection report, was Sarge, a male tiger born May 24, 2002.
On March 31, 2020, records available for the tiger indicated blood was drawn. He had diarrhea in September and October of that year and was euthanized the following month on Nov. 2. From March 31, 2020, there were no records available showing Sarge was examined by a veterinarian until the day he was euthanized.
The third animal that was euthanized was a female lion named Scrunches, who was born November 2011. The records available for Scrunches indicated she had an episode of vomiting and nausea in August 2018. No records were available indicating a veterinarian was contacted about the episode. Months later on Jan. 9, 2019, she was noted to be dragging herself around the enclosure. A veterinarian was consulted about her symptoms via phone call on Jan. 17; however the inspection reports state she wasn't examined by the veterinarian until she was euthanized on Jan. 23 that year.
Sierra, a female tiger born on Sept. 14, 1998, was also euthanized following reports of sickness. According to the inspection report, on April 21, 2018, records indicated Sierra "looked dizzy this afternoon." The inspection reports that within the next several months, Sierra had multiple episodes of stumbling, back end weakness and collapsing. She was euthanized on Aug. 18, 2018, and there were no records indicating she was examined by a vet between April 21 and Aug. 18.
The second animal that died was Tara, a female tiger that was observed vomiting on Feb. 17, 2020, according to available records. Tara was not evaluated by a veterinarian until Feb. 24, when she died under anesthesia.
Cavitt said Tara was in fact evaluated.
"She was evaluated by a veterinarian, which was myself," Cavitt said. "She was vomiting, so I put her under anesthesia to evaluate her for an illness."
Coco, a male cougar born Nov. 19, 2003, was euthanized June 8, 2018, after records indicated employees noticed he was lame in March 2018. There were no records indicating he was examined by a veterinarian between March and June 2018.
The last animal that died at Tiger Creek is Dakari, a serval that according to veterinarians, was being treated by the facility for a week prior to seeking medical care with the veterinarian. The animal ultimately died.