Leaders in the Smith County Republican Party say they are moving forward with removing their chairman from office.
The news comes three months after the county party's executive committee took a vote of no confidence in Chairman Brent Thompson and alleged he had abandoned his office.
"I'm currently the active county chair who is actively working for my county to keep Smith County red in 2020," Thompson, who was elected to a four-year term in 2016, responded in an interview Thursday morning. 
Wendy Osburn, a member of the county party's executive committee, issued a news release Wednesday evening saying the committee would meet May 30 to elect a new party chairman.
Osburn said the chairman of the Texas Republican Party, James Dickey, sent an email directing the county's executive committee to do so. Dickey did not return a voicemail message left Wednesday evening seeking comment.
"We are notifying you of the abandonment of office of Smith County Republican Party Chairman by Brent Thompson," the email from Dickey, provided by Osburn, said. "I look forward to working with all of you and the new county chair once elected."
Dickey wrote that he sent a letter to Thompson in April via certified mail, and, as of Tuesday, the letter was still at the post office. He then cited the Texas election law that the executive committee cited in February to start the process of removing Thompson.
The law says the county chair must respond to such a letter within a week to indicate a desire to stay in office, and "a chair's failure to respond and affirmatively state that the chair wishes to remain in office results in a vacancy in the office."
"He's a great guy — don't get me wrong — but we need someone who will fulfill his duties," Osburn said in an interview Thursday morning. "We went through a whole election cycle without him here and it's very hard to run an executive committee without him."
The executive committee is a group of a few dozen people who all are elected or appointed as chairs of the county election precincts where they live. Smith County has 82 precincts, but not all precinct chair positions are filled.
Osburn said, "The executive committee does not have anybody in mind. We will have our meeting to discuss all of that and anybody that wants to bring forth their thoughts then they'll make a decision on that."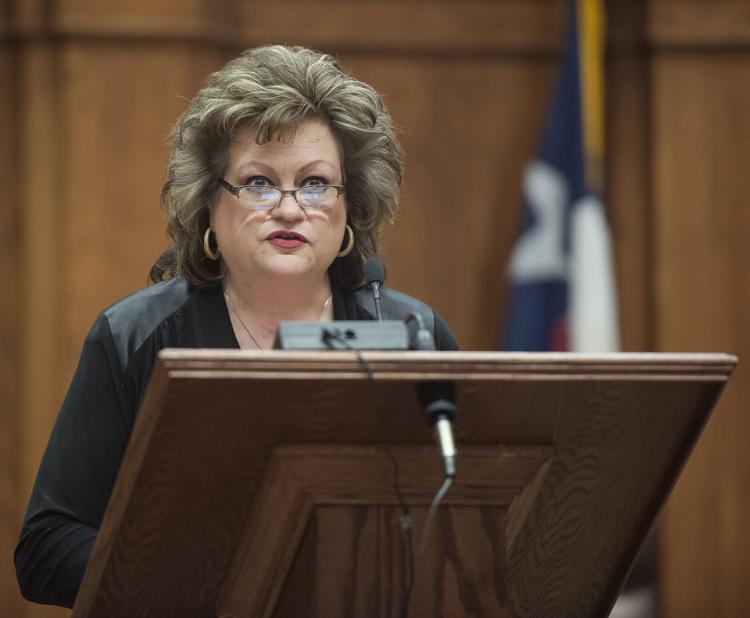 JoAnn Fleming, executive director of Grassroots America-We the People, a political action committee, provided a copy of a letter she sent to Dickey in March on behalf of her board, which also voted "no confidence" in Thompson.
The PAC had endorsed Thompson when he ran in 2016, but Fleming indicated in February that he no longer had the PAC's support.
"If someone comes to us and asks us to interview them to possibly earn an endorsement, they do so knowing that we intend to hold them accountable for what they promised, and we believe that that's an entirely reasonable expectation," Fleming said Thursday.
Fleming criticized Thompson's decision to appoint two vice chairmen in place of the previous person, who Fleming said gave her whole life to the party. She said he handled the situation with poor manners and interpersonal skills.
Fleming also responded to a letter Thompson wrote about the situation in February describing how he has been increasing diversity within the party, while "there are some in our community who seek to rule by intimidation, harassment, threats and manipulation.
"They seek to keep their establishment ways firmly entrenched in our county and are unwilling to welcome new individuals to the table," Thompson wrote at the time. "This has no place in the Republican Party of Smith County as all races, ages and genders are invited to work together toward a common goal."
Fleming said, "Part of the things we talked about (during the endorsement interview) was doing outreach into the community and trying to promote limited government, which means opportunities for all, favoritism for none. That's what we like to see.
"Because we don't believe in all of this pigeonholing and categorizing people," Fleming said. "People are people. And we believe that all people should be able to run for these precinct chairs. Nobody has ever raised an issue against that."
TWITTER and INSTAGRAM: @_erinmansfield