After a contentious discussion about privacy rights, Smith County officials approved a contract with a national vendor that will give the sheriff's office access to license plate readers and facial recognition technology.

The Smith County Commissioners Court voted 4-1 to approve the contract with Vigilant Solutions.
The California-based company provides license plate readers, facial recognition and data analytics to law enforcement agencies across the country, according to its website.
The sole "nay" vote was Commissioner JoAnn Hampton, who declined to explain her vote. The other four members all voiced concerns about resident privacy and potential abuse of the software, but said they still would vote in favor of the contract.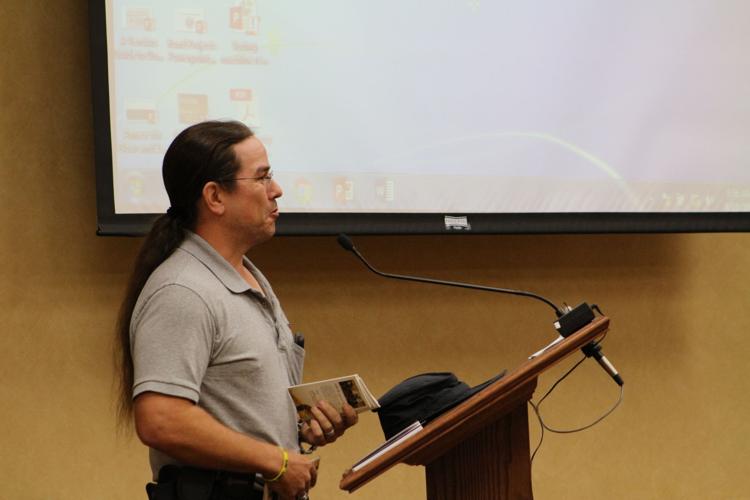 "Let it be said that somebody opposed turning '1984' into a nonfiction," Rudy Wright, 40, of Tyler, said during a public comment period before the court's vote. He was referencing a dystopian novel by George Orwell that describes extensive government surveillance.
"I applaud that some good can come from, unfortunately, risking tyranny on too much automated systems," Wright said. "I mean, what's next, drones flying around looking for expired inspection stickers?"
Sheriff Larry Smith gave a presentation to the Commissioners Court addressing what he called myths about license plate readers. He said the readers are being used across the country to help law enforcement officials find fugitives.
"Every license plate that comes into contact with that is scanned," Smith said of the license plate readers. "Only those that have input information as to that license plate are queried for that purpose" of finding a person.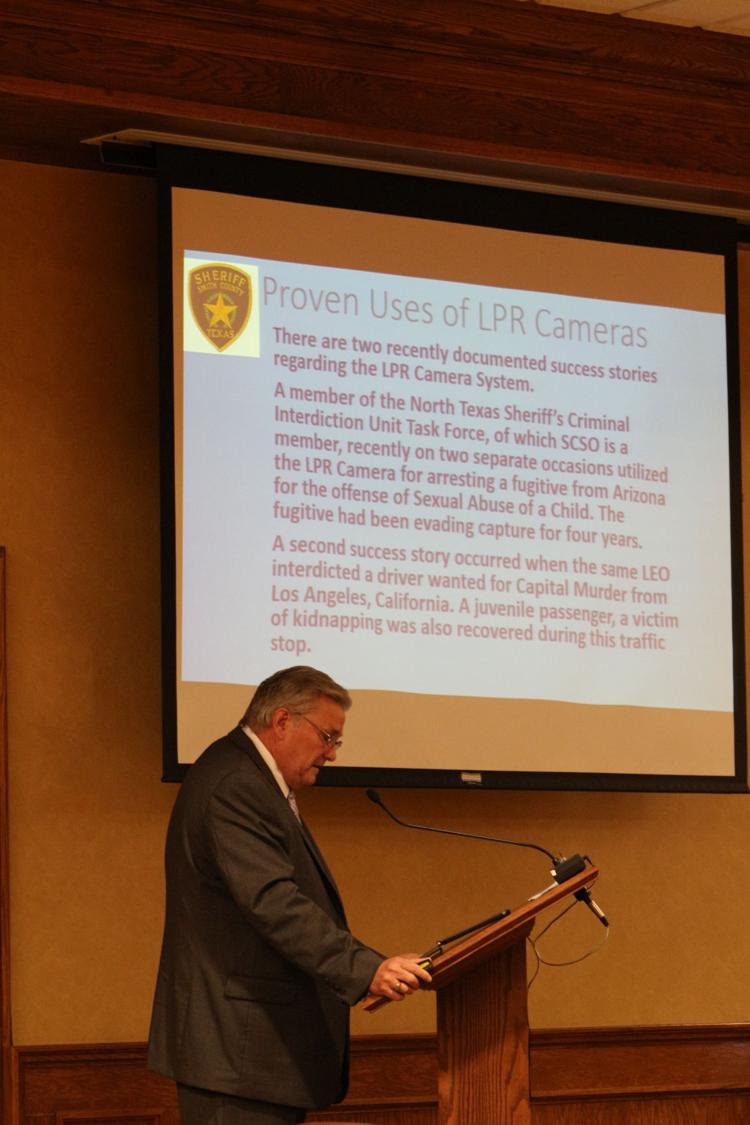 "They're everywhere," he said of license plate readers. "They've been everywhere. I've done due diligence in researching what it does, and for 42 years I have sworn to protect and defend the Constitution of the United States of America. I will continue to do that."
Additionally, Smith said the idea that his office wants to use facial recognition is "totally false."
Hampton then asked Smith why there is a box checked off on the contract called "service package option 2" that includes a FaceSearch account. (A marketing video from the company describes FaceSearch as facial recognition technology.)
Smith responded: "That's just part of the software. That doesn't mean we're going to use it. … As I understand that's just a basic contract they send out." He said he sent a copy of the contract to the Commissioners Court's lawyer for review more than a week ago.
"Facial recognition is not part of what this is about with the sheriff's office," Smith said. "When it comes to that I will probably already be retired when it gets to the point that I would use it."
In an interview, Smith said he has no intention to use facial recognition software, even though the contract will provide the technology to his office. He said the office does not have the hardware to use the facial recognition technology.
The contract would give Smith County the unlimited use of Vigilant Solutions technologies called CarDetector-Mobile Hit Hunter and FaceSearch, according to a copy of the contract provided by the Smith County government.
The Mobile Hit Hunter technology checks information gathered from a license plate reader against a nationwide database, and FaceSearch is a facial recognition system that stores information in a cloud, according to the Vigilant Solutions website.
Smith said the license plate readers would record a vehicle's plate number; the state of vehicle registration; the vehicle's global positioning system, or GPS, location; and the time and date the information was captured.
He said a law enforcement officer then needs to have a law enforcement purpose to query other databases. "We can't just see a vehicle come back and without some reasonable suspicion or probable cause start querying license plate numbers," he said.
Smith told the court that the data obtained through Smith County's license plate readers would remain the property of the Smith County Sheriff's Office but stored in a cloud by Vigilant Solutions. He said his office has already put together a policy to delete the information after 180 days, or six months.
Smith said the office is proposing to use criminal asset forfeiture funds, money that comes from taking property gained through illegal activity, not property tax revenue, to pay for the equipment. He said the cost would be about $132,000.
"Whether we like it or not, Harrison County is getting fixed cameras on poles on Interstate 20 that we have no control over," Smith said. "We're going to get two here in Smith County that (the U.S.) Drug Enforcement Administration (is) looking at putting up.
"So they're coming," Smith said. "They're already been here. They have perfected the technology on it now, and I think it's a great tool for law enforcement."
Commissioner Jeff Warr said surveillance technology could be helpful to law enforcement. For example, he said he supported a 2015 plan to place speed cameras in county school zones.
That deal led to former County Judge Joel Baker being indicted for allegedly violating the Texas Open Meetings Act, and he later resigned. Warr said he has received calls from residents this year that indicate to him that the technology would have improved school safety.
Warr said he views driving as a privilege and not a constitutional right, "but I understand (the public commenter's) concern. If you're just driving down the road and not doing anything wrong in the world, we're getting really close, and I don't know where it's going to end."
Commissioner Terry Phillips said he agreed with Warr.
"This could be a slippery slope, you know with the technology and everything," Phillips said. He added that he trusts Smith. "I'm going to have to put my confidence in you as the sheriff that this is only going to be used the way that you said."
Phillips also asked Smith to verify for the public that he does not intend to use license plate technology to pursue charges against college students smoking small amounts of marijuana.
"We have bigger fish to fry than to be out there chasing students around who smoke a joint," Smith said.
He also said: "If anybody in here thinks that I'm going to spend $132,000 to stop people for inspection violations … they don't know me very well. This is going to be used to get the worst of the worst off the streets of Smith County to protect the citizens."
Shortly before calling for a vote to approve signing the contract, County Judge Nathaniel Moran ended the discussion with his own concerns about the use of the software.
"As well-intentioned as this may be, and despite the personnel that are currently in office, we need to be mindful of what we're doing as an institution, a government, and what could occur through the use of a system like this," Moran said. "A lot of the concerns and fears that have been voiced today, I share those concerns as well.
"I do think that we ought to move forward positively with this item, but we need to be mindful and careful to hold ourselves accountable so that we certainly do not tread on the rights of individuals in this county," Moran said.
Moran and Warr also asked that Smith return in six months for an update on the software.
TWITTER and INSTAGRAM: @_erinmansfield