When Tyler Junior College launched its Rusk TJC Citizens Promise scholarship program in 2014, it was designed to do two things — begin a transformative effort in the community and serve as a pilot for a much larger future program.
It has done both. TJC and six area school districts are preparing for this year's high school seniors to be the first students in that new, larger program. The TJC Promise will provide eligible students from Tyler, Chapel Hill, Grand Saline, Lindale, Van and Winona school districts with a scholarship to cover all tuition and fees for up to two years at TJC.
With five years of data under their belt from the Rusk program, TJC has seen what works, and what has to change in order to expand access.
Thus far, 44 students comprised the largest class of the Rusk TJC Citizens Promise program. In fall 2020, more than 600 freshmen will enter college under the TJC Promise scholarship.
The TJC Promise program is nearing 4,000 students signed up to participate as this year's high school freshmen join.
Mitch Andrews, TJC's vice president for advancement, said the number of freshmen signing the Promise Pledge has grown with each new class. For example, Winona High School has 15 students set to enter TJC as Promise recipients next fall, but signed up more than 70 freshmen this year to begin working toward the scholarship.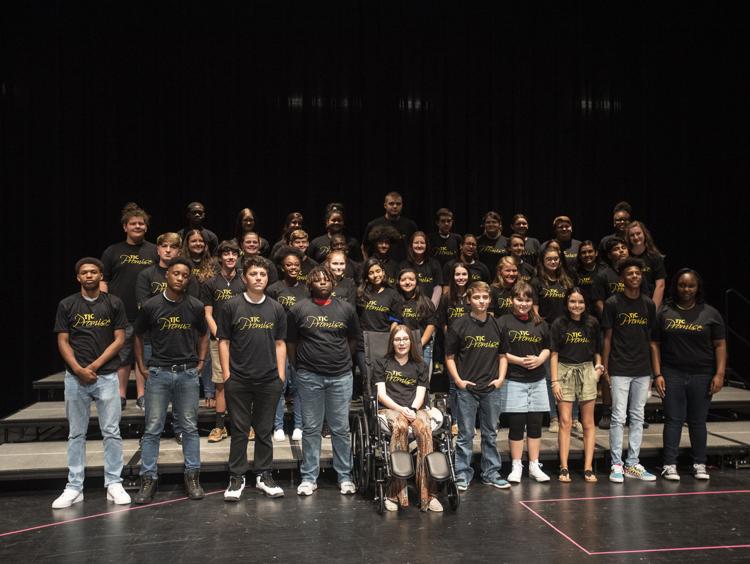 A successful $20 million fundraising campaign ensures the six school districts can continue to participate in the program in perpetuity.
There are some key differences in requirements between the TJC Promise and the Rusk TJC Citizens Promise. For the TJC Promise, students must sign up their freshman year, maintain a 2.5 grade point average through high school, meet attendance requirements, complete community service hours and enter TJC the fall following their high school graduation. Students cannot accrue more than 10 unexcused absences each year and must complete 10 hours of community service by April of each year.
The new requirements were put in place in partnership with the school districts in order to strengthen college-going culture, motivate students earlier and get families more involved in the process.
"By connecting to students their freshman year and setting specific achievement standards for the Promise program, we help participating students to be successful in high school and prepare for college," Andrews said. "We instill behaviors and skills that can serve students throughout their lives. We also wanted to connect to parents, especially for those students who are first-generation college, to help parents help their students."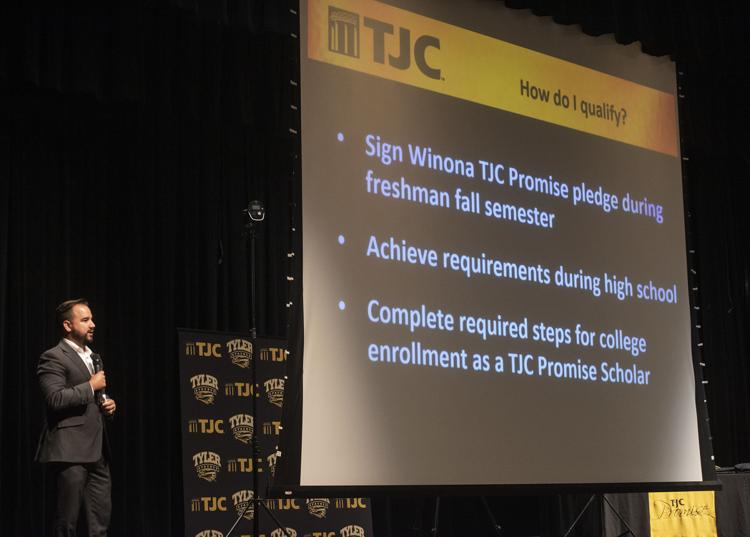 As with the Rusk Promise program, the TJC Promise also will have a dedicated on-campus adviser who will work regularly with participating students. Andrews said that having a success coach is critical to student success, noting that scholarships alone can't guarantee success.
"I think that's part of the appeal of our program; it's about the whole student," he said. "It's not just grades."
Diane Carnes, Tyler ISD's coordinator for the program, said the attendance requirements are one area where issues have cropped up.
Carnes said they've had to reinforce to parents and students that large amounts of unexcused absences, due to things such as families taking vacation during the school year, can impact student eligibility.
Andrews said the college and districts also realized there was more work to do in order to meet the state's 60X30 Texas goals over the next decade, which has set a goal of 60 percent of Texans ages 25-34 having some college or postsecondary credential by 2030.
Of the six districts participating in the TJC Promise, the percentage of adults living in those areas who do not have a college degree ranges from 65 percent in Tyler ISD to 82 percent in Grand Saline. Van leads the districts in the percent of students who attended college by district in 2017 with 51 percent, according to Texas Higher Education Coordinating Board reports. Grand Saline sent 34 percent of students to college that year.
"This is a major reason that we pulled our tax district high schools into the partnership during freshman year of high school — college readiness ... " Andrews said. "Our high school partners play a significant role in helping to prepare students. The more prepared, the more likely students will remain in college and complete a postsecondary credential."
As big of an expansion as moving to six school districts is, there still are many in East Texas that aren't participating.
The six school districts included in this TJC Promise are Tyler, Chapel Hill, Grand Saline, Lindale, Van and Winona. In Smith County, that leaves four school districts without a similar program — Arp, Bullard, Troup and Whitehouse. Those schools sent nearly 200 students combined to school at TJC from their 2018 graduating classes, according to the Texas Higher Education Coordinating Board.
Those boundaries leave some families with concerns.
Rusk High School graduate Maddison Long said she and a group of classmates were crestfallen to learn they weren't eligible for the Rusk Promise, just days after the first signing ceremony in 2014.
"About a week later they called us in and told us we didn't qualify because we lived outside of the district," Long said. "It was a little disappointing. I know some other students who were told that were let down. That's all some other students had to look forward to."
Long said she was told she didn't qualify because she was a transfer student and her family resided in Jacksonville, outside of Rusk ISD. She said that while the financial aid office helped her find alternative scholarships, some students weren't so lucky.
The college has since worked to ensure that wouldn't happen to other students. Former TJC President Mike Metke helped ensure a solution with what he referred to as an "equalization fee."
"For Van, there is a more significant percentage of students that reside outside of the tax district. However, Van HS is within the TJC tax district and is participating in the TJC Promise program," Andrews said. "For those students, they receive the same scholarship as the in-district student. However, they pay the difference in tuition cost between in-district and out-of-district. "
While TJC's taxing district mostly covers Smith County, the state has set its "service area" to include most of Cherokee and Wood counties, with only Rusk ISD students having access to a similar promise program. Of high school classes graduating high school in 2018, the Texas Higher Education Coordinating Board lists 87 districts as having sent at least five students to TJC.
No other college in the region has set up a similar scholarship program. The nearest program that is similar is run by the Dallas County Community College District.
Andrews said the college first wants to ensure this second Promise program is successful before further expanding. TJC does offer dual credit opportunities for most districts in the area, and also has helped set up Early College High School programs with district partners. TJC's dual credit programs allow high school students at participating schools to take college-level courses at no cost and obtain high school and college credit simultaneously.
While the TJC Promise program does cover a substantial portion of the cost of going to college, experts say that the biggest expenses come outside of the classroom.
Andrews said that 70 percent of full-time TJC students in the 2018-19 academic year required some sort of financial assistance.
Class of 2020 Promise public schools data
| School | Promise students | Promise seniors on Free/Reduced Lunch | Overall percent on free/reduced lunch | Percent of adults who do not have a degree in district | Percent of students who attended college by district |
| --- | --- | --- | --- | --- | --- |
| Van | 109 | 39% | 44% | 72% | 51% |
| Lindale | 128 | 30% | 37% | 68% | 47% |
| Chapel Hill | 100 | 61% | 69% | 69% | 45% |
| Lee | 78 | 33% | 45% | 65% | 47% |
| John Tyler | 82 | 84% | 76% | 65% | 47% |
| Early College HS | 9 | 71% | n/a | 65% | 47% |
| Winona | 14 | 55% | 63% | 80% | 44% |
| Grand Saline | 27 | 56% | 51% | 82% | 34% |
| | | | | | |
As part of the Promise requirements, students get help filling out their FAFSA and college applications. They also get guidance in the search for other scholarships.
The college said they have found that the top three issues facing Promise program students nationwide are mentorship and guidance, food insecurities and transportation.
Andrews said that as the program has taken shape, it has become apparent that transportation could become a problem for students living outside of Tyler. The public transit system in Tyler already is limited, leaving some residents walking a significant distance to reach a bus stop with routes typically following major roadways and few stops existing in heavily residential areas. Students not on the Yellow or Green line running by the main campus may also have to transfer, which can sometimes leave them waiting for up to an hour for the next bus.
"We are hearing that from some of the six communities involved in the new TJC Promise Program and I think that's something we're going to have to work together with our communities to address," Andrews said. "As we go into the senior year and look at those kids, those are some of the things we're going to have to address. How do we handle those challenges?"
Outside of Tyler city limits, options for public transit are extremely limited. The regional GoBus service runs through Tyler on Tuesdays and Thursdays, according to its website.
At 5 p.m. Wednesday, the cost for a Lyft rideshare from Tyler Junior College to Grand Saline High School was listed as $67.09. An Uber rideshare was listed at $72.96.
Some options to help alleviate transportation issues include online classes and partnerships with public transit. Andrews said finding a solution will be among the highest priorities when the college next meets with the superintendents of districts in the program in the coming months.
Rusk High School graduate Alexis Long, no relation to Maddison, said food and gas were the largest expenses she incurred while attending TJC. She worked a part-time job to help cover the $60 to $80 per week she would spend on gas and food, if she didn't prepare meals at home.
For students struggling with food insecurity, TJC has established an on-campus food pantry that is partially funded through the college's employee giving campaign.
Unlike the Rusk program, the TJC Promise does not cover the cost of books, which can be substantial.
Another unexpected cost that could force students to take out loans is child care. A 2014 study by the Institute for Women's Policy Research showed that 26 percent of all undergraduate students were raising children.
Data from the college and the federal government show promise program students are as likely to receive grant aid and less likely to take out student loans when compared with the general population of the college.
For the 2015-16 academic year, the percent of full time, first time in college students receiving grant aid from state or federal sources was 68 percent. The percent of students likely to take out loans was at 44 percent, according to the college's 2017 integrated postsecondary education data system (IPEDS) report. For 2017-18, the college has 58 percent of students receive grant aid and 43 percent opt to take out student loans.
An analysis of financial aid data for the 149 students who have gone through the Rusk TJC Citizens Promise program showed 64 percent received additional grants from either the state or federal government. During the same time period, 36 percent opted to take out student loans through Direct Plus, Subsidized or Unsubsidized programs.
The leadership team at Tyler Junior College hopes that by addressing these challenges, they can not only expand their own programs, but also help other communities begin their journey toward more affordable college.
This story was produced with support from the Education Writers Association Reporting Fellowship program.