What can you do with a pile of old rings that no longer fit? What about old pocket watches, medals or your grandmother's favorite brooch? Polly Hitt can put them on a necklace.
"A ring doesn't have to fit to wear it around your neck," Hitt said.
With her series of jewelry called Neck Collections, Tyler resident Hitt is making a statement that fashion should be fun.
Her large and sometimes over-the-top necklaces come with unique names that fit each piece's theme, such as a gold necklace named "Everything Under the Sun" and a chain filled with heart pendants called "For the Queen of Hearts."
In her Christmas collection, a necklace sporting a miniature vehicle carrying a tree on its roof is named "Home for Christmas."
"If you're brave and daring you'll wear something that's a really wowy necklace," Hitt said. "If you're not, you'll wear something that's calm and quiet and little, but I know the older I get the more fun they are."
Hitt once owned an antique store on Old Bullard Road. She noticed that her vintage jewelry wasn't selling. When she decided to combine several pendants onto one chain, the new and improved necklaces became an instant hit, she said.
"One time I went to a gallery opening out of town. I knew not a single person in the room except the woman whose guest I was," Hitt said.
"By the time the night was over, I'd met everybody because I had on a wowy necklace. Everyone came up and said, 'Tell me about your necklace.' It's just a fun thing to do, and fun to wear, and it's a great ice breaker."
Hitt remembers one customer who stopped to see her, claiming she had solved a major problem.
"I've been invited to a fancy week and I need three really dressy outfits," Hitt recalls the woman saying. "You just solved my problem. I'm going to buy three necklaces and nobody's going to notice what else I'm wearing."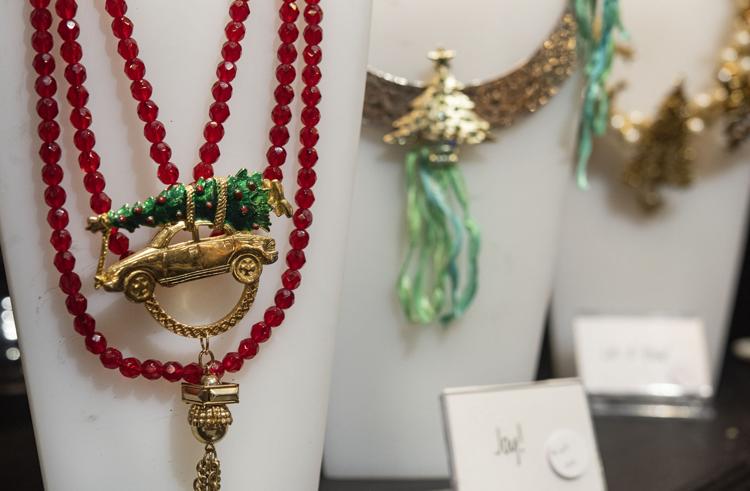 Hitt creates her jewelry at her workshop next to the entrance of Ye Olde City Antique Mall in downtown Tyler. She occasionally hosts events at her workshop where customers can pay to make their own necklaces. She also maintains a booth inside the antique mall that features her Neck Collections, among other items.
"Right now antiques are not in, but they will be again," she said.