At 71, Joyce Stanley appears a bit out of place with boxing gloves on her hands and jabbing a punching bag.
She never thought of herself as a boxer, but says she has fun doing boxing exercises.
Seventeen years ago, Stanley realized something was going on with her body. "I thought I had a stroke on my left side," she said. "I went to a neurologist and they diagnosed Parkinson's disease."
Coping with it has been hard, Stanley said.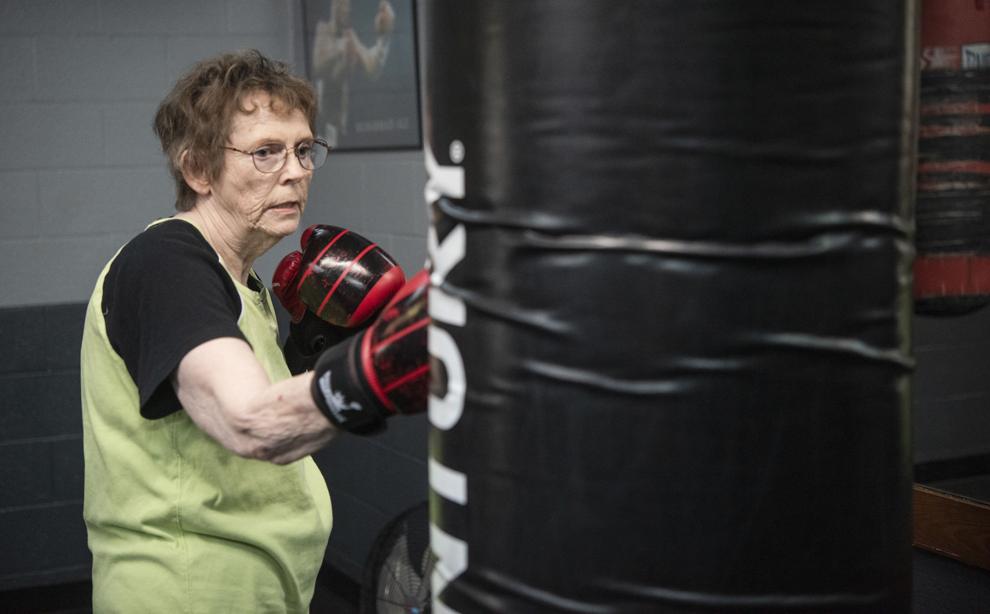 Not long ago, Stanley heard about the new Rock Steady Boxing program in Tyler exclusively for Parkinson's disease patients. It is a boxing workout type program in which patients train like a boxer.
"I thought, 'Well, I'll try it,'" Stanley said. "I have been in the program about a month. I love it. My upper body is much stronger than what it used to be. My balance is coming along. I need more work with my legs, but I think I'm doing really well. Being around people helps you. I've enjoyed every bit of it."
Dr. Neal Pock, 83, a retired physician diagnosed with Parkinson's Disease about 11 years ago and who gave up surgery because of a tremor in his hands, is another participant in the Rock Steady Boxing program.
"You see sweet little old ladies that you think would never have anything to do with boxing, but they do a great job of hitting the bags," he said.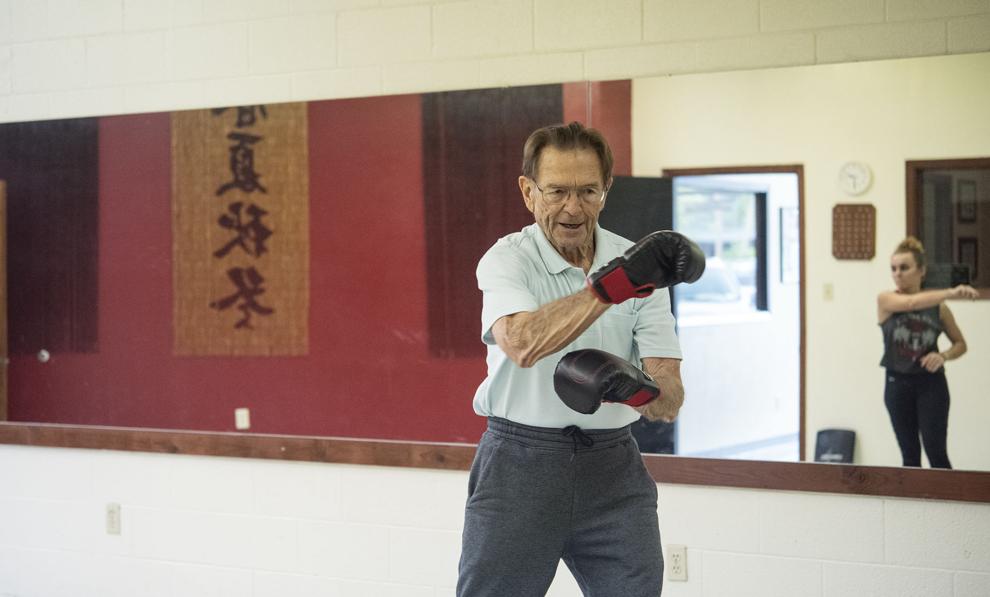 Rock Steady Boxing has absolutely helped him, Pock said.
"I fell probably six times prior to the time that I was in the program," he said. "I haven't fallen after being in it. The thing probably most helpful to me is the toning up and bulking of the shoulders, upper body strength and abdomen. I have much more muscle control in the upper extremities and balancing on my feet."
No two cases of Parkinson's are identical and there's no way of predicting the direction that the disease is going to go, Pock said, noting it can start with a tremor in the hands and progress to difficulty swallowing food, weaken the voice and affect patients in many other ways.
Parkinson's disease is the second most common degenerative neurologic disorder worldwide and affects about 1 million adults in the United States.
Another Parkinson's patient participating in Rock Steady Boxing, Connie Hudson, 79, a retired geologist, said, "Parkinson's is not curable, but you can slow down the progression and boxing helps do that."
The physical activity in Rock Steady Boxing has considerably helped his condition, Hudson said.
"It helps you with balance, which is one of the things you lose with the disease," Hudson said. "It helps you maintain muscle strength and overall conditioning."
Dr. Richard Kronenberg, 81, a retired physician, was diagnosed with Parkinson's early this year, but in retrospect thinks he has had it at least five years.
The disease's biggest impact on him has been that it has made his voice weak and affected his balance.
Kronenberg has found that the Rock Steady Boxing program is a good general conditioning program. It's easier for a group of people to be together trying to achieve the same thing of fighting Parkinson's than trying to do it on your own, he said.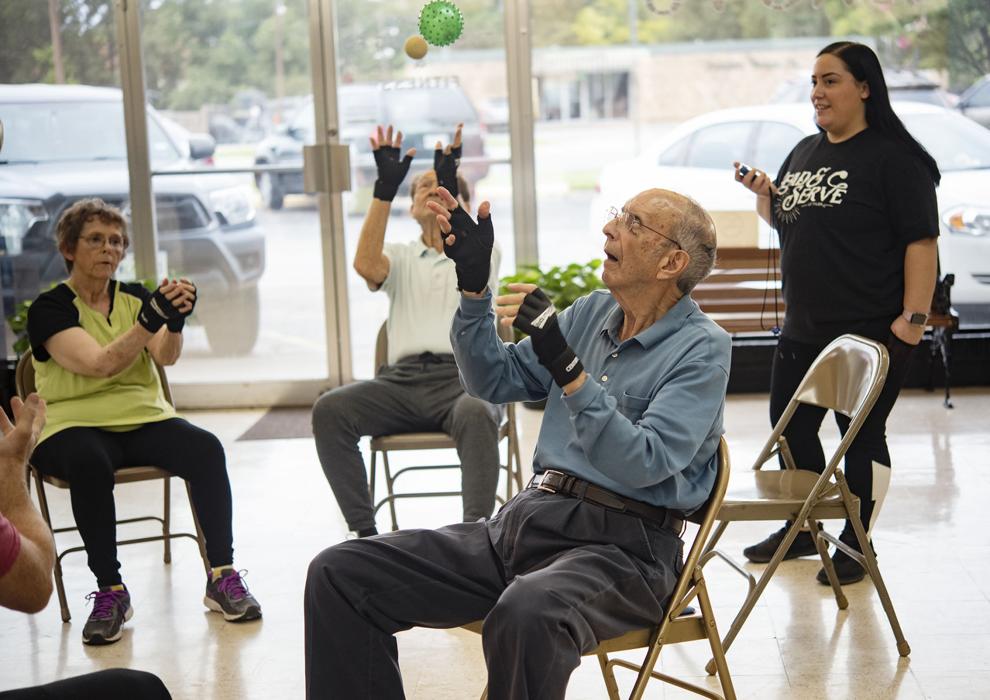 Kronenberg said he would like to have better balance, but he is not sure that getting a lot better is a realistic goal. He takes out his aggression toward Parkinson's by hitting the punching bags hard.
Brandon Jones operates the Tyler affiliate of Rock Steady Boxing, the only place between Dallas and Shreveport offering the program. The first class has eight or nine boxers or students.
It is one of several fitness, martial arts and self-defense programs available at Tyler Kung Fu & Fitness, 2537 E. Fifth St.
Jones, chief instructor/owner, went through training and became a certified Rock Steady Boxing instructor in May. Earlier, he had become interested in Rock Steady Boxing after hearing about boxing for Parkinson's patients at a martial arts conference.
The certification process involved studying online up to 25 hours, an all-day training course in Houston and a final exam.
"I just wanted to get the knowledge of how to help people with Parkinson's disease," Jones said.
Parkinson's disease patients who enroll in his Rock Steady Boxing classes do not box anyone. Instead, the opponent is Parkinson's disease.
Rock Steady Boxing involves noncontact boxing practices adapted from boxing drills aimed at developing agility, speed, muscular endurance, hand-eye coordination, footwork and overall strength.
The exercises emphasize motor movement, balance, core strength and rhythm aimed at impacting range of motion, flexibility, posture, gait and activities of daily living.
Scott Newman, a former Marion County prosecutor in Indianapolis, and a friend started Rock Steady Boxing in 2006. Newman was diagnosed in 1999 with early-onset Parkinson's at the age of 40.
Typically, Jones said, Parkinson's disease shows up in people 60 or older, although a lot of people are diagnosed younger, the most famous case being actor Michael J. Fox, who was diagnosed at 29.
People in Jones' Rock Steady Boxing classes range in age from the early 50s to 87. They undergo an assessment when they start the program and are reassessed again every six months.
"Parkinson's is a progressive disorder of the nervous system that affects one's ability to move," Jones said. "There's no cure, so our goal with Rock Steady Boxing is to stall that progressiveness or drastically slow it down to help the quality of a person's life. They get stronger and overcome some of the setbacks Parkinson's gives them."
Christine Timberlake, program manager for the Rock Steady Boxing headquarters in Indianapolis, cited studies that support the premise that exercise helps Parkinson's patients.
For example, a two-year study by the University of Indianapolis, Krannert School of Physical Therapy, Interprofessional Health and Aging Studies, found that exercise may modify disease progression in persons with Parkinson's disease. A second study by the university along with Texas Children's Hospital and Baylor College of Medicine found that exercise based intervention with Parkinson's patients led to improvements in gait velocity and stride.
Classes for Parkinson disease patients at Rock Steady Boxing in Tyler meet twice a week, usually for about an hour, and often start with building rapport. Everybody sits in a circle and gets better acquainted, sometimes by each person naming their favorite movie or favorite dessert.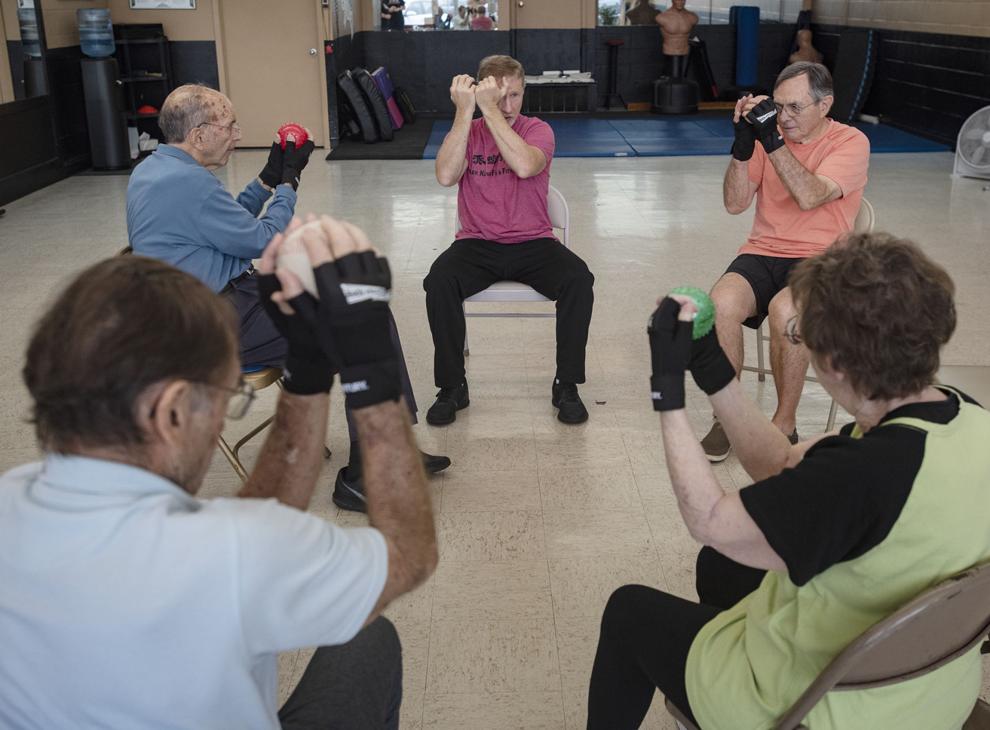 Next comes a warm-up phase of the class with light stretching and brisk walking to get the heart rate up.
Then the class moves into drills in which class members train like a boxer and are taught how to properly stand in boxing, how to hold their hands, how to move back and forth, how to shuffle.
Wearing gloves, they jab at 6-feet-tall, padded punching bags that simulate a human. Just learning to put on the gloves is a challenge for some class members because of loss of mobility of their hands. A small gel glove goes on their hands first, followed by a boxing glove, providing two layers of protection for their hands.
Just like real boxers counting while they work out, the Parkinson's disease patients shout "1 … 2 … 3" as they strike the punching bags. Real boxers count to develop their timing, but the patients are asked to raise their voices as they count as a way to help the disease in their voice box, for cognitive function and for eye-hand coordination.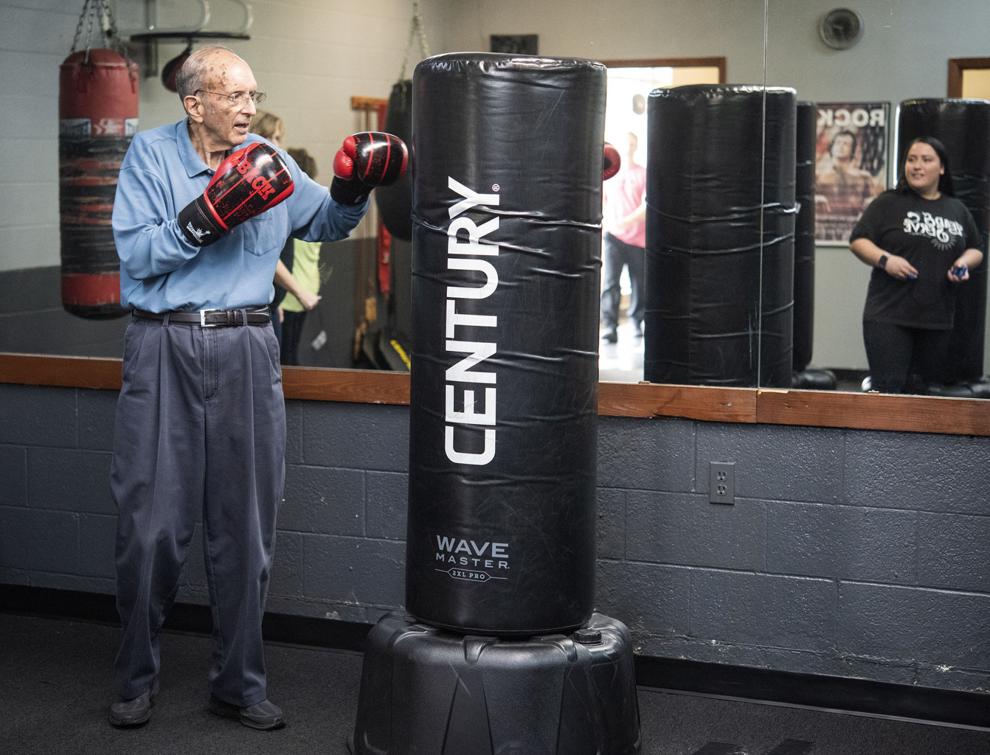 In another phase of the class, Parkinson's disease patients move through an obstacle course, stepping over things, which promotes footwork, depth perception and coordination. Similarly, they focus on following lines of tape on the floor to gain better control of their feet.
"They are all here to fight the same disease. They lift each other up and inspire each other. By the end of the class, they feel better and are glad they came," Jones said.