To improve consumer safety and increase awareness about skimmers, gas pumps across Texas will soon have a new sticker to show people how to report suspicious activity.
The Texas-shaped stickers featuring information, warnings and contact information on gas pump security were unveiled in Tyler Tuesday at Fresh by Brookshire's gas station pumps on Old Jacksonville Highway.
David Gonzales, Texas Department of Licensing and Regulation deputy executive director, said consumers at the pumps can use the information on the sticker to report suspicious actions.
"We're trying to do this outreach to make sure consumers know there's any easy way to file complaints if they actually have any issues with fuel metering and quality or see something tampered with in the credit card reader," Gonzales said. "They can report that information to us. It's important that they help protect the pump because we can't be at every pump."
When customers have a problem with their fuel or see suspicious activity, they can contact TDLR by phone at 1-888-441-FUEL, use the QR code on their phone or visit www.tdlr.texas.gov/complaints.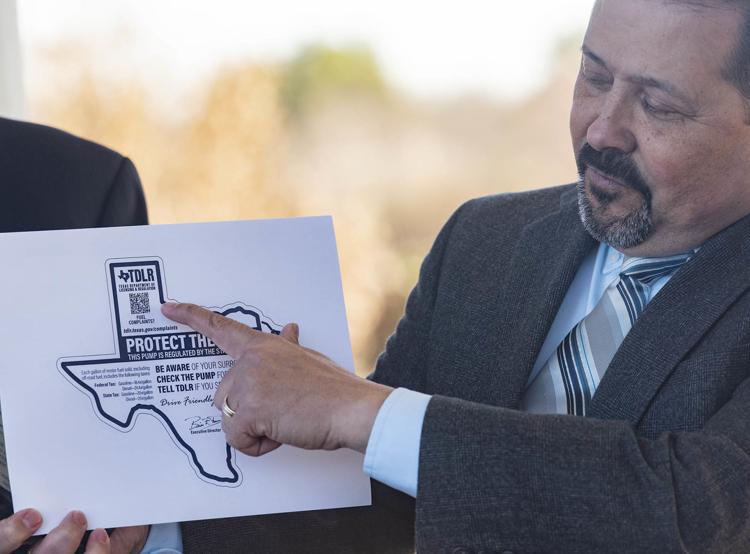 The stickers also issue the following warnings: Be aware of your surroundings, check the pump for tampering and tell TDLR if you see something.
At the stickers' unveiling, Smith County District Attorney Jacob Putman said Smith County is leading the state in the aggressive prosecution of gas pump skimmers.
"To see this sticker and agencies get involved and coming out here to Tyler and really tackling this problem statewide is very encouraging," Putman said. "We're happy to have y'all here and looking forward to seeing more progress as far as catching these guys, prosecuting them and preventing it from happening in the first place."
Tyler Police Department Sgt. Adam Colby said the department had representatives testify in front of the Texas Legislature to advocate for the safety and security of gas pumps. Tyler, Houston and Austin police departments joined forces to show the need for changes to gas pump safety.
The stickers are part of an overall plan to keep the pumps safer as millions of dollars are being stolen through the actions of credit card skimmers, Colby said.
He added skimming, which involves using devices that steal credit card information, has gone down dramatically in Tyler and Smith County due to the zero-tolerance efforts of the Smith County District Attorney's Office, TDLR, U.S. Secret Service, Tyler police and Smith County Sheriff's Office.
These stickers also showcase that the fuel metering and quality program is now supervised by the TDLR.
Prior to Sept. 1, 2019, fuel metering was managed under the Texas Department of Agriculture until the Texas Senate Bill 2119 was passed in the 86th legislative session.