Sisters Kelli Coleman and Phoenix Boggs, both of Tyler, were one of many local residents who came together to support women's rights Sunday at Tyler's first Women's March.
The Women's March is a women-led movement with the purpose of harnessing the political power of diverse women to create transformative social change, according to the national Women's March website.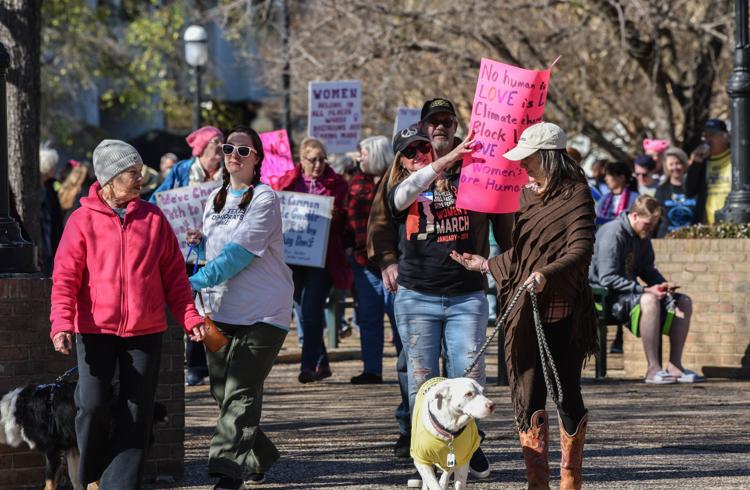 Participants marched from the T.B. Butler Fountain Plaza on South Broadway to the Cathedral of Immaculate Conception and back to the square. The Democratic Club of Smith County sponsored the event.
"It's nice to be in a place where people are talking about these issues in a positive way," Coleman said.
Coleman held a sign with an image of U.S. Supreme Court Justice Ruth Bader Ginsburg with the acronym WWRBGD, which stands for What Would Ruth Bader Ginsburg Do?
"She's the ultimate feminist icon," Coleman said. "She became a success in a male-dominated field a long time ago."
Staci Smith, who organized the Women's March along with Nancy Nichols, said the event is about raising awareness of women's rights, such as equal pay for equal work and reproductive rights.
"It's exciting just to be represented here," Smith said. "Anybody's welcome and counties from far and wide can come."
Boggs's sign had a quote from Ginsburg, "Women belong in all places where decision are being made."
"I think it's absolutely important to bring attention to women's rights and it's something that doesn't get a lot of attention in Smith County," Boggs said.
Some of the chants during the march included, "This is what democracy looks like," "Women's rights are human rights," "Equal pay, Tyler, Texas lead the way," and "My body, my choice."
The League of Women Voters of Tyler-Smith County member Brenda McWilliams thanked the crowd for attending and engaging in governance.
She said the league's mission is to empower people to be a part of the democratic process through public debate and especially informed voting.
McWilliams noted the importance of 2020 being the 100th year of women being able to vote in America. In August 1920, the 19th amendment of the U.S. Constitution was ratified.
She encouraged people to celebrate the legacies of women, such as Susan B. Anthony, Sojourner Truth, Harriet Tubman and others.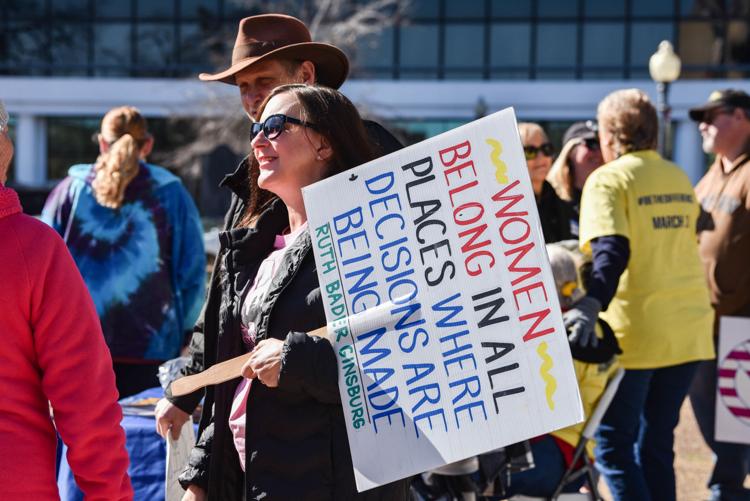 Early voting for Smith County primary races begins Feb. 18 and Election Day is March 3. McWilliams asked guests to consider being voter registers and election workers.
League of Women Voters Tyler-Smith County secretary Mitzi Rusk said the league is working hard to get more voters to participate in their government.
"We have to stay involved because democracy is not a spectator sport," Rusk said. "We are looking for our future in Smith County."
Smith was pleased with turnout for Tyler's first Women's March. She said there are plans to get started earlier next year and apply for permits to be able to march in the streets.
Some Democratic candidates running for Smith County offices also spoke at the march. Bobby Garmon, Precinct 1 constable and candidate, was represented by Gloria Washington and Willie Mims, candidate for Precinct 1 constable, was represented by Jamie Mims.
Smith County Democratic Party chair candidate John Walton, Precinct 1 commissioner candidate Peter Milne and Precinct 3 commissioner candidate Laura Alexander attended the march and spoke to guests.