MINEOLA – Small business owner Lee W. James didn't grow up in the country, but after a long career in the military and defense industry, he couldn't wait to saddle up and get out of town.
The 16-year U.S. Marine and Lockheed Martin retiree left Grand Prairie more than two decades ago to create a new life in East Texas based in part on a love of the past.
The rodeo enthusiast, who enjoyed competitive roping, dabbled in farming a few years before moving to downtown Mineola.
"I have a Masters in history and I wanted to do research on old buildings," he said. "There are so many old buildings here… I just love the history."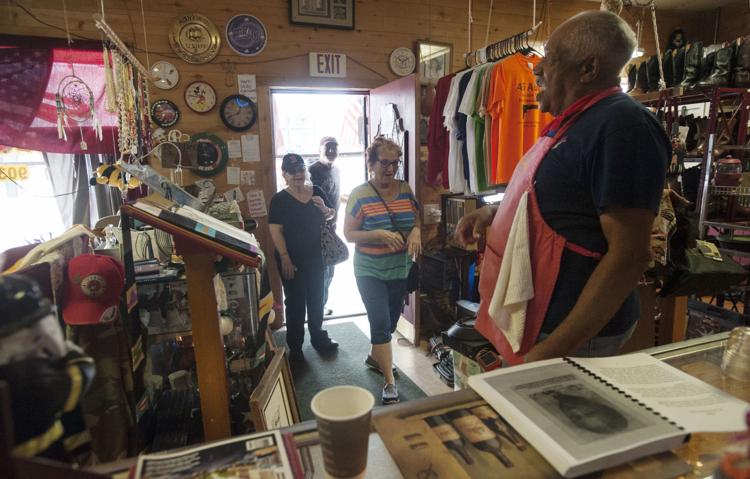 James, 74, also enjoys old school cooking techniques and found a way to combine the interests into a single endeavor, creating his own niche and accidental slice of entrepreneurial heaven: Lee's Old Country Store, 115 S. Johnson St.
His shop is located in a historic building that's part of the fiber of downtown.
The upstairs serves as his private residence; the downstairs is a palate for a seemingly endless selection of jellies, jams, salsas and vegetables to name a few.
"It's my hobby," he said. "Everything is made right here, including the labels. My products taste so good because I pour my heart and soul into it."
There is much to say about James and his post retirement endeavors.
Boredom does not seem to be a problem.
He's written two cookbooks and efforts are under way on a third read, documenting his Native American ancestry.
He's also a boot seller, offering a wide variety of well-heeled options plucked away largely from friends in the rodeo circuit.
Other endeavors include service for the Wood County Crime Stoppers, Mineola Neighborhood Watch Program, Marine Corps League and Volunteer Fire Department Rodeo.
But his real passion seems to center on the southern delicacies he coaxes from a tiny, no-frills kitchen outfitted with castaway equipment.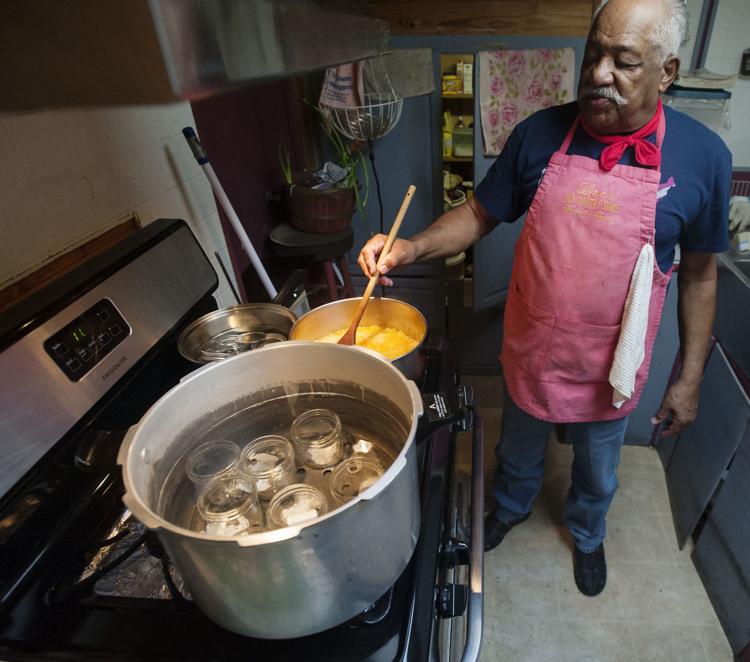 His beloved culinary hideaway is separated from the rest of the world by a creaky old screen door and a hand-scribbled "keep out" sign that reads: "Whoa, no creature of God is allowed in the kitchen … except the handsome cook. Thanks."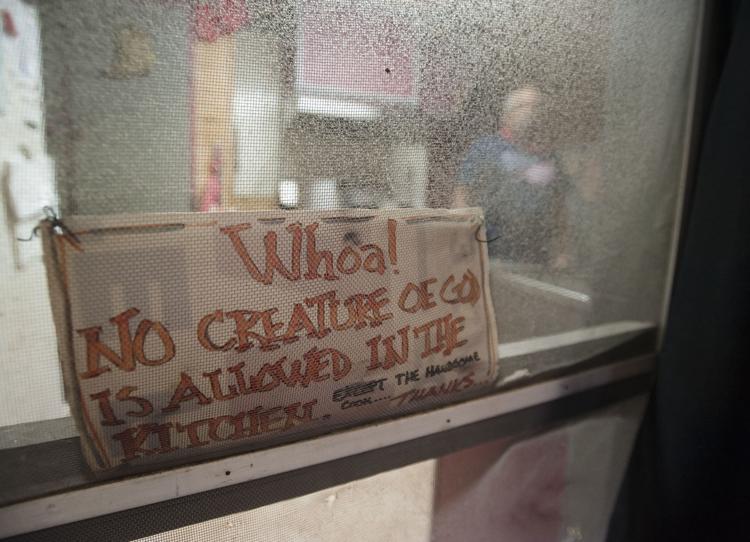 Collected pressure cookers are the crown jewels of his kingdom.
"I've been making products for more than 30 years," he said with a grin. "My mom didn't teach me these things. I used to cook for my three sisters when they were little girls, plus my mom and dad and brother."
The self-taught cook whips up a whole host of southern delicacies with a twist — unexpected spices, uncommon ingredients, such as a little dab of butter in the jellies.
Some names might raise a few eyebrows, with most salsas featuring "butt scooting" on the labels.
"People look at the names and think they are hot, but they aren't really," he said.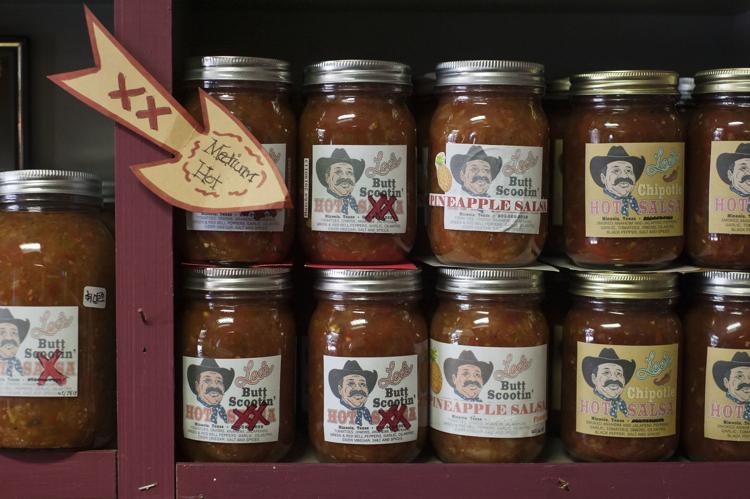 It takes a bit of humor to appreciate the cheeky approach to his direct sale foods, but there seems no shortage of willing testers.
A dog-eared notebook posted at the front of his shop features a lengthy list of visitor names and hometowns.
"I've got customers from all over the world," he said. "There's a lady from London who loves the sweet potato bread. She asked for my recipe and I gave it to her."
James shares recipes and anecdotes in his two cookbooks, available for sale in his shop.
He doesn't worry about giving away trade secrets because most people don't cook with pressure cookers anyway.
"People are scared of them," he said with a shrug. "They don't bother me."
James said a great childhood helped set the stage for an enjoyable life. He grew up in a hard-working family with six children.
"Same mother, same father," he said. "Mom was mixed Cherokee, Dad was mixed Choctaw."
When he was born, his parents worked for an Oklahoma farmer who paid them not with money, but with credit for goods from a makeshift store set up on his land.
It was a difficult arrangement for a young couple that wanted more for their children than the confines of the farm could offer.
James was still a tiny baby when his family joined a small caravan of visionaries heading out of Oklahoma to Dallas.
It took a few days to make the journey, he said, because the vehicles kept breaking down.
"Back in those days, people would help each other on the road," he said. "They would swap out cold cornbread or beans and things and help each other."
The young family reached Dallas and settled in to create a better life for themselves.
His mother eventually opened her own beauty shop and his dad worked as a laborer.
"We always had food," he said. "Mom was always a giver … she was always feeding neighborhood kids and even hobos. They would wash their hands outside and eat on the porch."
He's never forgotten the importance of sharing, routinely canning food for charitable purposes and food pantries.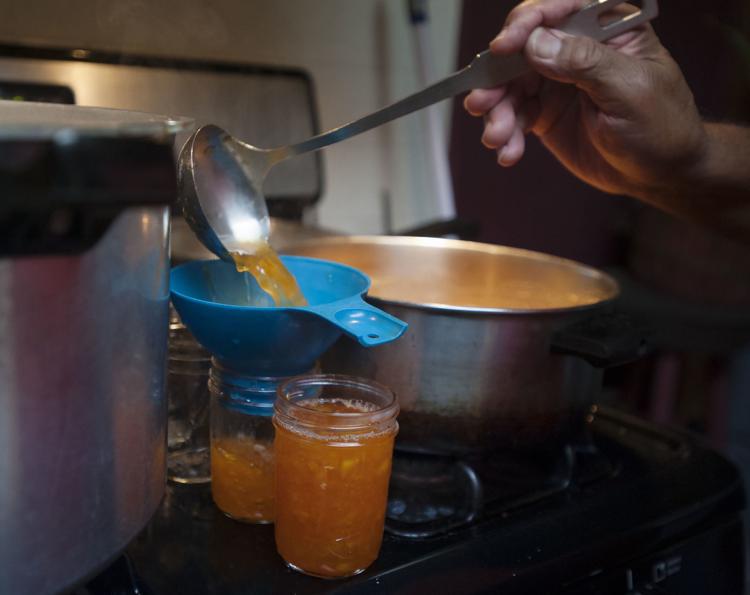 "I peeled over 200 pounds of potatoes to make this," he said, holding up freshly prepared products labeled for Golden United Methodist Church. "These potatoes, you can put in the pantry and leave them a year. Not long ago, I peeled 546 tomatoes."
James said life in the city was great, but it does not compare to living in East Texas.
"It's always been a dream of mine to have something like this," he said. "I make a little money, but it's mostly my hobby. I'm really loving it."