Green Acres Baptist Church senior pastor David Dykes' vision to create a space that would connect young adults as well as provide a place where church members and the public could enjoy fellowship with one another has led to the establishment of the Connections Café.
Eddy Espinosa, the church's culinary services director, said the café has "gone over very well. People have enjoyed it quite a bit. Our membership loves it and we have a few folks that come from the community and enjoy a great meal."
During the summer, the bistro café is open from 7 a.m. to 12:30 p.m. Sundays and 7 a.m. to 2 p.m. on Tuesdays, Wednesdays and Thursdays. The café is downstairs from the Green Acres CrossWalk Conference Center.
It offers handcrafted eclectic sandwiches, gourmet salads, specialty deserts and a full-service specialty bar. Side orders available are pasta salad, homemade potato chips, fresh fruit and macaroni and cheese.
Suzanne Handley, who has been to the café many times, said, "It's a wonderful place for lunch. The food, I think, is outstanding and reasonably priced. I love the atmosphere. It's a place (where) you can visit and talk. So many restaurants are loud."
Her husband comes to the café on Wednesday mornings for a time with a group of men for coffee, reading the Bible, praying together and having fellowship. She brings her mom for lunch after senior Bible study and recently brought an old friend for lunch.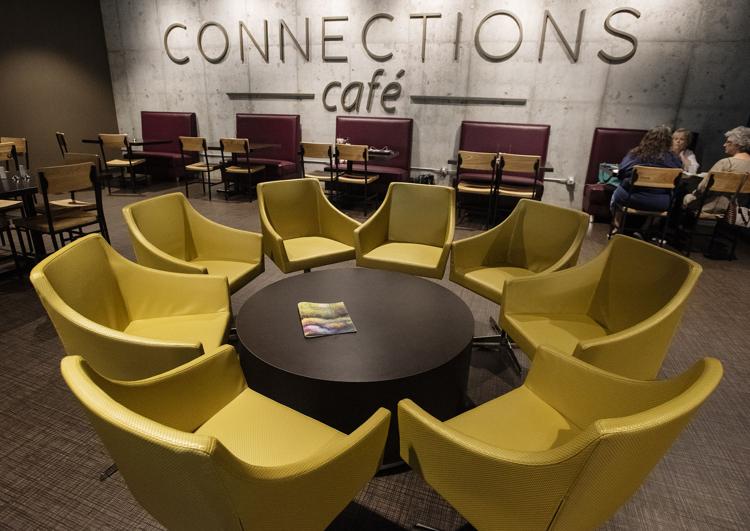 Church members inviting friends for lunch is a way of connecting and exposing them to the church, Espinosa said.
Operation of the café is kicking off in phases. The first phase started with the café's opening in January, primarily offering breakfast and lunch.
In late August, the café will expand its hours to include the early evening. This fall, it will introduce a Sunday lunch for church members who like going out to eat after services. Currently, it only offers specialty coffees and pastries on Sunday.
Probably toward the latter part of the year, Espinosa foresees the café introducing an online ordering service.
When the café extends its hours to the early evening this fall, Espinosa anticipates it may become a place where college and university students will grab a cup of coffee, study or work on their computers. He noted the idea of going out for coffee as a social experience is popular today among the younger generation.
The café already is popular among all ages.
On her first trip to the café, Sherry Hilliard looked around and said, "I really like the décor. I think it was very well thought out."
The café style is modern as conveyed by its vibrant colors, the furniture, a concrete back wall and industrial ceiling. The placement and type of furniture intentionally create a sense of community for groups, Espinosa said, noting there are lounge areas for up to 10 people as well as booths and tables.
It also has a private dining room used for all types of gatherings and meetings. It is equipped with technology for presentations and has a wall that people can write on.
"We are trying to connect people to one another. Hence, our name, Connections Café," Espinosa said.
The café will sit slightly over 100 people. It is open to everybody.
Diner Jackie Little said the café is a good place to socialize and the food tastes good.
Looking up from her meal, Melody Allen said the food is fresh and prepared daily. The café is a great place for lunch and for groups to have accessibility to the private dining room for a meal plus have a meeting, she said. In addition, Allen observed that the cafe is modern and trendy for young people.
"The specialty coffees are excellent," Carolyn Jones said. She also likes the food, the service and convenience of being able to come to the café before or after an event at the church.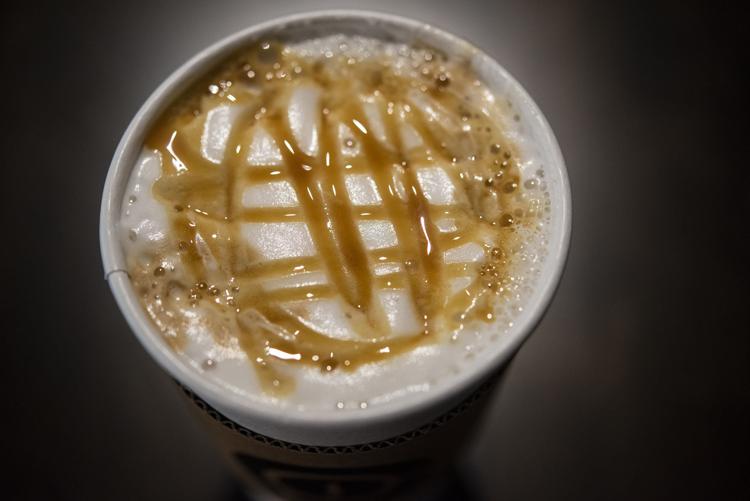 The breakfast menu includes yogurt, fresh baked muffins and pastries.
The café has state-of-the-art Italian expresso machines to prepare lattes and specialty drinks, including high-caliber coffee drinks. It uses 100 percent Columbian beans, and for dark roast it uses Peruvian blend.
Gourmet salads on the menu include Caesar, chicken, Southwestern Santa Fe and Cobb varieties. The lunch menu has two homemade soups along with a soup du jour, baked potatoes and a variety of sandwiches.
For example, one of the most popular sandwiches is the club panini, made with red pepper mayonnaise and smoked ham on a brioche bun.
Beef is marinated for four hours and smoked for six hours. The brisket sandwich is served on brioche along with spicy cole slaw and pickles.
"It's not your run-of-the-mill type of sandwich," Espinosa said. There are also turkey, pulled pork and other sandwiches.
Sandwiches and soups are prepared upstairs in a full-service kitchen that provides catering service for events in the conference center. They are brought downstairs and placed in warmers for café customers.
Customer Patricia Hamilton said the food is fresh and tasty and she observed that the café is clean.
Espinosa collaborates with an executive chef on the meals. The café staff also has three line chefs, two baristas trained to make specialty coffees, a cashier and a manager.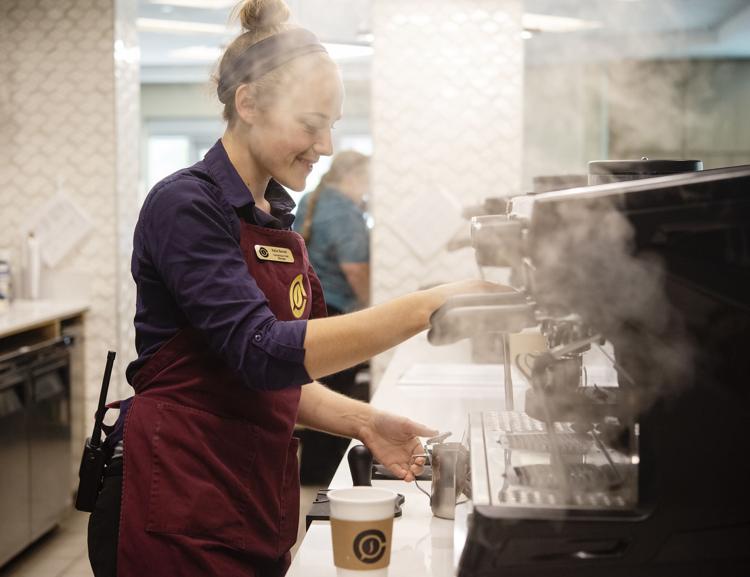 For Espinosa, who has 35 years experience in food service, he said that overseeing the Green Acres food service ministry enables him to use his gifts and talents "to serve the Lord and his people."
Prior to church ministry, Espinosa worked in hotels and country clubs, gaining diverse experience with different types of cuisine.
"About 20 years ago, I came to know Christ and I've been serving in churches ever since," he said.
Twitter: @Tylerpaper