Religious organizations contribute more than $100 million to the Tyler area economy.
That's according to a study this year from the Hibbs Institute for Business and Economic Research at the University of Texas at Tyler.
The institute looked at the effect faith institutions, including churches, synagogues and mosques, have on employment and economic output.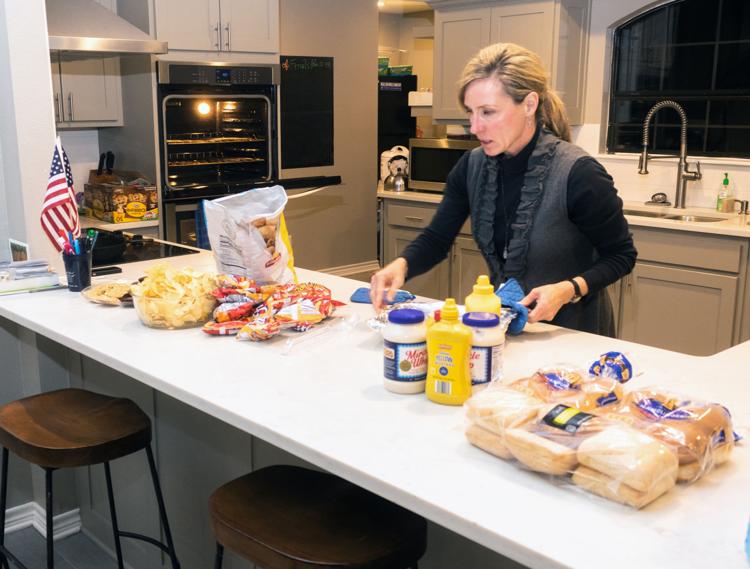 Faith institutions generate 2,218 jobs, including people directly employed, jobs indirectly dependent on faith institutions and jobs induced through the money people spend based on their faith-related incomes.
Direct jobs include pastors, rabbis, imams and administrative staff. Indirect jobs could include workers who build churches, cleaners who maintain churches or stained glass companies. Jobs created through induced spending include restaurants and retailers where the people with the direct and indirect jobs spend money.
The study said church organizations produce $69 million directly in economic output, which measures the value of goods and services they produce. Output can include the coffee people buy in church cafes, the value of counseling from a faith-based center and the value of education at church day cares and schools.
The $69 million output equals about 1 percent of the value of all goods and services in Smith County, the study said. The output from faith institutions is so large that it exceeds the output from the hotel and motel industry, the study said.
When indirect and induced output is included, the total output is $100 million. 
Manuel Reyes, a senior research analyst for the Hibbs Institute, conducted the study with Rod Mabry, the executive director of the institute. Reyes said he got the idea for the study when he moved to Tyler and noticed a significant number of churches.
"It caught my attention that when you drive around the city, you see a lot of churches, so I was like, 'Hmm, it's interesting,'" Reyes said. "Everything that's interesting, it's worthwhile to explore." 
The largest faith institution in Smith County, Green Acres Baptist Church, employs about 100 people full time and 100 part time, David Dykes, the senior pastor, said. That's about one-tenth of jobs identified in the study.
"I suspected that there was a very positive impact of churches and faith groups in the community," Dykes said. "I was pleased to see the data that supported that view. I was a little surprised to see frankly how big of an impact that churches are having."
The church has a total Sunday attendance of about 4,000 at its locations in Tyler and Flint. Dykes said Tyler is unique because most megachurches, which have attendance of at least 2,500, are in big cities.
"We have an unusually large percentage of our people involved in a faith group," Dykes said. "It'd be hard to find another city in America of our size with (so many people involved in faith groups), and I do know that there's no other city of our size that has a megachurch."
Reyes used the Association of Religion Data Archives to find out how many followers of religion are in the Tyler area, their religious beliefs and how the numbers compare to other areas.
"I noticed that the number of buildings is important, and it caught my attention at first, but I found that what is even more important is the number of followers that they count over those churches or congregations," Reyes said.
Seventy-one percent of Smith County's 2017 population of 230,618 identified themselves as congregational followers, Reyes said. Since 1980, this proportion has stayed between 62 percent and 71 percent, he said.
The largest proportion of religious followers, about 100,000 people, were evangelical protestants, followed by about 30,000 as members of the Catholic Church.
The area was 80 percent more religious than the national average, according to Reyes. That number is based on an economic method that models how characteristics of certain areas compare to the nation as a whole.
Tyler area had the highest proportion of followers among 10 cities of similar size. The next-closest metro areas in terms of religion were Medford, Oregon, at 70 percent; Rochester, Minnesota, 69 percent; and Longview, 67 percent.
In addition to Christian churches, there also have been mosques in Tyler, including the East Texas Islamic Society on Texas Highway 64, the Tyler Islamic Center on Rhones Quarter Road and Tyler Masjid of Al-Islam on Peach Street.
Anwar Khalifa, of the East Texas Islamic Society, said his organization employs between 15 and 20 people in the mosque and the affiliated Islamic Faith Academy, which serves children in early elementary school. About 300 people attend weekly services on Friday afternoons, he said.
In addition to employment, Khalifa said the mosques attract Muslims who want to live or work in the area and have a place to practice their religion.
He said many Muslims families came to East Texas years ago, when Smith County did not allow beer and wine sales. The ban meant they could own gas stations without pressure to sell alcohol if it conflicted with their beliefs.
"In Tyler, where there's a mosque and now there's a couple of mosques, people come, they're looking for a place to settle, and they want to have a place where they can go and worship, so these people come and they bring their money and investment and their skills to this area," he said.
Judaism is also present in Tyler. Congregation Beth El is a synagogue on Charleston Drive practicing reform Judaism. Ahavath Achim Synagogue on South Donnybrook Avenue observes conservative Judaism.
Rabbi Neal Katz, of Congregation Beth El, said the synagogue employs him full-time, three others part-time and brings in contractors. Sixty-five families pay dues as synagogue members and this revenue determines the annual budget, he said.
Katz described the synagogue's place in the economy as a "money swap" because it receives dues from people who work in other jobs and then spends the money on operations.
"We are thankful for the growth of Tyler because it's bringing into town Jewish professionals who ultimately support our congregation," Katz said. "So the growth of Tyler is ultimately related to our congregation's growth."
Reyes did not look at tax benefits that religious institutions receive. Many are exempt from paying federal income taxes and certain local taxes because of their charitable status.
He said the more than 2,000 paid faith-related employees are paid less than many private sector workers on average. The numbers range from less than $100 to more than $100,000. He said countless more donate their time and impact the community.
At Green Acres, members are considered ministers. The church has more than a dozen ministries in which they can volunteer, according to Dykes. There are vocational ministers who get paid, and more than 2,000 volunteer ministers, he said.
Reyes said: "We know that there's a lot more who do some kind of voluntary work who go there and do help, and sometimes even missions."
TWITTER and INSTAGRAM: @_erinmansfield