The National Weather Service Office in Shreveport predicts severe thunderstorms for Tyler and the surrounding area on Monday. Damaging winds, isolated tornadoes, large hail, and locally heavy rainfall are possible. 
The City of Tyler streets and stormwater crews will respond and intervene during a severe weather event where roads have washed out and other public facilities may be compromised. 
If you have an emergency, call 9-1-1, stay on the line and DO NOT HANG UP until your call is answered. Answer all questions and follow instructions.   
The Tyler Police Department's non-emergency line (903) 531-1000 should be used for all other calls and notifications, including traffic signal issues. 
How do I get alerts about storm updates or emergency information? 
The City of Tyler has a free emergency alert system that you may sign up for through Smart 911 with RAVE Alert.  
Signing up for alerts is easy. Simply follow the RAVE alert link and create your Smart911 with RAVE Alert account. You will then be able to select which alerts from the City of Tyler, Smith County and surrounding areas you would like to receive. 
Account users may sign up to receive email and text message alerts. In addition, users may opt to provide additional information like medical conditions, pet information, house description and more. This gives first responders access to critical information on how best to respond to your family's needs in an emergency situation. All information is secure and will not be shared publicly. 
There is also an app available for download for both Apple and Android users.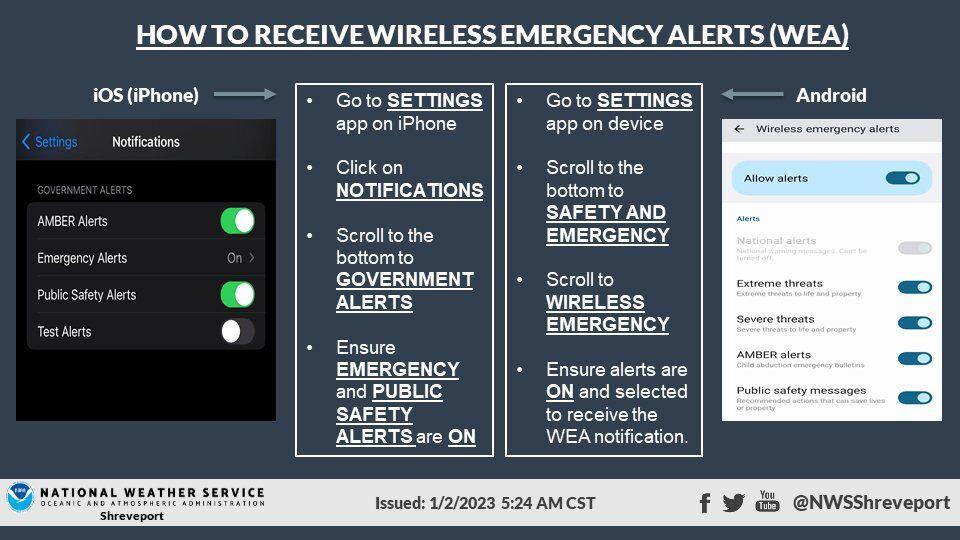 What do I do if water is over the roadway? 
Turn around. Don't drown. According to the National Weather Service, driving or walking into floodwaters is never safe. People underestimate the force and power of water. Many of the deaths occur in cars swept downstream. Many of these drownings are preventable.
Never drive around the barriers blocking a flooded road. The road may have collapsed under that water. A mere six inches of fast-moving flood water can knock over an adult. It takes just 12 inches of rushing water to carry away most cars, and just two feet of rushing water can carry away SUVs and trucks. 
You should turn your vehicle around and find an alternative route. Then, report the flooded street to the proper authorities.  
Who to call for flooded streets, potholes, sinkholes, downed trees, stormwater/drainage issues 
For those within City limits in Tyler:  
Contact the Streets Department at (903) 531-1393 from 8 a.m. to 5 p.m. Monday through Friday or use the MyTyler App to report flooded streets, potholes, sinkholes, downed trees, stormwater, and drainage issues.  
Contact the Tyler Police Department's non-emergency line at (903) 531-1000 during holidays and off-duty hours.   
Reporting power outages and downed power lines:  
Contact Oncor at 1-888-313-4747 to report power outages and downed power lines. 
Please be advised that damage to personal property during a flood event is usually the property owner's responsibility.  
If you live in a flood-prone area, it is important to take immediate steps to protect your property. The Federal Emergency Management Agency (FEMA) provides information on preparing for and reducing flood damage. Your homeowner's insurance provider can also walk you through your coverage and claims process.