Rashaun Woods was officially welcomed to the Tyler ISD family Tuesday morning as the board of trustees approved him as the new head football coach of Tyler High School.
"Nearly seven weeks since the Tyler High head football coach opening occurred and nine weeks since the regular season completed, we have recommended Coach Woods to lead the Tyler High football program," Tyler ISD superintendent Marty Crawford said. "While his leadership intangibles matched the expectations of community members we sought advisement from, to me, his football acumen stood out, especially when looking at what he has done as a head coach at schools that were looking to return to successful status."
Woods, who has had success as a player and as a coach in the state of Oklahoma, said he is looking forward to his new opportunity in Texas.
"I know traditionally, this is a place with big-time athletes and a big-time program," Woods said. "The community is very involved in the success of the program. It means a lot to them. And those things are going to be important to me as well. I'm excited to be a part of this community and excited to get started. I'm ready to do some good things here."
Woods was a two-time All-America receiver at OSU and still holds several school and Big 12 records. After a brief stint in the NFL and the CFL, Woods became a high school coach.
"Early on, it wasn't something I was extremely interested in," Woods said of coaching. "But sure enough, I had a couple of guys that were calling me about being a part of their high school program."
Woods started coaching at Star Spencer High School in Spencer, Oklahoma.
"I got my shot, Star Spencer High School was my first opportunity," Woods said. "It didn't take very long to know that this is something I really enjoy. The way my career ended as a player, I kind of wanted to step back from football a little bit, but there's just no way that could happen. Before you know it, you've learned a lot of things, and you've created a lot of relationships in football, and you just can't walk away from that, no matter how bad you want to. Having the chance to get back into it and get around kids and help those kids be successful, to see the smiles and genuine happiness on their face to see them achieve their goals is something that's become special to me."
Woods became the head football coach at Oklahoma City Marshall High School in 2012. In six seasons leading Marshall, Woods' teams posted a 55-18 record and winning a Class 3A state title in 2017. Woods was named the Oklahoma Coach of the Year in 2017.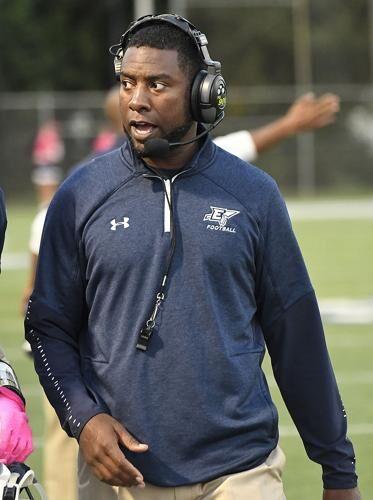 In 2019, Woods moved to Class 6A Enid High School (has an enrollment comparable to a 5A-Division I school in Texas). Woods completed four seasons at Enid. During his tenure, he took the Plainsmen from an 0-10 record to 6-6-1 this past season. It was the first non-losing season for the program in 10 years and their first playoff win in 16 years.
"Those were places where people didn't want the job," Woods said. "I took those opportunities, and people laughed at me. But I got there and once I had a chance to get to know the kids and got their trust and respect, things turned around extremely fast."
Woods has a career record of 67-49-1.
Crawford said seeing what Woods accomplished at those schools should make Tyler fans excited.
"When Coach Woods arrived at his previous schools, it appears they had nowhere near the district and campus-provided resources, team assets and facilities, fan base and tradition that Tyler High possesses," Crawford said. "He saw surprising success there and showered credit to so many others who took part in the work that occurred at John Marshall and Enid."
Woods was born on Oct. 17, 1980 in Oklahoma City. He attended Millwood High School.
He played at Oklahoma State from 2000 to 2003. He finished his college career with 293 receptions, 4,414 yards and 42 touchdowns — all Big 12 records. Woods was two-time all-America, including being recognized as a consensus first-team All-America in 2002.
Woods also holds the NCAA single-game record for most touchdown receptions in a game (7 against SMU in 2003) and most touchdown receptions in a half (5 in the first half of the same SMU game).
In 2001, he had a big TD catch in the Cowboys upset win against rival Oklahoma.
Woods was selected by the San Francisco 49ers in the first round of the 2004 NFL Draft, and played professionally for the NFL's 49ers and the CFL's Toronto Argonauts.
Woods is replacing fellow Oklahoma State alum Ricklan Holmes, a John Tyler High School graduate, who resigned his post in early December after an 11-year run leading the Lions.
Woods is just the Lions' seventh head coach since 1991. The program has 12 double-digit win seasons in that span with a state championship in 1994.
The Lions finished 2-8 this past season and missed the playoffs for just the third time since 2008 but also the third time in the past six seasons.
While coaching and building a program is a fluid situation, Woods has a vision for his new job.
"No matter how good of athletes you have or you don't, it's about discipline and execution," Woods said. "Those are things I stand by, doing the right things on and off the field, making sure we execute when we're on the field and guys making sure they know where they're supposed to be. When you do those things, success follows, and those are things we will try to concentrate on as fast as we can, getting with these guys and helping them understand what it takes to be successful. And most of the time, it take a lot more than just being physically gifted."
Woods inherits a program that isn't short on talent. The Lions have Derrick McFall, who is currently a junior. McFall is rated as the No. 12 athlete nationally in the Class of 2024 by the 247Sports Composite rankings.
Woods has also spent time as a radio commentator and professional bass fisherman. So when he's not leading the Lions, it's likely you will find him at one of the many lakes in the East Texas area.
"That's kind of what I'm excited about personally," Woods said. "The family and I being in this community is going to be great. And the quality of life for me is something I'm looking forward to. I'm a guy that likes to hunt. My dad is from Daingerfield, so we grew up doing those things. You have to have a chance to go to those places and have a good time when you get time off. If a guy likes to golf, there are places to golf. If they like to fish, there are places to fish. The great thing about Tyler, they seem to have a little bit of everything around here. I'm pretty fired up and thankful to be here."
Woods and his wife, Jenni, have three daughters — Taylor, Avery and Chloe.
"I would like to welcome Rashaun Woods and his family to Tyler," Tyler ISD athletic director Greg Priest said. "As we talked to people about Coach Woods, you kept hearing 'high character, great Xs and Os and strong leader.' Combining those assets with his ability to turn struggling programs around and lead them to success, makes him a great fit for Tyler High."
— Phil Hicks contributed to this story.