Justin Ewing and Samantha Schalik had their first date on Halloween nearly a decade ago. Nine years later, the couple hasn't lost their Halloween spirit, and is sharing their love for the holiday with the community by displaying a skeleton crew in their front yard in Tyler.
The Tyler Boneheads appeared the first week of October as Ewing and Schalik set them up in their front yard on College Street, across from First Presbyterian Church.
Originally, Ewing wanted to buy the 12-foot tall skeleton that Home Depot had priced for $299, but it's a popular item across the country and has even sold out online.
"We had to settle for four smaller skeletons," Ewing said.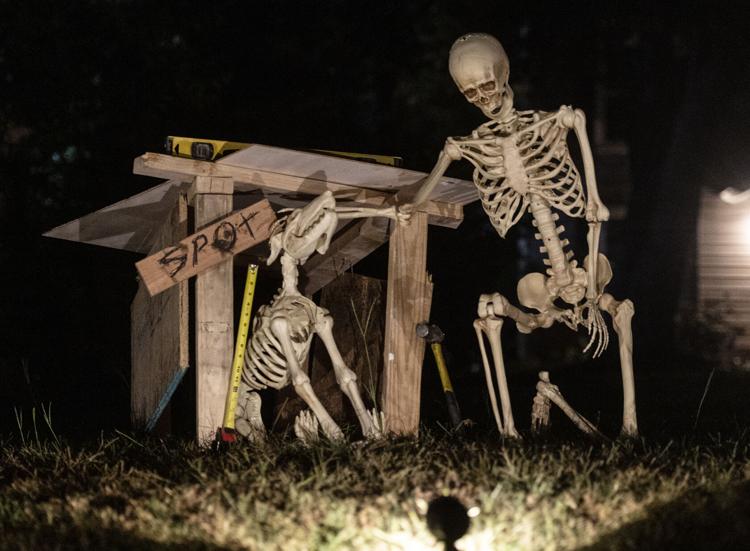 Tyler Boneheads aren't lazy bones. They have been seen playing baseball, cooking dinner, climbing ladders, mowing the lawn and playing fetch. Some of the poses are made at the last minute, while some are planned out all day. The scenes can take as quick as five minutes to set up or as long as a few hours.
Ewing says his favorite scene was over the weekend when he had a skeleton pit crew acting as mechanics on his 1975 Chevrolet Nova.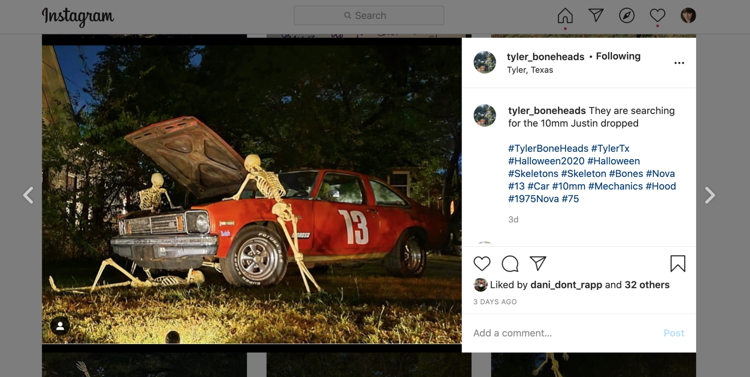 Schalik's favorite scene was one of their most difficult – four skeletons in the yard with three placed on a ladder.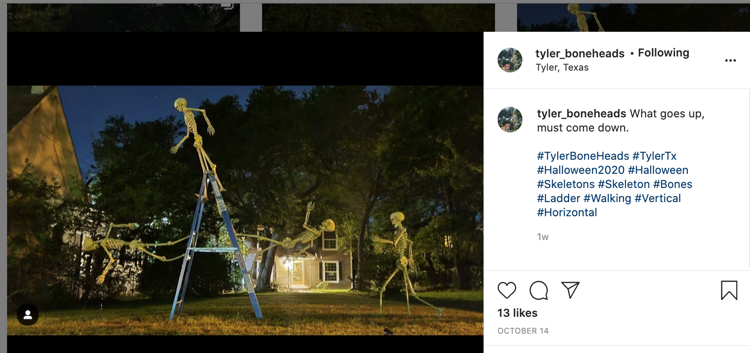 Comments on their Instagram photos include posts from people who have changed their work routes to drive past the skeleton crew each day, and runners who also appreciate the effort.
"As a Tylerite and Halloween enthusiast, this is exactly what I needed to get through the waning months of 2020," Dani Gardner said. "Thank you!!"