Siblings Yazlyn, 7, and Cesar, 6, Pulido spent their Monday morning and afternoon excitedly throwing snowballs, building a snowman and sledding down a grassy hill showered in snowflakes near their Tyler residence.
Sunday was their first time to see snow come down, and with school canceled on Monday, they spent time with their sister Yaretzy, 12, mom Yesenia Pulido and their grandfather Miguel Ramirez.
Yesenia Pulido said sledding down a hill in the rare event of snow is a tradition dating back to when she was a kid. The family spent hours constructing their snowman, making huge snowballs and rushing down the snowy hill.
Ramirez built the wooden sled just for snowy days like Sunday and Monday.
The best part of the snow coming to East Texas is seeing all the joy in the air, she said.
"It's so much joy. She was like this is the best day of our lives," Yesenia Pulido said. "Especially all this virus, I was seeing so much joy on Facebook. It just brings a lot of happiness and peacefulness."
Yazlyn loved balling up some snow and hurling her snowball at her mom or younger brother and older sister. She said she enjoyed falling on the ground to roll around in the snow.
"It feels like slime," Yazlyn observed.
Yesenia Pulido added the kids enjoyed jumping on their snow-filled trampoline on Sunday afternoon.
Yaretzy took lead on the snowman production process, and named him "Ivan the Snowman."
Cesar was protective of his family's snowman, and he used snowballs for security.
According to the National Weather Service, the Tyler area received about four inches of snow on Sunday. The fun continued Monday into the afternoon as kids rushed to have fun before the snow melted into puddles.
Nearby Jacksonville recorded the most snowfall on Sunday with 7.5 inches total.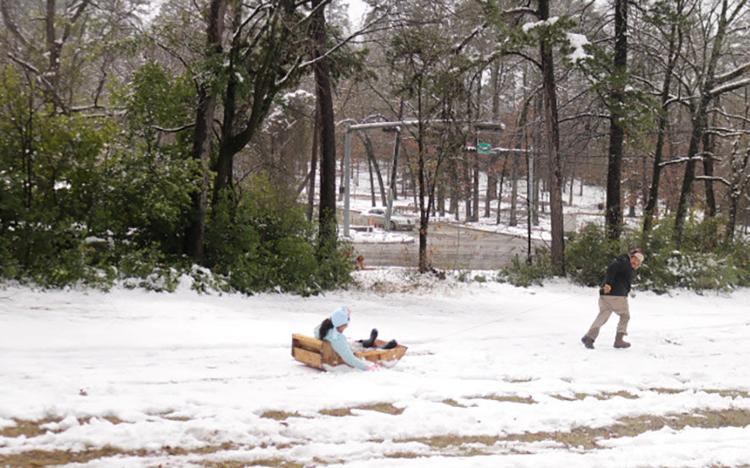 Temperatures are expected to rise on Tuesday with a high of nearly 52 degrees.
Tyler street crews spent Monday addressing traffic signal problems and 68 tree related issues. The remaining issues were resolved by Oncor as they affected power lines and Oncor electrical assets.
The Tyler Fire Department has responded to at least two fires, which resulted from downed power lines, according to the city.
Cumberland Academy in Tyler and Jacksonville ISD will be closed on Tuesday. Chapel Hill ISD and Arp ISD announced Monday that Tuesday's classes would have a two-hour delay.