As sunlight pours into her second-floor art studio just south of the downtown Tyler square, Rosemary Swann flips through a stack of sketches on a desk.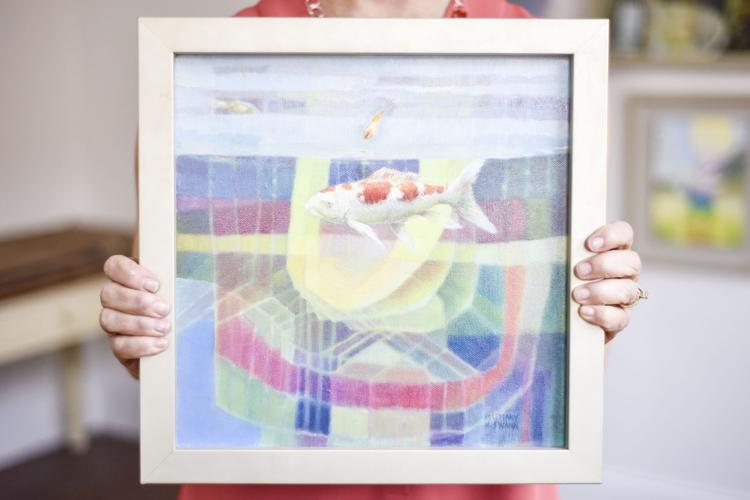 The images represent pieces of emotionally powerful experiences. These "imprints," as she calls them, are thoughts, images and emotions coalescing into works of art.
Her studio is filled with assemblages and water media that are abstract and dreamlike and oils and lithographs that depict people, animals and nature.
"Just as music, theater and all the arts act as venues for artists' emotional expression, my work expresses emotions that I feel as well," Rosemary says. "Occasionally a series of my work will be dedicated to commemorating a person or experience in my life that touches my heart. This work typically is very beautiful."
Growing up in Central Texas, Rosemary drew inspiration from the region's diverse plants and animals. Her parents encouraged her to channel her love of nature in art. She earned a bachelor's degree in fine arts from the University of North Texas.
See Sarah Miller's photographs in the gallery above.
After she married and moved to San Miguel de Allende, Mexico, Rosemary started painting in earnest. San Miguel, where she lived for 23 years, provided a "rich palette of influences," Rosemary says.
"The environment there is rich in pre-Hispanic and contemporary cultural traditions, which are displayed in public rituals and pageantry, architecture, music and historical artistic references. The artisans of San Miguel work in steel, silver, brass and copper, glass, leather, wax, paper mache, woods, gold leaf, fibers and all forms of fine art."
She absorbed the city's vibrant sights, sounds and smells.
"Just a simple walk down the street or through a market provided such wealth of sensory and visual input to me," she says. "My artwork was a distillation of that input that had touched me so deeply and often used bright color, dramatic elements and themes of the pageantry that the culture is filled with."
Over the years, she has lived in several places and have had many experiences that influence her work.
"Every environment has unique elements that affect and influence the artists that live and work in it. Any or all the elements of land, air quality, light, weather, ethnicity, cultural history, current and past political environments to name a few can be reflected in the art of its people," she says.
A trek through the Himalayas was a life-changing experience.
"Thirty days spent hiking and climbing through the Nepalese country side and villages, Buddhist monasteries and temples and the immaculate clear air and light of that country seems to have a permanent effect on the role of light in my work. I have, since that time, incorporated the palette that I encountered there with a focus on pure light. And it was after this trip that I worked to produce carved, gold leafed wood and canvas assemblages."
More recently she has made annual retreats to the Andes Mountains in Chile.
"Immersion into untouched, deep hardwood rain forests, rushing rivers and revitalizing mountain air has been a profound and heart filling experience. Chile's indigenous culture, the Mapuche, have influenced my interpretation of Chile's natural environment through their art forms both ancient and contemporary. ... I am currently learning from and incorporating these new elements of air, color, light, and subject matter ... into my work through oil paintings."
Rosemary uses a wide range of mediums, techniques and styles.
"In my work I have chosen a variety of two-dimensional mediums such as watercolor, oil paints, pen and ink, oil pastel and color pencil and lithography. Assemblage, or art made by assembling disparate elements often scavenged by the artist, ... is the term used for the three-dimensional work I have created."
She selects the medium that makes the most sense depending on the project.
"Each medium has its own voice, so to speak, its visual context and expressive emphasis that makes it appropriate to the subject matter, image or concept of a particular work or series of works that I create," she says. "Rather than choosing a medium and then producing ideas or concepts to fit that medium, I typically work in reverse, letting the impetus that creates the subject/image choose the medium to be used to express it most fully through the voice of that medium."
She jots down thoughts in a sketchbook to preserve the emotions from moments that touch her heart.
"When the time comes, I sit down at my table or stand at my easel and begin to draw, from the sketchbooks and from my memory, in small or large scale, in a stream of consciousness, combining and taking apart, forming new combinations and ideas but continuously engaging with them until I have come to a point where I feel that they have all been given voice and are expressed clearly.
"By this time, I have finished with the drawing phase, I have a grouping of concepts and images that are worthy of continued pursuit and I will then take that to whatever medium seems best suited to expressing the art's integral strengths."
Rosemary's art is in private collections in the United States, Mexico, Chile and Italy. She had had works in exhibitions at Tyler Museum of Art, the Denver School of Arts and Illustrations, Waco Creative Arts Center Museum and Ben and Maytee Fisch College of Pharmacy at the University of Texas at Tyler.
She has art on view at Valerosa Designs & Gallery in Tyler and online at valerosadesigns.com and rosemaryswann.com.
She and her husband now live in Tyler, where she continues to be inspired.
"I love the culture here, the people, the ethnic diversity that continues to develop and all the richness that the natural environment has to offer," she says. "Living near lakes and forests is enriching and allows me to observe nature and to maintain a connectivity to its healthy influence."
She is excited that downtown Tyler is becoming a destination of creative people.
"My studio in downtown Tyler is perfect in providing opportunities to work within a community of kind and generous people, offering opportunity to socialize and take in all the sights and sounds of a steadily developing downtown arts district."
Rosemary says that creating art continues to bring her pleasure.
"While I create art, I most often feel joy in working and a sense of curiosity, of excitement, to be in the process of creating, to see where it leads me. ... But overall, joy is the overarching experience for me."