In "Lone Star Impressions: Prints by Peregrine Press," The Tyler Museum of Art starts the new year with a celebration of a legacy that still wields vast influence over the contemporary Texas art scene. 
The free exhibition is on view through April 20. 
Curated by the museum's Caleb Bell, "Lone Star Impressions" surveys more than a decade of prodigious output by Peregrine Press. Established in 1981 by Mike and Jo Ann Hart with Gerry Lemke, Peregrine Press was one of the first fine-art presses in Texas.
Being in Dallas gave the startup press access to many emerging young talents in contemporary Texas art including David Bates, Billy Hassell and Ed and Linda Blackburn and more established artists such as Otis Dozier, Joseph Glasco and Robert Gordy.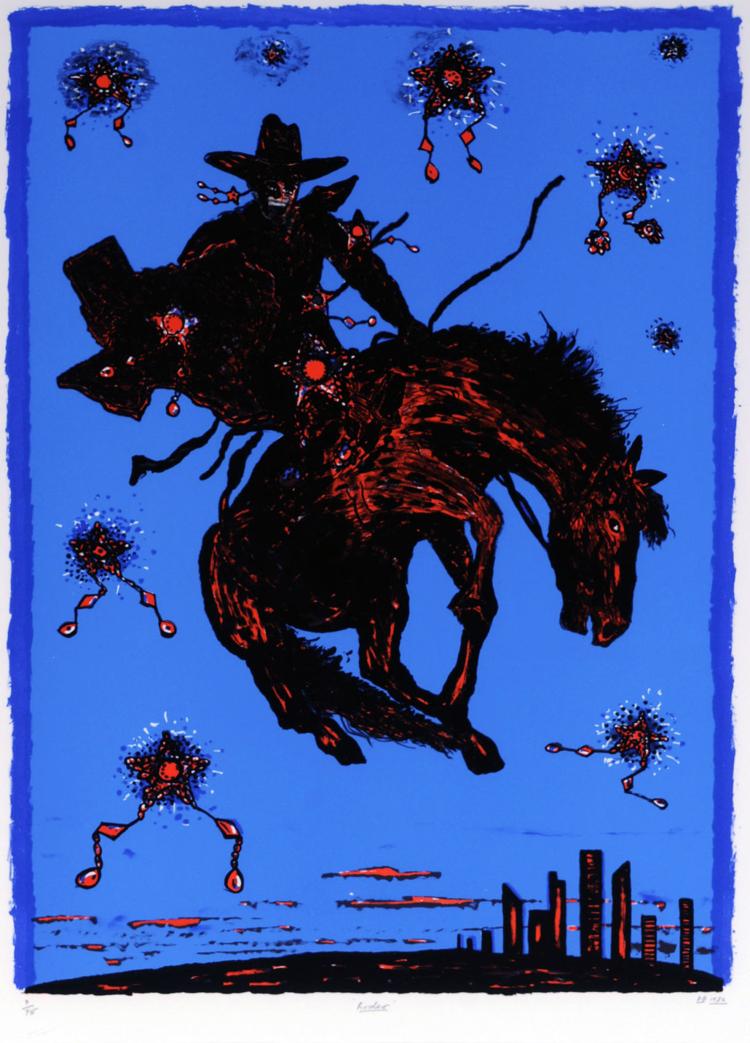 Operating first from a studio and gallery just east of downtown Dallas and later at a larger space in Deep Ellum on Main Street, the Harts and Lemke joined forces with master printers Tom Piper and Bill Lagatutta to create a body of work that substantially increased the profile of fine-art printing in the state.
In the 1980s, Peregrine produced more than 600 titles representing the work of 90-plus artists.
"Lone Star Impressions" includes items in the museum's Permanent Collection by Jack Mims, Al Souza along with the multi-artist "Celebrate Texas Suite" (Bates, Derek Boshier, Nic Nicosia and Earl Staley). There also are complementing works showcasing art by the Blackburns, Dozier, Hassell, Lee N. Smith III and Michael Tracy.
Most of the works in the exhibition have not been seen by the public in more than a decade.
Support for Lone Star Impressions is provided by The Byars Foundation.
Special events in connection with the exhibition include:
Free First Friday tours at 11 a.m. Feb. 1, March 1 and April 5;
Family Days from 2-4 p.m. Feb. 9, March 9 and April 13.
Jon Perry is the director of communications at Tyler Museum of art.