In Shakespeare's "Taming of the Shrew," a father's rising tensions to marry off his stubborn, eldest daughter, Katherine, comes to a boiling point. Before younger, gentler daughter, Bianca, can marry, their father insists that Katherine marry first.
When ornery Petruchio emerges as the one to wed the old shrew, the family hops on the opportunity to marry her off.
Tyler Civic Theatre's Hannah Johnson has set this version of the comedy in the late 1950s to early 1960s, taking inspiration from shows like "Mad Men" and the original "Stepford Wives."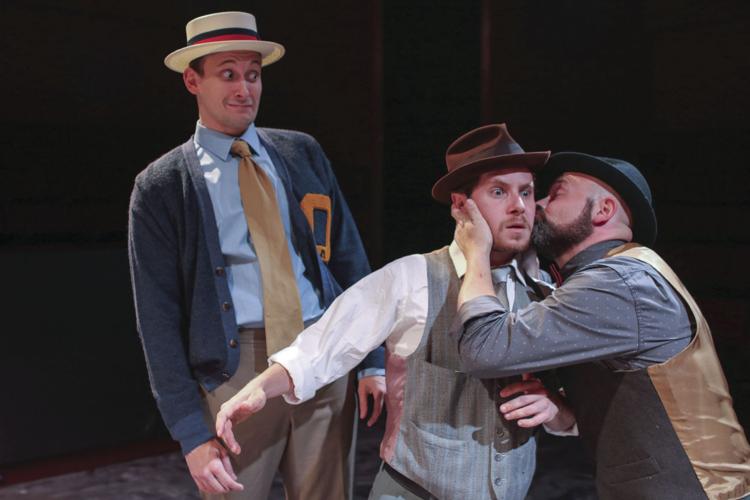 "It's really great for anyone who's not sure how they feel about Shakespeare to come and get their feet wet," Johnson said.
Performances are set for 7:30 p.m. Friday and Saturday and 2:30 p.m. Sunday at the theater, 400 Rose Park Drive. Tickets can be purchased for all performances online at tylercivictheatre.com, or at the box office.
Johnson said that she appreciates the play's "over-the-top" moments. "There's a lot of physical comedy. In this, there's slaps, there's throwing, there's sneaking and impersonation."
Johnson believes that audiences will not have trouble understanding the Shakespearean language and witty dialog.
The action also tells the story, Johnson said. "If you can't pick it up with the language, you know what is happening by the movement."
Blake Rohus plays Petruchio.
Petruchio is there "to emphasis the male dominant culture and (be) the symbol of repression of feminism," Rohus said. "He (Petruchio) is cocky, loves to laugh. I'm sure he drinks quite a lot. He always gets what he wants. He's charming and charismatic when it matters, but he has a mean streak, a temper." 
Rohus is enjoying playing someone who doesn't really care what others think.
"It's very fun to just drop all of you inhibitions and just be," he said.
Rohus said that Petruchio and Kate's relationship is best described by one line in the play: "When two raging fires meet they do consume the thing that feeds their fury."
Although they are both raging fires they "never quite learn to work together to consume the fuel the way the line describes," he said.
Laura D'Eramo plays Kate.
Kate is "aggressive and a little bit violent," D'Eramo said. "She has a lot of anger issues due to her environment, I think, and that is where some of the comedy comes into the show as well because of the ways she treats the other characters."
Kate wants marriage to be on her own terms, D'Eramo said. "The fact that her father is pretty much just trying to sell her off doesn't sit well." 
To D'Eramo, Kate and Petruchio's relationship is unhealthy. "You have these two people who are similar, butting heads in a lot of ways and having to deal with the gender roles of the times. ... I think that ultimately, she would like to love him."
Emmy Anderson plays Bianca.
Bianca is "outwardly very feminine and very submissive," Anderson said.
"The way that I am trying to play her is that aura that she puts out is a defense mechanism because she's aware of this male dominated world she lives in and she's just playing the game," D'Eramo said.
Anderson said Bianca and Kate's relationship is "rough to say the least. They have a lot of resentment towards each other built up over a number of years."
Anderson has enjoyed uncovering the different layers of Bianca. "She (Bianca) is working a serious manipulation to pretty much everyone around her."
"SOMETHING ROTTEN"
The national touring company of the musical comedy "Something Rotten" is set to perform 7:30 p.m. Jan. 24 at UT Tyler's Cowan Center.
After debuting on Broadway, the comedy received eight Tony Award nominations including best musical.
Set in the late 1590s, the musical tells the story of two brothers who are tired of living in the shadow of Shakespeare. After getting the advice of a soothsayer, they set out to stage the world's first musical.
Tickets are available at cowancenter.org or by calling 903-566-7424.