Pollard Theater Center, an outreach ministry of Pollard United Methodist Church, 3030 New Copeland Road, is bringing the musical "South Pacific" to the stage.
The plot is set during World War II and is based on James Michener's award-winning 1947 book "Tales of the South Pacific." It's memorable songs include "Bali Ha'i," "I'm Gonna Wash that Man Right Outta my Hair" and "Some Enchanted Evening."
Pollard member Allison McGee plays Nellie Forbush and Brad Echols, an attorney, plays Emile de Becque. Arnold Sherman, director of Music and Fine Arts at Pollard, directs the cast and Jayne Brown directs the music.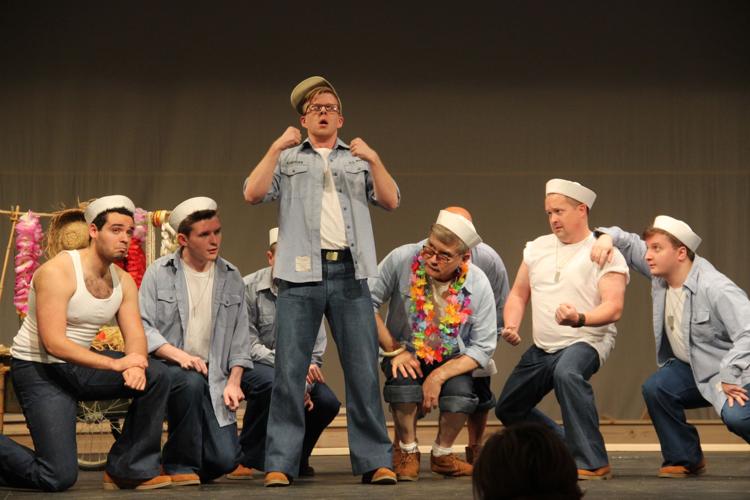 Performances are set for 7:30 p.m. Friday and Saturday and 2:30 p.m. Saturday. 
Tickets cost $15 and are on sale online at www.showtix4u.com, or call the box office at 903-521-0069 and leave a message. All seats are reserved.
Apache Belles dance in spring show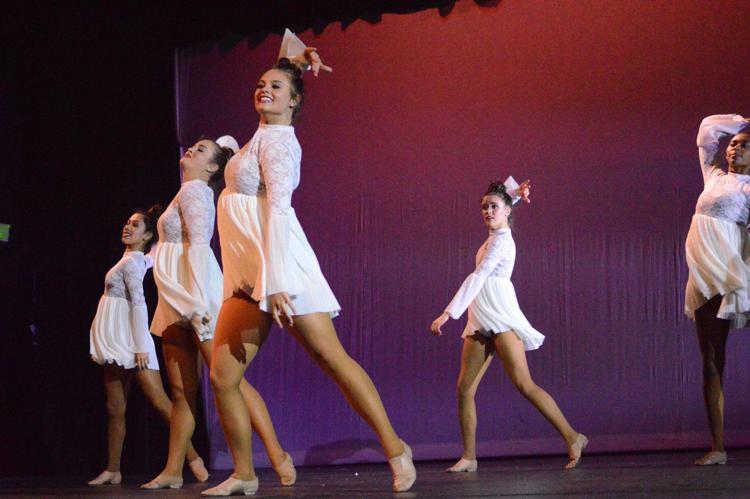 The Tyler Junior College Apache Belles are celebrating the silver screen with its spring show, "Let's Go to the Movies."
Dance numbers and skits will feature movies, actors and artists ranging from the Hollywood's Golden Age to today.
 Performances are 7:30 p.m. Friday and Saturday with a 2 p.m. Saturday matinee, in Wise Auditorium on campus.
Admission is $10 for the Saturday matinee and $15 for night shows. Tickets can be purchased at ApacheBelles.com or the Wise Auditorium box office beginning one hour before showtime.
 "This will be our 34th spring show," Apache Belles Director Jasilyn Schaefer said in a statement released by the college, "and each year has been an original production with a unique theme."
 Schaefer said the spring show features the diverse talents of the Apache Belles. Forms of dancing on display include hip hop, jazz, prop, tap and clogging.
"It's also a bittersweet time for our sophomores, since spring show marks their last performance as Apache Belles," Schaefer said. "It's a time for them to say goodbye to the two years that they've spent with the team and for us to wish them well in the next phase of their lives."
Sophomores Belles are: Avery Beeler, Lindale; Brittany Birdsong, Lindale; Veronica Blue, Euless; Serenity Bolby, Longview; Kayli Brenner, Carrollton; Janya Cook, Paris; Victoria Dangerfield, Arlington; Alexandria De La Cruz, Euless; Bailey Feder, Navasota; Shelby Goldstein, Bastrop; Jenna Gonzalez, Corpus Christi; Amanda Hiles, Tyler; Kayla Hubbard, Chapel Hill; Arianna Joslin, Austin; Gabrielle Leal, Abilene; Victoria Meese, Plano; Kellie Morrow, Flower Mound; Molly Mosby, Rockwall; Jessica Rodriguez, Houston; Skylyr Sanchez, Plano; Kindall Spencer, Denton; Lexie Terry, Tyler; Savanna Tucker, Paris; and Kailyn Waters, Arlington.
Freshmen Belles are: Cassie Bennett, Lindale; Hailey Borek, Austin; Heather Bridges, Conroe; Jennifer Burch, Chandler; Makayla Bustos, Bryan; Lilly Capetillo, Mansfield; Autumn Cox, Navasota; Kendal Cross, Deer Park; Spencer Ford, Fort Worth; Avangeline Graves, Denton; Addie Howard, Huntington; Ashley Howell, Flower Mound; Tea' Lopez, Rowlett; Emilia Medina, Tyler; Laura "Madi" Murphy, Tyler; Kortney Osburn, Bryan; Meghan Orlowski, Whitehouse; Marlena Redmond, Rowlett; Madison Smith, Carthage; Justine Spisak, North Richland Hills; Tori Staggs, Abilene; Taylor Struggs, Tyler; Mia Tatum, Jacksonville; Kyara Williams, Mesquite; Caroline Woodard, Tyler; and Breanna Yocum, Springdale, Arkansas.
 Belle Guards are: Cody Brenner, Carrollton; Matt Jones, Tyler; Tyler Kaman, Fredericksburg; Sam Lively, Lindale; and Patrick McClain, Lindale. Athletic trainer is Ashley Novak of Wylie.
 In addition to Schaefer, artistic director/choreographer is Christy Evans, special performance and recruitment coordinator is Victoria McKinney, and technical director is Bryce McWilliams.
Card 53: The Tyler-based improv comedy troupe Card 53, 5:30 p.m. and 8 p.m. Saturday, Liberty Hall, 103 E Erwin St. Tickets: $12 for 5 p.m. show; $15 for 8 p.m. show.  
Coffee House at the TMA, featuring a performance by the Tyler Junior College Guitar Ensemble, noon April 3, Tyler Museum of Art, 1300 S. Mahon Ave., Tyler. Free.
 Tyler Junior College's Studio 103 Play Reading, 3 p.m. Friday and 7 p.m. Saturday, Studio 103 in TJC's Fine Arts Building. Free.
The Venue, 9 to 11 p.m. Saturday in Tyler Junior College's Jean Browne Theatre, performance art presentations. Cost: Free.
"Gilligan's Island: The Musical," 7:30 p.m. Friday and Saturday and 2 p.m. Sunday, Texas Theatre, 213 W. Crawford St., Palestine. Tickets: $15 adults, $10 children. Information: texastheater.com.