Robyn Renick knew her good friend and neighbor Kristen Beddingfield needed something to boost her sagging spirits.
As an emergency room nurse at Christus Mother Frances Hospital in Tyler, Beddingfield was working long shifts and isolating herself from her husband and two children to ensure she is not exposed to the coronavirus.
After working all day, she was coming home to an empty house. She missed getting hugs from her husband and children.
"I talked to her and she told me, 'this is so hard," Renick said. "It just broke my heart."
Renick, an elementary school teacher at Chapel Hill ISD, said she couldn't imagine what life would be like if she had to separate from her family during this stressful time.
"I started thinking what can we do for Kristen," she said.
Renick and Beddingfield live in the Broadmore Court section of the The Woods in Tyler.
"It is a place where we are all very close," Renick said. "We are all more like family."
Neighbors were already sending Beddingfield emails and leaving meals so she wouldn't have to cook when she came home exhausted.
Renick knew they would be willing to do even more.
She used the neighborhood's newsletter to get the word out that they wanted to decorate her yard with messages that showed they care about her and appreciate the work all nurses are doing.
"Let's show her our gratitude," she encouraged others.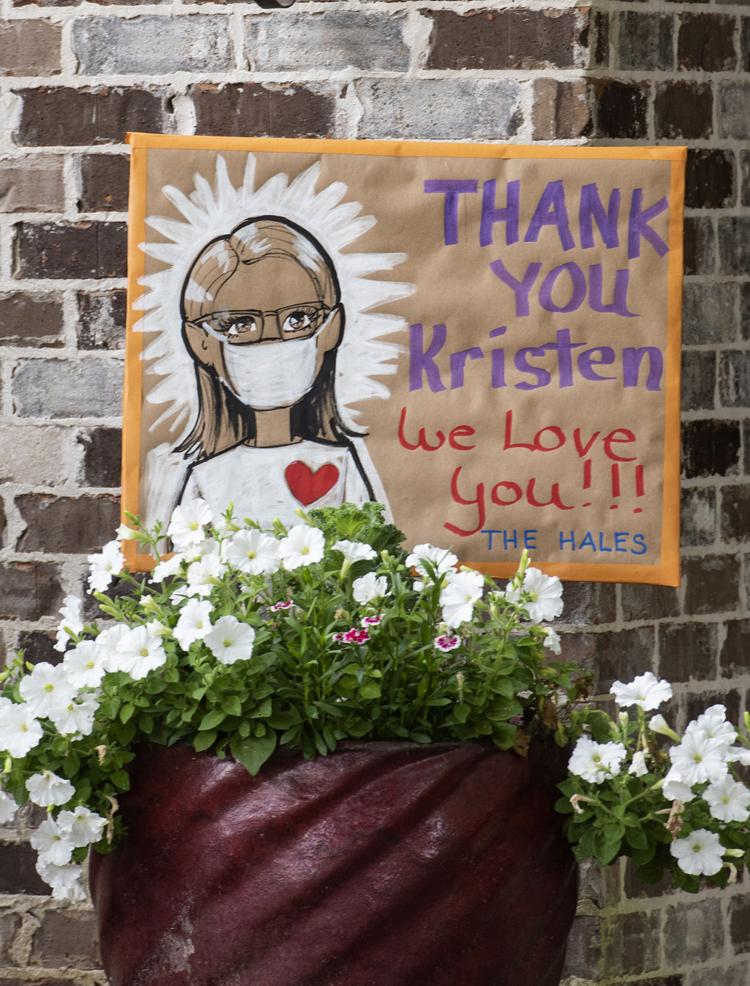 Medical personnel are on the front lines of treating people with the cornavirus. If there ever was a time for people to say thank you to doctors, nurses and first responders, the time is now, Renick said.
Renick left tape and sidewalk chalk outside Beddingfield's house for people to put up posters or write messages. While Beddingfield was at work, dozens of her neighbors came by and covered the front of her house with much-needed words of encouragement.
A huge sign in the front yard says, "Thank you nurses."
A note written with a marker on a piece of pink construction paper taped beside the front door reads, "Your Neighbors Love You."
A message taped to a window says, "We appreciate all you do."
Someone took pink and blue sidewalk chalk and wrote in the driveway in unmistakably large letters, 'THANK YOU!'
Neighbors were waiting outside Beddingfield's house when she came home Thursday.
Although Beddingfield's husband knew what was happening, it came as a complete surprise to Beddingfield and at a time when she needed it the most.
Beddingfield was overcome with emotion by the outpouring of care. Renick said Beddingfield was crying before she could even get out of the car.
"She said to me, 'You have no idea how hard this day has been.'"
On Friday, Beddingfield was still amazed by the outpouring of support.
"I was super surprised and overwhelmed with the showing of love and gratitude from our neighbors and friends with their cards and signs," she said. Their encouragement means so much and I am thankful for them."
She said she is proud to be one of the many people who are "working to keep our communities healthy and safe during this challenging time and I am so grateful to be able to live out my passion by being able to work with great people."
She said she is also grateful to have neighbors who care.
"They are so amazing," she said. "I'm lucky to have them."