COVID-19 may have halted people's social outings this year, but at the Ozarka Spring Water factory in Hawkins, thousands of bees are buzzing along in the wooden hives created and maintained by four queen bees, the Hawkins FFA 4G Honey Team.
The team, made up of seniors Brook Goddard and Rachel Parish, junior Emma Williams and sophomore Chloe Marcile, donned their bee suits and often spent six or seven days a week this summer at the fields of Ozarka managing each of their wooden hive boxes.
Last December, the team of innovators was featured on the "Today" show with its original line-up of Goddard and Parish, along with now-graduates Mackenzie Rutherford and Jessica Henneous, for their large honey-making operation, which began from a bee infestation at Ozarka in Hawkins.
Since then, they've adjusted to a whole new world of COVID-19, built 24 new hive boxes and more than tripled their honey production.
Their rise to fame started in early 2019 when Cheryl Conaway, quality assurance manager at Ozarka, noticed swarms of bees at the factory's dock doors where truck drivers come to the facility. Conaway, along with Daniel Lennon, of Flint Apiary and Farms, reached out to the Hawkins FFA team.
Ozarka funded the project for the team by providing access to its land, bee suits, wood and other needed equipment.
The girls later earned overall reserve champion in showmanship (second place) at the Houston Livestock Show and Rodeo last year. During spring 2019, they harvested their first honey and began bottling and selling as 4G Honey.
Since the fame and success, they've been sharing knowledge with local farms, ranches and other FFA programs as well as maintaining a buzzing business.
Goddard said she and Parish brought Williams and Marcile up to speed since March and through the summer. Despite adjustments due to COVID-19, the team is going strong and continuing the partnership with Ozarka.
"Before the pandemic, it was a lot easier because we weren't having to go through a lot of regulations and guidelines, and since the pandemic we've just had to follow a lot more safety procedures," Goddard said. "We still get out in the field and work. We just have to run it through our school a little bit more and take more precautions."
Even when the team faced cancellations of typical FFA events like the Houston Livestock Show, they utilized the time to keep working with the hives.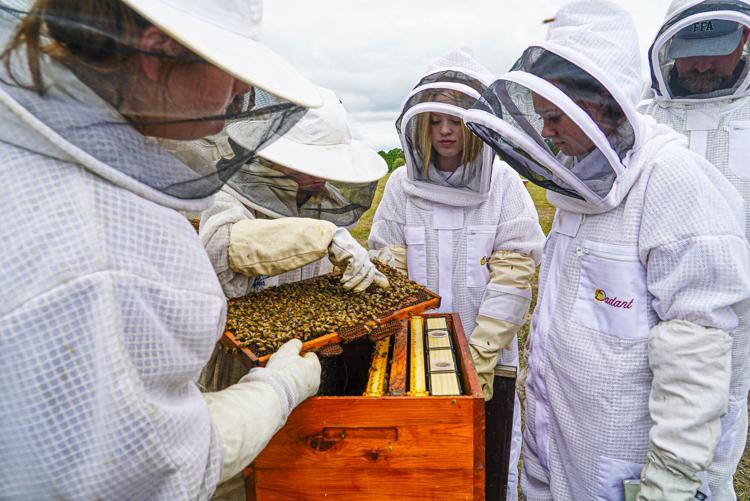 "Now, we're back in business again, which is great," Parish said. "It (the pandemic) actually allowed us more time to get it done because of course we didn't have school."
Matt Byrd, Hawkins High School agriculture teacher and FFA adviser, said during the early days of COVID-19 he and the team were unsure of how the beekeeping could continue, as students weren't allowed on campus for some time.
So, the girls got creative and found ways to work and communicate virtually or out in the field.
"The main thing that I commend the girls on is that they wanted to see it through," Byrd said. "They worked just about every day. During the time that we weren't allowed on campus, they worked here at Ozarka. They worked from their homes and they wanted to make sure that they saw it through and be able to check the hives and produce honey."
He added that the experience made them a better team.
"We've just kind of regrouped and just kind of deal with the cards we've been dealt and make the best of it," he said. "And so, they knew that and without having to have any direction from me, they knew what they had to do. They were willing to put in the time."
If supplies were needed, they communicated through Zoom and other digital methods, while practicing social distancing and wearing masks to stay safe, Byrd said.
"We manage to make it through," Byrd said. " ... That was something they wanted to take on."
While live on the Today show, the original team received a $10,000 grant from Ozarka for the program and $5,000 in scholarships for each of the girls.
Using the grant, the team purchased a computer-automated CNC wood router table that allows the girls to design and build custom hives quicker than what was once done completely by hand.
"What was taking us a week to build one box, we could build 10 to 15 or however many we really wanted to in one day," Goddard said. "So it's making our production go 10 times faster and letting us produce more to get it out in the field to produce more honey for our community."
The machine will help greatly as they plan to have 50 more boxes by March 2021, Parish said. Those boxes will be rented out to local and out-of-state farms to raise money for the program.
Parish said one of the biggest challenges is being able to provide enough honey for their fellow area residents.
"That has been one of our biggest challenges is supporting our local community, because we'd go to the local farmers market with honey and we would sell out of it in an hour," Parish said. "And then we'd have our local support come in saying, 'When are y'all going to get more honey?' It wouldn't be till like two months later when we could actually provide them with that."
The next phase is to get other area FFA programs involved and train them using hives at Hawkins High.
"It feels good to know other schools are wanting to be involved and wanting to do what we're doing, which is really great to teach others about the importance of bees," Parish said.
Lennon, who continues to work with the team, said he's been in contact with the FFA program at Tyler Legacy High School and working with the city of Tyler to find land where the potential hives could be housed.
He's also continuing to help the team with his expertise in beekeeping in East Texas and collaborating with neighboring farms.
"It's been nonstop," Lennon said. "They actually help me now more than I help them."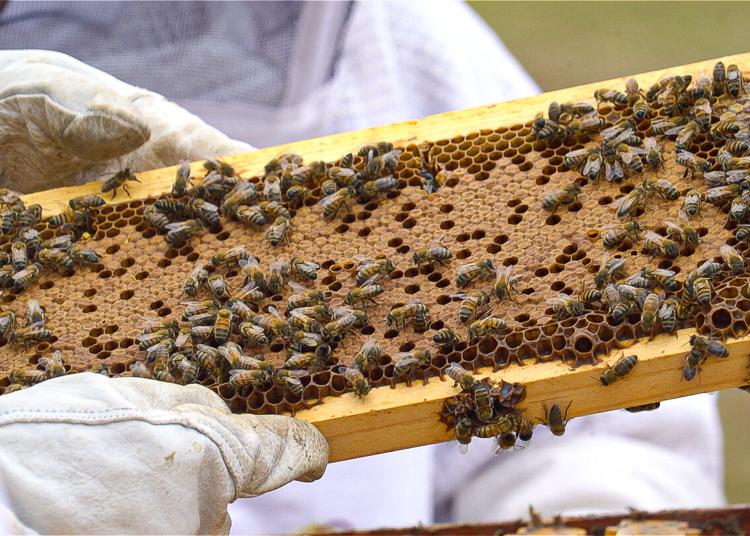 While amping up production, the team also created a business on Etsy to sell the bottles of honey and the merchandise has been shipped all over the country, Byrd said.
The team has a Facebook page called Hawkins 4G Honey for contacting them and soon they'll have their own website, Goddard said.
Byrd said the honey sales fund scholarships for the Hawkins FFA students.
"We hope that scholarship continues to grow and gives them something to work toward," he said.
Throughout this journey into honey production, the girls say they've gained a tremendous amount of knowledge about bees.
This includes learning bees pollinate 1/3 of the world's crops, Goddard said. She and her teammates get an up-close look at the lives of an insect that is crucial to the environment.
"When we first started getting into the hives and getting our bee suits on, it's actually kind of scary because you're standing there and there's 15,000 bees in a hive swarming around you," Goddard said. "So every person really doesn't get a chance to see that."
Parish explained that bees affect every aspect of the environment, crop production, agriculture and overall survival.
"I don't think people realize the true importance of bees. They just see them as something that could hurt them or harm them," she said. "But when you actually go out there, they do so much it's incredible. Without bees, if they were to go extinct, in four years there would be nothing left."
Lennon also taught the students that bees are similar to dogs and if they get a sweet treat they'll let you into their hive.
When the collaboration began with Ozarka, Byrd said he thought it would be interesting and serve as a way to diversify the agricultural sciences.
"We know bees are important to our environment and it's really brought a great awareness to not only me but also to our students," he said.
He called the partnership one of the best things to happen to the Hawkins FFA program, school district and community.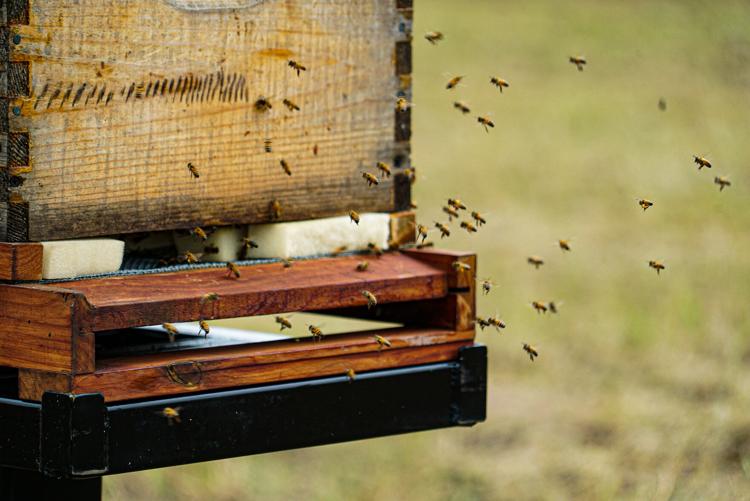 "It really brought everybody, really put a spotlight on our school district and I know we're just really proud of them," he said. "Our administrators at Hawkins have been wonderful, very supportive of our program. It's been a great partnership with them and the leadership here at Ozarka, and we're continuing to grow and get stronger."
The recognition for their work hasn't stopped either. Earlier this year, they received a certificate of achievement from the Texas Department of Agriculture and went on a podcast about agriculture.
"They've had a lot of fame and recognition, and that's not something they were seeking when they started the project," Byrd said. "They were trying to do a good deed and learn how important bees are to our environment and to agriculture."
Even as Goddard and Parish will soon venture off into college, both say they want to stick around to help and see the operation grow even more.
Goddard, who plans to become an anesthesiologist, said once she settles down she'll return to see the progress.
"I hope that Emma and Chloe after we leave are able to make it 10 times larger than it is now and continue it for other students as well," Goddard said.
Parish remains undecided for a career, but wants to attend Tyler Junior College and later a four-year school.
She plans to stay in the area and keep in touch with everybody, "because it's not something we really want to let go of after high school."
Williams and Marcile said they've learned a lot from Goddard and Parish and want to continue beekeeping.
"I know for the last two years I want to keep building the program and making it bigger," Marcile said.
Williams, who plans to be a wildlife biologist, said she's gained knowledge of bees she'd never thought she would have.
"I never thought that we'd have a program like this in my high school," she said. "So it's been an amazing learning opportunity."