John Tyler is College Station bound.
The Lions put together a 4-0 day on Saturday at the Tyler 7-on-7 State Qualifier at Lindsey Park to earn their spot at the Texas 7-on-7 State Championships June 27 and 28 in College Station.
John Tyler opened the day with a 19-0 win over Tyler Lee B, which was capped with a touchdown pass from Cameron Ford to D'Jonte Henderson.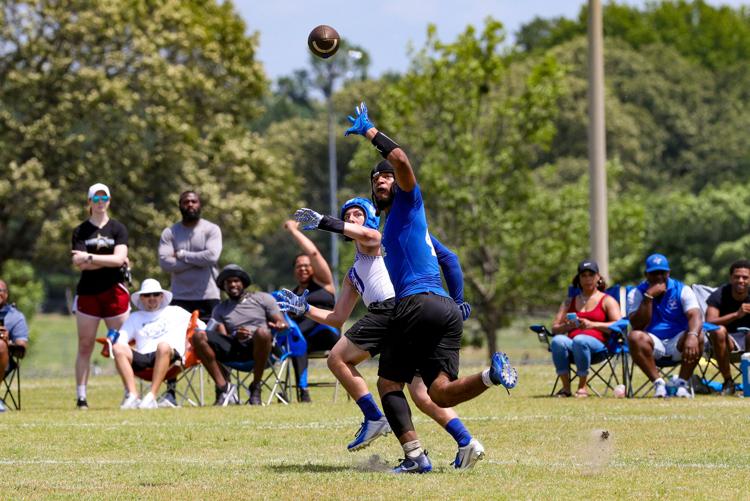 The Lions then defeated Marshall 34-12. With a spot in the semifinals on the line, John Tyler edged out Sulphur Springs, 32-26.
That set up a matchup with Chapel Hill.
The Bulldogs opened the day with a 28-12 win over Greenville. Khalan Griffin, who played his sophomore year for Chapel Hill before transferring to John Tyler and then playing for Brook Hill as a junior, broke free for a long touchdown to give Chapel Hill a 14-0 halftime lead. The Bulldogs made the score 20-0 with a pass from Kobe Coker to Tanner Rudd.
Coker threw for 1,113 yards and eight touchdowns last season at Crosby. He is the son of Chapel Hill assistant coach Charlie Coker, who joined new Chapel Hill head coach Jeff Riordan's staff after the two worked together at Crosby.
Chapel Hill then rolled to a 55-6 win over Terrell to set up a matchup of 2-0 teams in Pool A between the Bulldogs and Tyler Lee Red Raiders.
Lee opened with a 34-6 win over Terrell. Josh Olivares picked off two passes for the Red Raiders. Mark Patton threw touchdown passes to Colin Junot (two), Bryson Donnell, Tey Massey and Jay'Lon Warren. Aaron Sears sealed the win with an interception as time expired.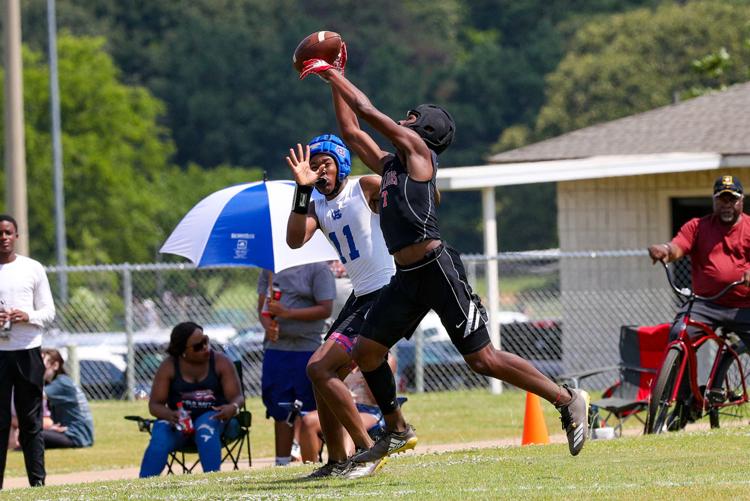 Lee then took a 27-18 win over Greenville.
In the final pool play game against Chapel Hill, the Bulldogs jumped out to a 12-0 lead with touchdown passes from Coker to Keyjun Thomas. On the second touchdown, Sears intercepted the two-point try and returned it the other way to make the score 12-2.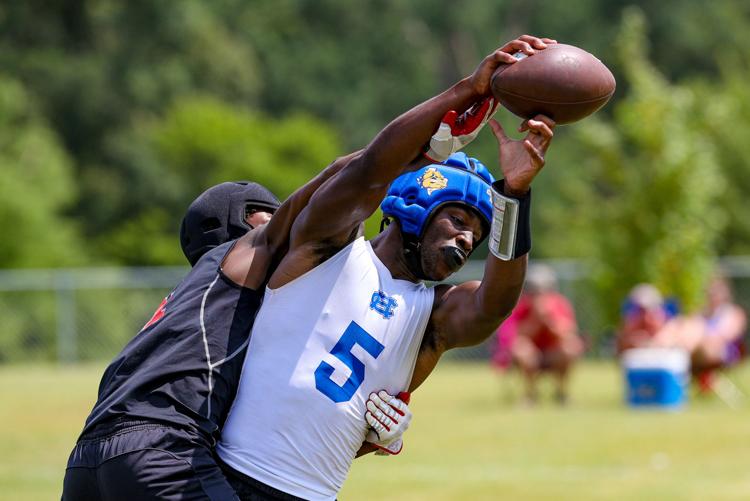 Coker and Thomas connected for the third time in the first half to give Chapel Hill an 18-2 lead at halftime.
After the Bulldogs pushed the score to 25-2, Lee scored two touchdowns on passes from Patton to Sebastian Grady and Junot.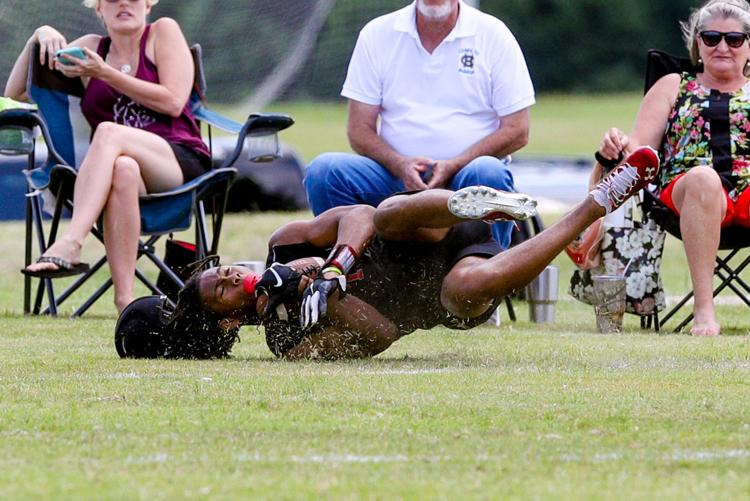 In the qualifying game between John Tyler and Chapel Hill, the Lions scored on the first play as Ford aired the ball out to a wide-open Kitan Craword. The four-star recruit, who is down to Texas, Tennessee and Oklahoma, caught the ball and sprinted to the end zone to give the Lions a 7-0 lead.
Ford then hooked up with Austin Campbell and Isaiah Johnson for touchdowns to make the score 21-0.
Coker found Rudd for a touchdown for Chapel Hill, but the Lions answered with a pass from Ford to Kameron Mayfield to lead 27-8 at the half.
The Lions came up big on defense, which included the play of Whitehouse transfer Jermone Bowser.
Coker threw a touchdown pass for the Bulldogs to cut the score to 27-16. Chapel Hill tried to inch even closer on the next possession, but Travion Ates picked off a pass just in front of the end zone.
Ford found Campbell for a touchdown pass to make the score 34-16. Chapel Hill answered with a scoring connection by Coker and Rudd, but Ates intercepted the two-point attempt.
Ford and Johnson connected one more time to make the score 42-22, which ended up being the final tally.
"Our first game, we came out slow, a little sluggish, but as the day went on, we played as a team," Crawford said.
According to Matt Stepp of Dave Campbell's Texas Football Magazine, a win by Chapel Hill would have made the Bulldogs the first Class 4A and below team to qualify for the Division I state tournament since Brady in 2008.
John Tyler earned the berth instead and then had to flip for the top seed with DeSoto, which took a 35-15 win over College Station in the other semifinal.
Lindale went 2-1 with wins over Pine Tree (13-6) and Jacksonville (32-9) and a loss to College Station (28-20).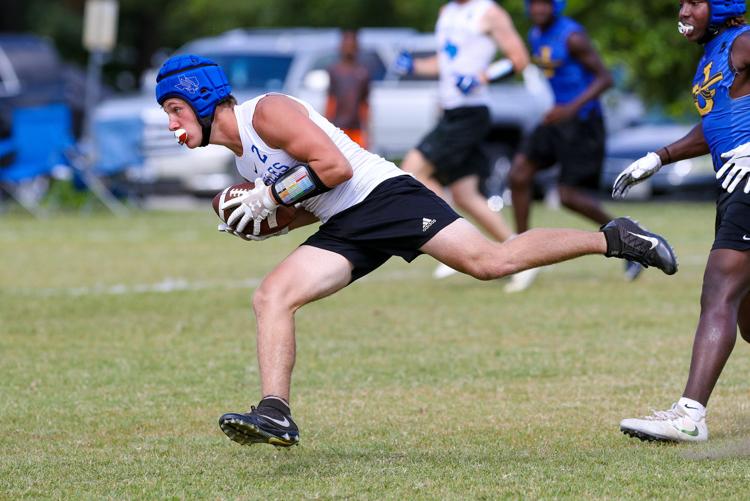 Lindale jumped out to a 20-0 halftime lead over Jacksonville. Brayson Campbell threw touchdown passes to Jacob Seekford and Conner Boyette. Luke Powe threw a touchdown pass to Daniel Franke. Steven Gallegos intercepted a pass for the Indians.
Whitehouse opened with an 18-16 win over Kaufman. The Wildcats then rallied to force overtime with Huntsville before falling 36-28 in overtime. Down two touchdowns in regulation, Kaden Casey found Ken'Della Woods for a touchdown. Tyler Lee transfer Nick McGrew came up with a big interception or Whitehouse, and Cooper Clemons found Carter Adams for a touchdown. Clemons then connected with Austin Barron for the two-point conversion to tie the score at 28.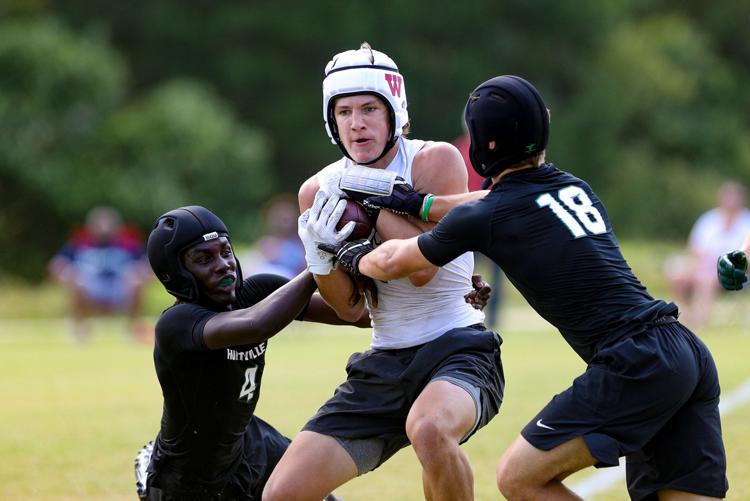 Other scores in the tournament were Greenville 32, Terrell 21; DeSoto 32, Huntsville 31; DeSoto 33, Kaufman 12; Huntsville 27, Kaufman 20; College Station 41, Pine Tree 26; Marshall 26, Sulphur Springs 24; Sulphur Springs 27, Tyler Lee B 18; and Marshall 26, Tyler Lee B 14.
TWITTER: @BrandonOSports