Baseball — like most sports — is about competing.
The Tyler Junior College Apaches did just that on Wednesday afternoon at Mike Carter Field. But it wasn't your normal competition.
As the Apaches get ready for their Black/Gold Fall World Series, they had a little fun with Wednesday's competition with their annual Halloween costume baseball game.
"It's fun," TJC baseball coach Doug Wren said. "It's an opportunity for these guys to come out here, get dressed up, have some fun and also compete. This game actually counted as part of our competitions to determine who will be the home team in our black/gold series."
Tim Drain, the assistant vice president for athletics and student life at TJC, said it's one of his favorite traditions.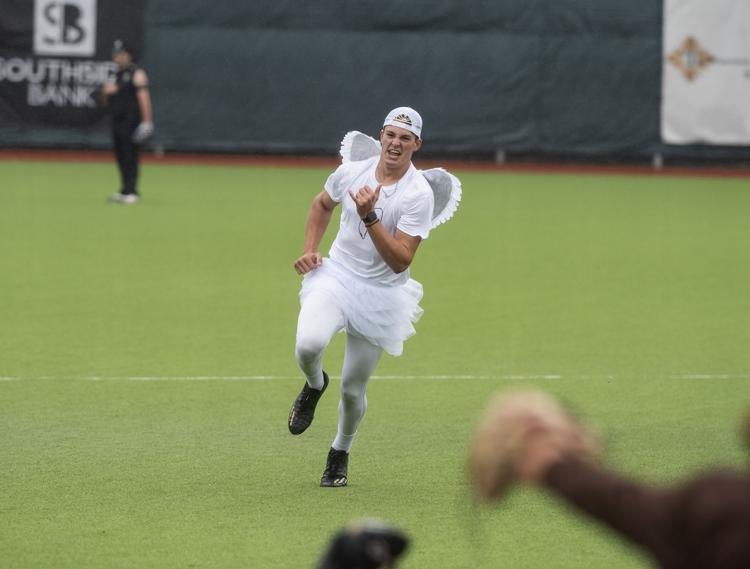 Along with the challenge of playing baseball dressed up as President Donald Trump, an Ohio State football player or the Stay Puft Marshmallow Man, the Apaches were greeted with some heavy rain.
"It was pretty crazy," said sophomore left-handed first baseman Michael Morissette, who was dressed as the Ohio State football player. "I had a visor on and couldn't see anything, but still made it work. It was fun to get to play some different positions."
"We just had to battle through adversity," joked sophomore pitcher Mitchell Lee, who was dressed as Scottie P from "We're the Millers."
"We told them this morning to embrace the rain today, and they did that," Wren said. "It got a little miserable toward the end with the wet and cold, but it was fun, and we got seven innings in."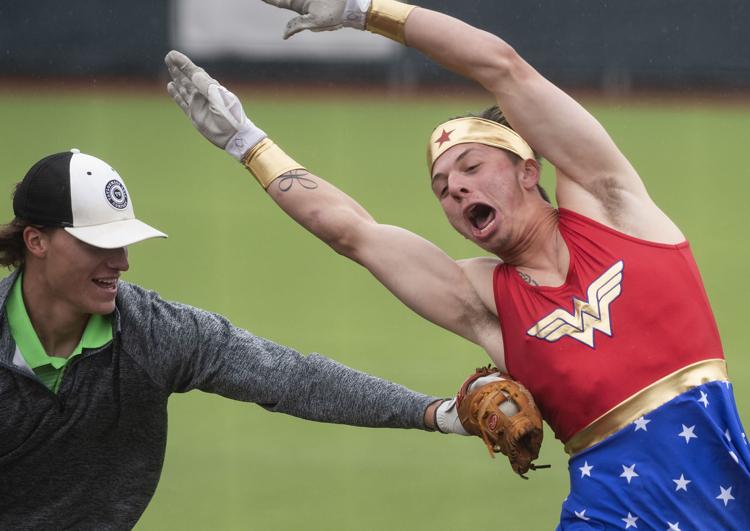 Some other notable costumes were Harry Potter, the tooth fairy, Wonder Woman, Mario, Luigi, a priest, a monk, the Pope and Aang from Avatar: The Last Airbender.
"It's always fun to see the creative minds and the costumes and who comes up with what," Wren said.
Former Carthage standout Kason Davis was a golfer, and when he hit the ball, he picked up his golf bag and walked around the bases.
The Gold team took an 8-4 win to tie the competition at one apiece. The winner-take-all competition will be Thursday to decide who the home team is for the World Series, which will begin on Friday.
TWITTER: @BrandonOSports