College basketball and the NBA Draft are two of my favorite things to track throughout the year.
And outside of March Madness, the NBA Draft may be my favorite event to watch on a yearly basis. Yes, it's nerdy, I know, but I'm OK with that.
This year's NBA Draft class is one I've followed closely and am really looking forward to seeing how things shake out on Thursday night.
I have been wanting to put together a mock draft, and after watching the new Netflix movie "Hustle" this past weekend, it really motivated me to make it happen.
This isn't necessarily exactly what I think will happen, while some of it is, but for most teams, it will be who I would take for that team or just who I feel should be picked maybe a little higher or lower than they probably will be.
I'm likely to be wrong way more than I am right — if I even get one right.
So here goes nothing…
Here is my mock draft of the first round.

1. Orlando Magic: Chet Holmgren, center, Gonzaga
Let's start off with being wrong right out of the gate. Holmgren is in the mix to go No. 1, but it isn't likely. At 7-0, 195 pounds, his size is worrisome to many. But other players have also come into the NBA with concerns about their body — Kevin Durant, Luka Dončić and Zion Williamson, to name a few. We aren't sure if the Zion one will work out yet. But what we do know is that Holmgren is a unique talent. His mix of rim protection and shooting ability are valuable. It would also be a reunion with former high school teammate Jalen Suggs, who also played at Gonzaga. But he's more likely to be picked at No. 2.

2. Oklahoma City Thunder: Jabari Smith Jr., power forward, Auburn
Smith is the likely No. 1 pick, but it is not a definite. The Magic need 3-point shooting, and Smith is a 6-10 shot maker. If the Magic do pass on him, the Thunder will gladly snatch him up. Smith's father, Jabari Smith Sr., was a second-round pick in 2000 and played in the NBA from 2000-05.

3. Houston Rockets: Paolo Banchero, power forward, Duke
Banchero was thought to be the No. 1 pick for much of the season, and his Vegas odds have shifted to where there is still a chance that could happen. I remember being at the Drive Nation Sports facility in 2019 watching Nike EYBL Dallas, and I was standing there talking to new Whitehouse athletic director Don Newton, who was then the head boys basketball coach at Longview High School. He was watching Malik Henry, who played for the Lobos and is now at George Mason. Henry and his Drive Nation team were playing against a guy who is currently in the NBA (Josh Christopher) and who will be picked on Thursday night (Jaden Hardy). But on a nearby court, another player caught my eye. That player was Banchero. He had the size and skill set then of a future lottery pick. Three years later, he displayed his abilities in his only year at Duke. Some Rockets fans may have been disappointed by not landing the No. 1 pick. But this is the perfect spot, because now you don't have to choose out of Holmgren, Smith and Banchero. You get the one that's left, and it's likely to be Banchero, and he is the one who is most ready to come in and make an immediate impact.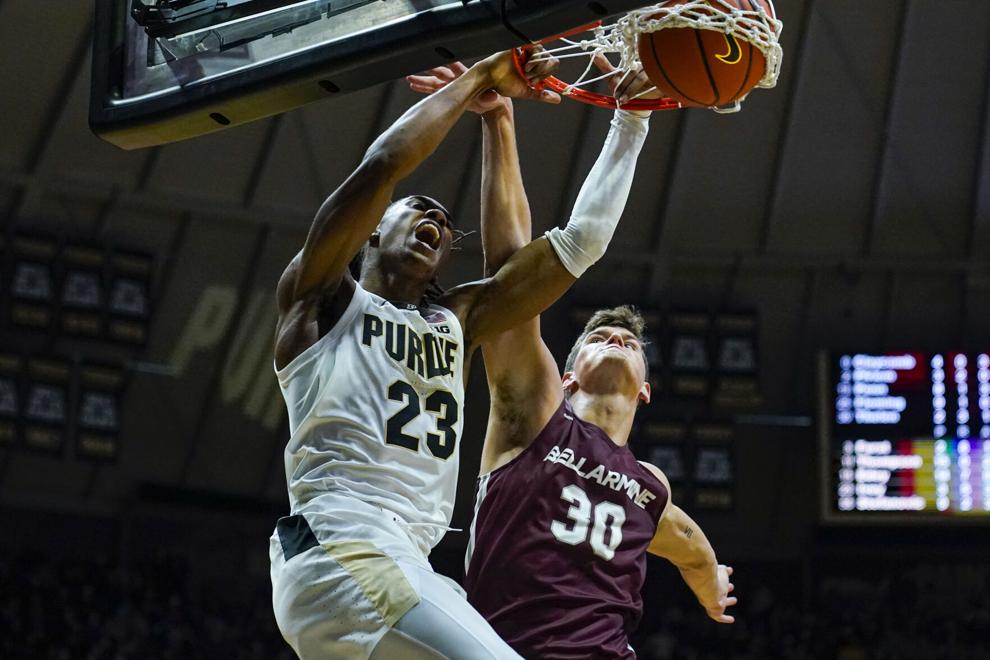 4. Sacramento Kings: Jaden Ivey, shooting guard, Purdue
Ivey is the one player who could sneak into the top three, but he will probably go at No. 4, and that's where he should go in this draft. But there is a possibility he ends up being the best player in this class. Ivey is an explosive player, one I made sure to turn on the TV for any chance I got. I wouldn't be surprised if Sacramento trades this pick, but if they keep it, you have to take the best player available, and that's Ivey. I selfishly want Ivey to fall to the Pistons at No. 5, though, because a backcourt of Cade Cunningham and Ivey would be a treat to watch.

5. Detroit Pistons: Keegan Murray, power forward, Iowa
If Murray doesn't go here, he could slide a bit. But he has translatable skills to the current NBA, which he showed this past season with the Hawkeyes. After averaging just 7.2 points and 5.1 rebounds per game while shooting less than 30 percent from 3-point range in 18 minutes per game as a freshman, Murray played 31.9 minutes per game as a sophomore and averaged 23.5 points, 8.7 rebounds, 1.9 blocks and 1.3 steals while shooting nearly 40 percent from downtown.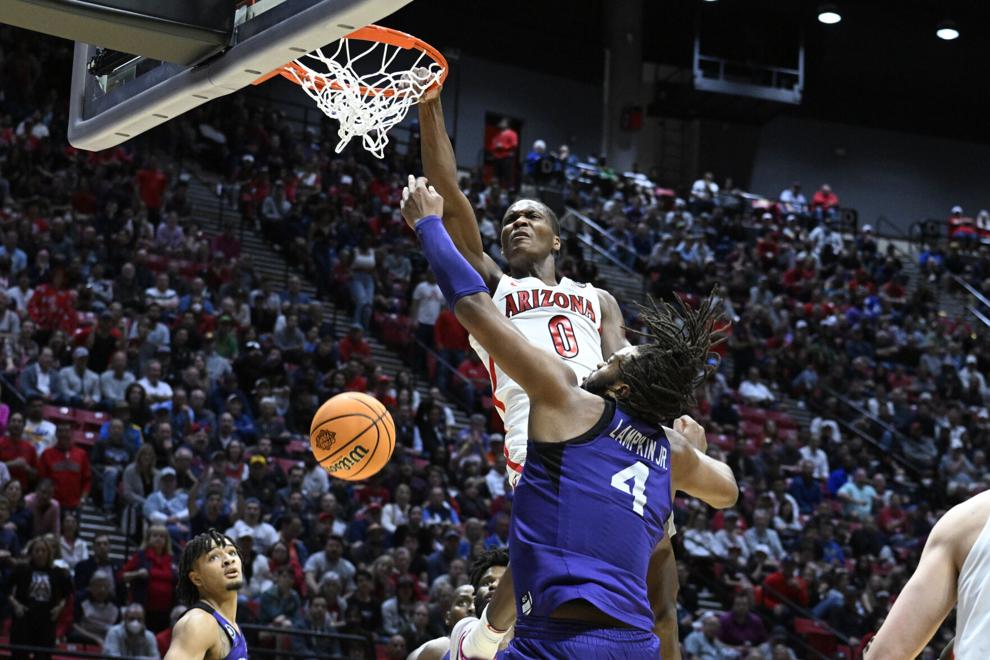 6. Indiana Pacers: Bennedict Mathurin, shooting guard, Arizona
This pick could go in any direction. Mathurin seems like a good choice as a 6-6 guard who averaged 17.7 points a game this past season at Arizona. The Pacers actually have a good roster for a non-playoff team with Myles Turner, Malcolm Brogdon and Tyrese Haliburton in the mix, and Mathurin should fit in nicely. He can also do athletic things like this against TCU in the NCAA Tournament. 

7. Portland Trail Blazers: Shaedon Sharpe, shooting guard, Kentucky
Sharpe never played a game for Kentucky, and nobody has really seen him play in a competitive environment in a long time. Sharpe has a lot of upside, but the mystery behind him is both a reason he likely won't go in the top five but also probably won't fall out of the top 10. A Sharpe/Damian Lillard backcourt is intriguing.

8. New Orleans Pelicans: Dyson Daniels, shooting guard, G League Ignite
I watched a few G League Ignite games, but still don't know a lot about Daniels' game. But it seems like if Daniels is here at this point, the Pelicans would have trouble passing on him. Daniels' stock has really been rising as of late, so he could go even higher than this.

9. San Antonio Spurs: Johnny Davis, shooting guard, Wisconsin
Any pick the Spurs makes will be considered a good pick, because it's the Spurs, and they have a good track record. But I really like Davis, and I like what he could bring to the Spurs. He made a jump from 7.0 points in 24.3 minutes per game as a freshman to 19.7 points, 8.2 rebounds and 2.1 assists in 34.2 minutes per game as a sophomore. Davis helped a Wisconsin team that was picked 10th in the Big 10 in the preseason earn a No. 3 seed in the NCAA Tournament. He also has already been featured in a Taco Bell commercial even before being drafted.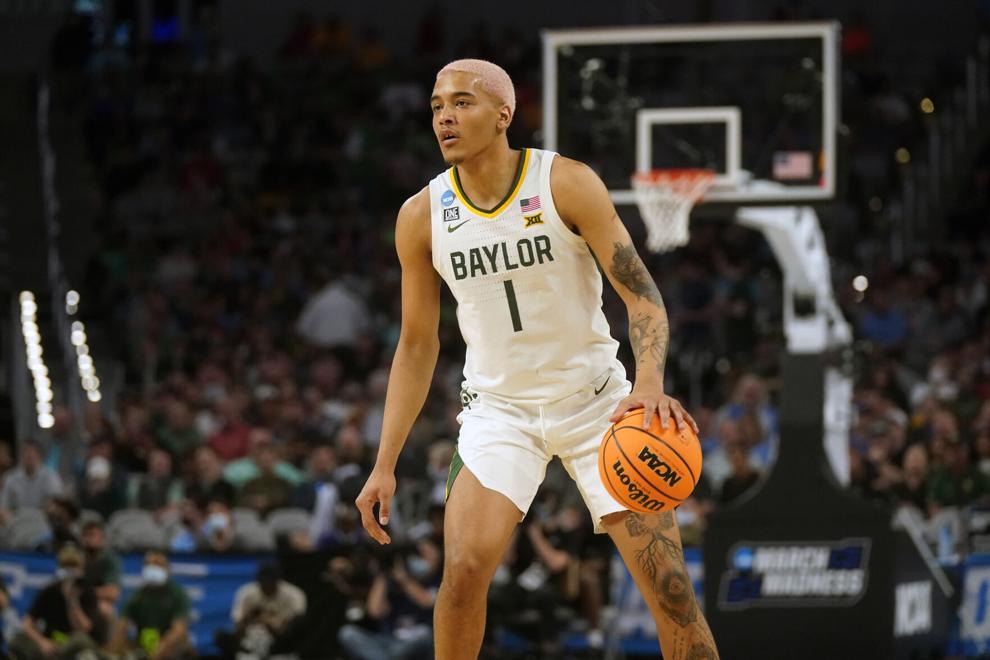 10. Washington Wizards: Jeremy Sochan, power forward, Baylor
Sochan wasn't considered a consensus top 100 recruit coming out of high school. But in his one year at Baylor, he showed a versatility that NBA scouts immediately noticed. He will go somewhere in the lottery. Per the USA Today, Sochan was born in the U.S. to his Polish mom and American dad, who were both college basketball players, and lived in England early in life. He played the equivalent of high school basketball in England before transferring to prep powerhouse La Lumiere in La Porte, Indiana. He then went to Germany and played club basketball and then played for the Polish national team, helping Poland qualify for Eurobasket 2022 before going to Baylor.

11. New York Knicks: Ochai Agbaji, small forward, Kansas
He's older than most NBA Draft prospects, but he has the shooting ability and defense that should help him be an immediate contributor at the next level. He also just led Kansas to a national championship, so winning also comes natural to him. Agbaji was at one time ranked No. 334 in the country in the Class of 2018 by 247Sports and ended at No. 179, so he knows all about overcoming the odds.

12. Oklahoma City Thunder: AJ Griffin, small forward, Duke
If the Thunder leave this draft with Smith and Griffin, they immediately become one of the most dangerous 3-point shooting teams in the NBA. Griffin shot 44.7 percent from 3-point range. Griffin is the son of Adrian Griff, who played in the NBA from 1999-2008 and is now an assistant coach with Toronto Raptors and previously coached for three years with the Thunder.

13. Charlotte Hornets: Jalen Duren, center, Memphis
The Hornets are almost certainly taking a center here. It's just a question if it's Duren, Mark Williams or someone off the board. Duren was once a No. 1 prospect in his high school recruiting class, so the potential is there. The Hornets do pick again at 15, so if Agbaji or Griffin fall, they could take them and then get their center at 15.

14. Cleveland Cavaliers: Malaki Branham, shooting guard, Ohio State
Branham wasn't expected to be a one-and-done prospect when he went to Ohio State. But he showed enough in his freshman season to get the NBA's attention. And Cleveland has a history of drafting players who are from Akron, Ohio, who played at St. Vincent-St. Mary. Does the name LeBron James ring a bell? That seemed to work out just fine for the Cavaliers … and the Miami Heat and Los Angeles Lakers.
Rest of the first round
15. Charlotte Hornets: Ousmane Dieng, small forward, New Zealand Breakers
16. Atlanta Hawks: Tari Eason, power forward, LSU
17. Houston Rockets: TyTy Washington Jr., point guard, Kentucky
18. Chicago Bulls: EJ Liddell, power forward, Ohio State
19. Minnesota Timberwolves: Jalen Williams, shooting guard, Santa Clara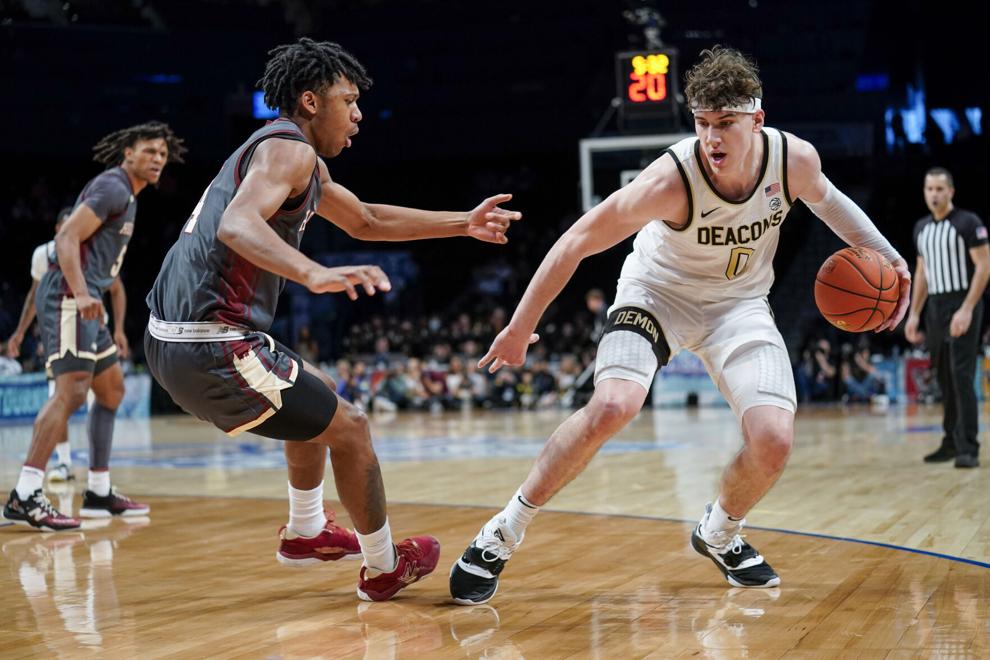 20. San Antonio Spurs: Jake LaRavia, power forward, Wake Forest
21. Denver Nuggets: Patrick Baldwin Jr., power forward, Wisconsin-Milwaukee
22. Memphis Grizzlies: Mark Williams, center, Duke
23. Philadelphia 76ers: Blake Wesley, shooting guard, Notre Dame
24. Milwaukee Bucks: Jaden Hardy, shooting guard, G League Ignite
25. San Antonio Spurs: Kendall Brown, small forward, Baylor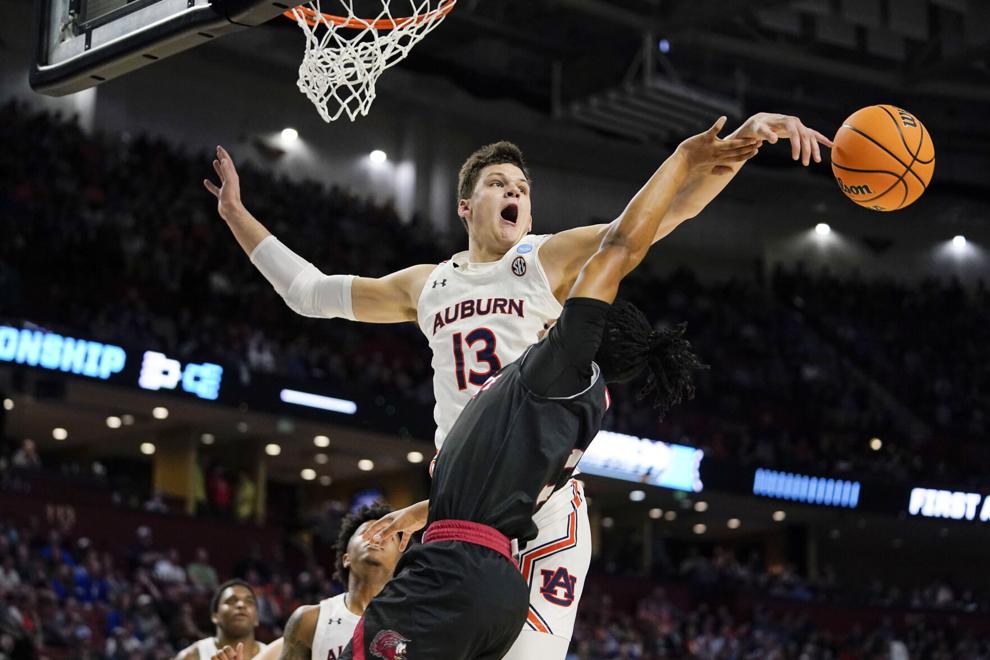 26. Houston Rockets: Walker Kessler, center, Auburn
27. Miami Heat: Kennedy Chandler, point guard, Tennessee
28. Golden State Warriors: Dalen Terry, small forward, Arizona
29. Memphis Grizzlies: Josh Minott, power forward, Memphis
30. Denver Nuggets: Nikola Jović, small forward, Mega Mozzart (Serbia)
Rest of first round notes: Let me start off by saying it's not likely that Mark Williams falls to 22, but if Charlotte does pass on him at 13 and 15, if a team doesn't trade up, he could get to the Grizzlies. Williams, Baldwin and Hardy were other players I saw at the Nike EYBL Dallas in 2019. Baldwin and Hardy were both once expected to be possible top 10 selections. Baldwin went and played for his dad at Wisconsin-Milwaukee and also got injured, so his stock dropped significantly, and Hardy's year with the G League Ignite didn't go as planned. LaRavia and Kessler were players I took swings on here. I like LaRavia with the Spurs. He probably won't go that high, but the Spurs could take a chance, or they could also go with someone who falls, like a Mark Williams and then grab him at 25. Kessler's shot-blocking ability is intriguing, and the Rockets sure could use some help on the defensive side. Washington to the Rockets would also be a good fit if Kevin Porter Jr. isn't around much longer. But even as a backup, Washington could be a nice piece. And at No. 30, the last time Denver took a player named Nikola, it worked out well as Nikola Jokić just won his second consecutive NBA MVP award.
Possible second-round selections or undrafted players who are intriguing
Andrew Nembhard, point guard, Gonzaga: A little bias here, but would love to see Nembhard sneak into the first round. He's a 6-5 lead guard who had a stellar career at both Gonzaga and Florida.
David Roddy, power forward, Colorado State: Roddy became one of my favorite players to watch in college. I'm interested to see where Roddy lands.
Jaylin Williams, power forward, Arkansas: Wiliams is probably the best player at taking charges in this draft.
Christian Koloko, center, Arizona: Kologo is 7-1 and a terrific defender, but can he translate offensively to the NBA? He ended up going 16 of 25 in the 3-point star drill, so that's promising.
Ron Harper Jr., small forward, Rutgers: I enjoyed watching his dad, Ron Harper, play for the Chicago Bulls in the 1990s, and Harper had some big moments at Rutgers this year.
John Butler Jr., power forward, Florida State: These tall, skinny guys interest me for some reason. Butler is 7-1, 190 pounds and plays on the perimeter. Not sure how he will adjust to the NBA, but he's tall and can shoot it.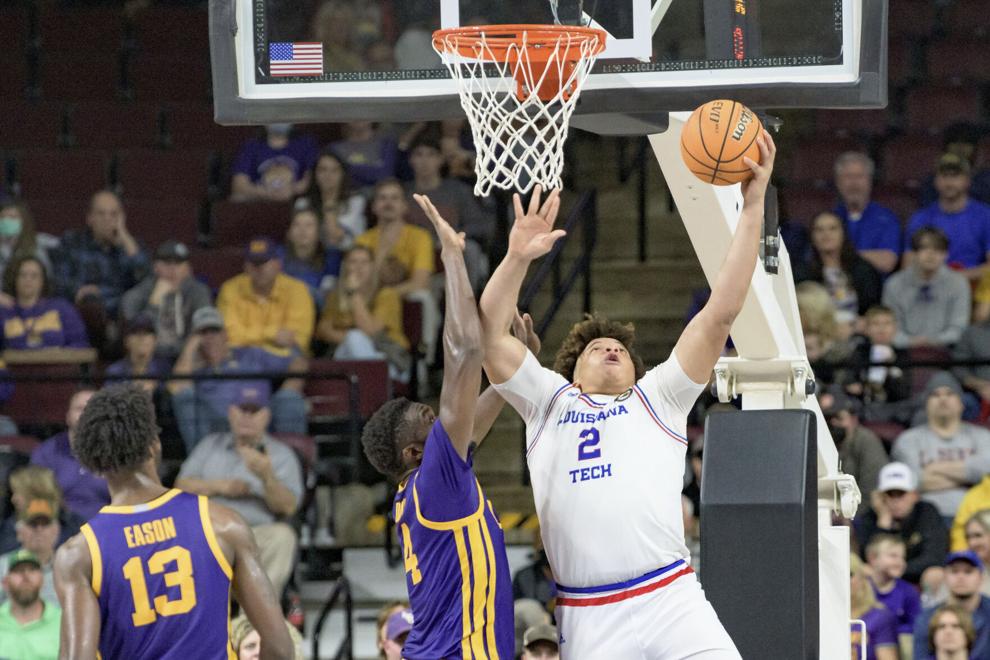 Kenneth Lofton Jr., power forward, Louisiana Tech: Lofton is the exact opposite of Butler. Lofton, at 6-7 and 275 pounds, had a strong showing at the NBA Combine. I was hoping he would end up at the University of Houston after he entered the transfer portal, but now I hope he's able to stick in the NBA.
Kofi Cockburn, center, Illinois: Cockburn had a fantastic college career at Illinois playing for former Stephen F. Austin head coach Brad Underwood. Cockburn likely won't be selected, though, just because he doesn't fit the modern NBA. It's tough being a traditional center these days. If Cockburn entered the NBA 25-30 years ago, he likely would have been in the discussion to be the No. 1 overall pick.