A Tyler family had an unforgettable experience at a Red Hot Chili Peppers concert after one of the band members sent a personal invitation.
Fanatic Odin Frost and his music-loving family received all-access passes to the show held Sept. 18 at Globe Life Field in Arlington after a simple social media post got the band's attention.
Tim Frost, father of Odin who is autistic and nonverbal, said his Twitter post asking for help finding affordable, wheelchair-accessible seats led to more than he could've ever imagined.
As he hunted three tickets for his family to see one of their favorite bands, Frost said he experienced constant disappointment, with price-gougers reselling tickets for up to $1,100 apiece.
Soon, the concert was approaching and Frost decided to make one last plea. He tweeted to Ticketmaster and the Red Hot Chili Peppers for help finding tickets for accessible seats.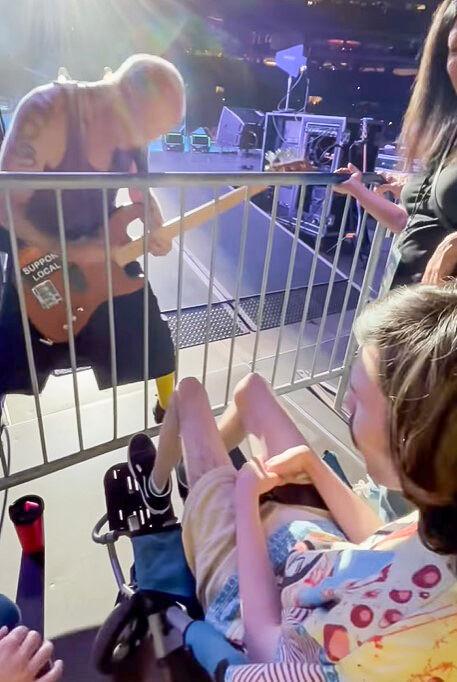 Then something amazing happened. Frost gained a new follower — Flea, the band's bass guitar player.
At first, Frost didn't believe it. He thought it was probably just a fake account, but once he realized it was a verified account, he gave Flea a follow back.
That was exciting enough, but what happened next took the cake. On Sept. 14 at 9:30 p.m., a direct message landed in Frost's inbox.
"Hey, give me your email and I'll hook you and Odin up for side stage. In Dallas, right?"
Frost was in disbelief and said the moment was so special for the RHCP fans, especially Odin, who loves music.
"Odin basically grew up with the Chili Peppers. 'Snow' was one of the songs that he grew up with and there's a lyric that says, 'Hey 'O,' listen what I say, 'O,' and I told him when he was a kid that it was a song written for him, like, 'that's your song buddy.' So he always gets a big kick out of it," Frost said.
Odin was sleeping when the direct message came in, so Frost headed straight to his wife to share the good news.
"She was like, 'Did somebody die or did something really good happen? What kind of excitement is this?' So I just showed her the phone, and I said it was good. She started crying, and I started crying, and we were giving each other high fives in the kitchen.
"Coming in the next day, obviously we told Odin and he was just giggling," Frost said, noting the couple filmed Odin's immediate happy reaction.
The day of the show
Because of Odin's special needs, the family had to limit their time at the show, so they decided to skip the opening performers and arrive when the Red Hot Chili Peppers started their two-hour set.
With a crowd of over 30,000 people, the Frost family made their way to the side stage where a special spot was reserved for them to have a close-up view of the concert. They were surrounded by family and friends of band members, which Flea requested, said Frost.
As reality sunk in, Frost said the experience became emotional as soon as they made their arrival. Those emotional and special moments continued and spread throughout the night.
From sharing eye contact in the middle of performances, hearing the band dedicate a song to Odin and having the crowd chant his name, to Odin being approached during his favorite song, Frost recalls all the memories as unforgettable.
"... Flea remembered that 'Snow' was (Odin's favorite song). So he walks all the way over to Odin and plays for like 35 to 40 seconds, just playing a bass solo jam into him," he said. "The entire time, all the friends and family that were around us were crying, making everyone teary-eyed because it was just so beautiful. I started crying; my wife started crying.
"First I remember screaming with excitement and all that, but after he walked away we had to take probably five minutes to (collect) ourselves. People were giving us hugs and thanking us for being there because that was so special for them."
After that moment, the Frost family was given another memorable highlight, Frost said.
"This next song is for my friend, Odin. He's sitting over there. He's a nice young man," said Flea, to the thousands of concert attendees.
After the shoutout and dedication of the song "Black Summer," thousands started chanting Odin's name. Frost shared the video on social media after finding out a friend from Tyler was in attendance and captured the moment.
"It was pretty magical," Frost said.
Frost also shared the video on Reddit which received feedback from attendees of the Arlington show who chanted Odin's name.
"This was different than anything, any show that he'd ever been to. He (Odin) was just soaking it all in, he was just so hyper-focused but then after each song you could hear him scream. When Flea was playing in front of him, he was just like, 'Oh my God,' he was just stunned. After the show, he was on cloud nine until about 2:30 in the morning, just screaming, laughing, having such a blast," Frost said.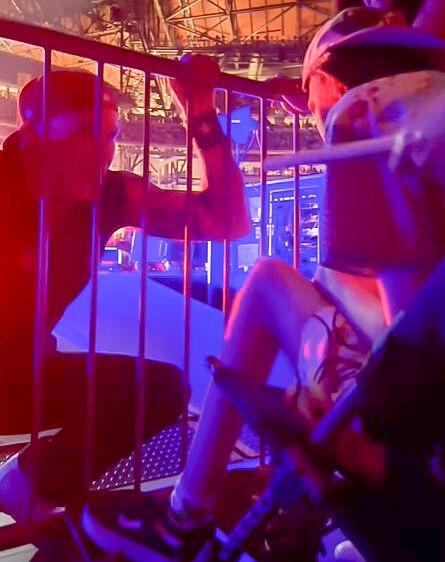 After the song dedication, the family continued soaking up the moment. Chad Smith, the band's drummer, approached them, thanked Odin for coming, and even gave him his drumsticks. Frost also said as the show ended, Flea approached the family one more time.
"At the very end, Flea comes over there, and he just puts his arms down and touches Odin's knees and lets Odin connect with him for a second before he walks off stage," Frost said. "... The energy was just so beautiful, I will probably be high off that energy for the next 10 years. It was just one of the most beautiful core memories we've ever made as a family."
Not only were there so many memorable moments from the show that the family will cherish forever, but they also appreciated all the kindness from bandmembers, including Thundercat and The Strokes, who opened the show and also showed love to the Frosts.
"Our family is just so grateful for simple kindness. It didn't cost them anything to put us over there or to even come over there and play. He didn't have to dedicate a song to Odin, but the simple kindness surely means so much to people when you do it. No matter if you're famous, or if you're just in your regular everyday life, simple kindness truly can change the perspective and change people's outlook on life on their day, or whatever it is.
"So that's what we always try to reiterate in our personal life, and to see it done to us by some people that we looked up to so much, it's just so beautiful and there's no real words to say thank you. It's just full of beautiful gratitude," Frost said.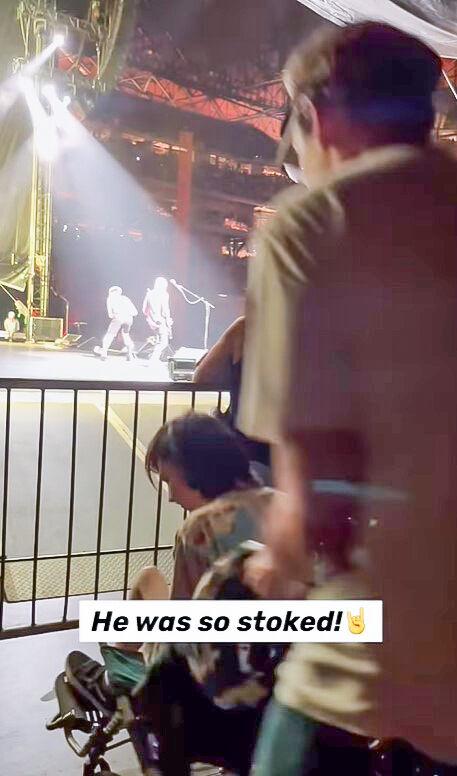 Longtime fans
Frost said the Red Hot Chili Peppers have always influenced him.
"I had a pretty rough childhood, and the Chili Peppers and John Frusciante in particular and Flea, they were one of the main reasons I started creating music. John, their guitar player, is the main reason I play guitar and like I still play his style of music until this day," he said.
Tim Frost is a music engineer and his wife DeAnda Frost is a singer, which has influenced Odin to also love music.
Odin expresses himself through music and even conducts a segment called "Will It Jam" on the family's Instagram page that consists of people sending in song suggestions as Odin and Tim go for a drive and listen to music. During the segment, Odin's reactions to the songs are recorded and viewers get to know if he liked them or not through a weekly social media video post.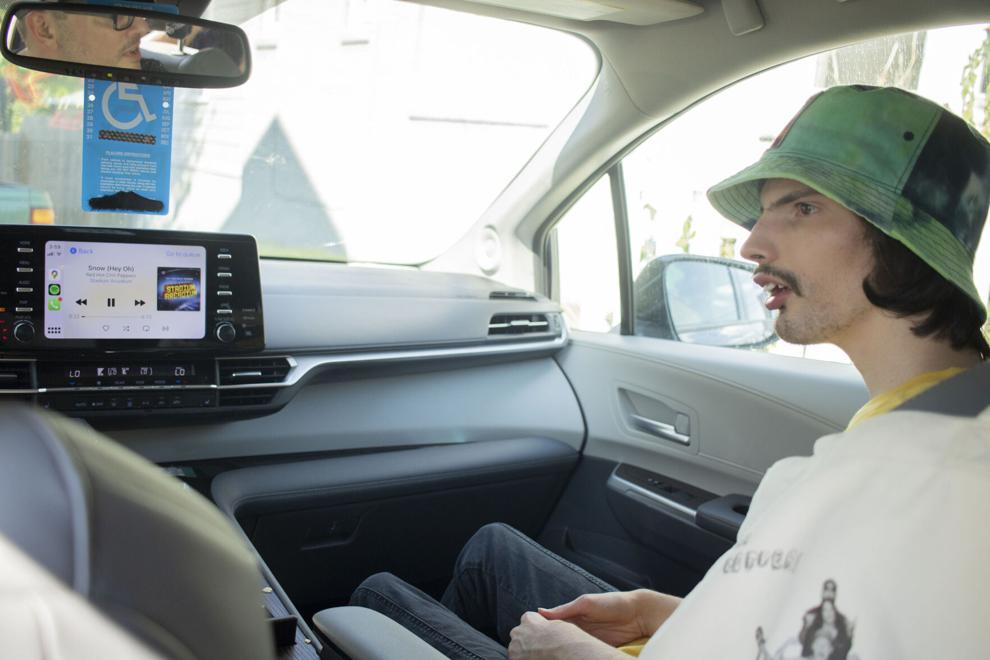 Frost also tags the artists of the featured songs. The Red Hot Chili Peppers are a constant hit and have previously noticed Odin prior to the Twitter interaction, said Frost.