He was sitting in the auditorium during a regular school day in Clarksdale, Mississippi in 1941 when school officials announced something he'd remember for the rest of his life.
There had been an attack on Pearl Harbor, and the United States was going to war. There was a cry for help at the school and it was then that Raymond "Ray" Lewis, a 15-year-old ninth grader at Clarksdale High, made up his mind that he wanted to go into the Marines and serve.
Since he was only 15, he was not allowed to even apply to be a Marine.
Still, he felt determined to serve. He felt it was in his heart to go be a Marine and help his country. The moment that he was sitting in the auditorium, was the moment he felt pure patriotism for his country.
He was 5-foot-10 and a half and weighed 165 pounds, bigger than most kids his age. He made plans to convince his parents into going to the recruiter's office with him and helping him lie about his age.
Lewis said part of him wanted out of his hometown. His father had been an alcoholic and home life was terrible. Since the age of 12, Lewis had a job. He worked as a paperboy, delivering papers every morning from 2 a.m. to 5 a.m.
Then, he'd go home, have breakfast and go to school. He did this until he went to the Marines.
Lewis recalls having to pedal his bicycle into the next county to the nearest bootlegger to get his father whiskey. He was living an unhappy life.
His mother didn't want him to leave. Lewis was one of three siblings, he had two sisters that were older than he was. Lewis was the baby. Especially at the age of 15, his mother did not want him to go, but he somehow managed to convince his parents.
It was December 2, 1942, five days before the first anniversary of the Pearl Harbor attack, when Lewis first went into the Marines to reach for his military aspirations.
He quickly regretted ever wanting to go into service after his first day at boot camp in Parris Island, N.C.
"When I went into the Marines, there I was with all those older men, and I was just a boy. I felt out of place. They all smoked, so I started smoking and I started doing what other men did," Lewis said.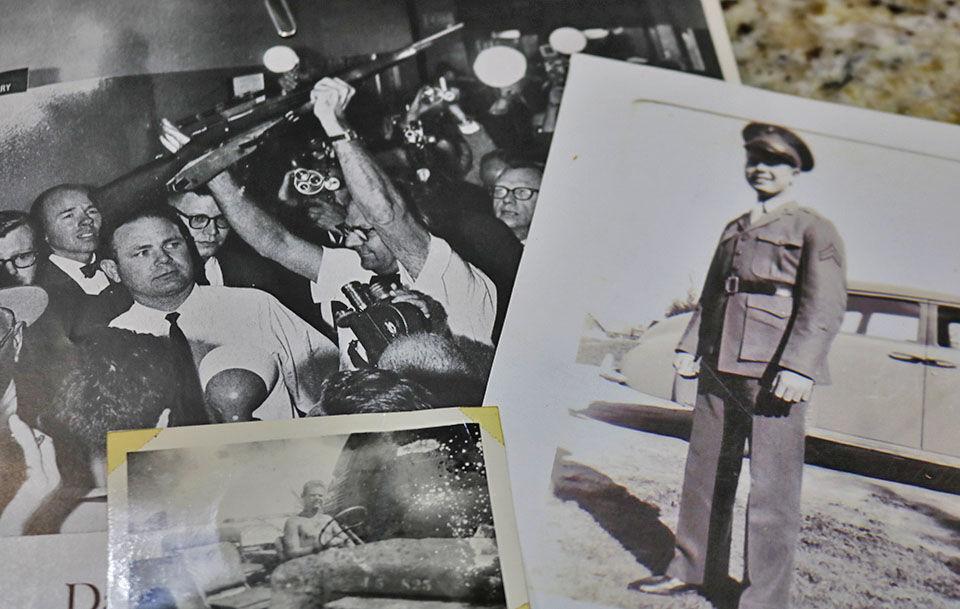 Eventually, he grew accustomed to Marine life and began to enjoy his time there, even the bad times.
Lewis recalls the second day when he, along with the other men, fell out and lined up. His drill instructor approached him and said, "Boy, did you shave this morning?"
Lewis had never shaved in his life and had hairy fuzz on his face. The drill sergeant asked Lewis if he had a razor. He said, "Yes, sir, I have a razor. My daddy packed a razor for me." The instructor told him to go get the razor.
When Lewis brought the razor to him, on the beach in Parris Island, the drill instructor took the blade out of the razor, rubbed the blade on the sand with his foot, picked it up, put the blade back on the razor, grabbed a handful of sand, rubbed it on Lewis' face and dry shaved him.
"I haven't missed shaving since," Lewis said.
Lewis remembers one day when he was marching and had his hands in his pocket. The sergeant called him over and said, "Marines don't put their hands in their pockets, except to get something out and you were just standing there with your hands in your pocket."
The sergeant proceeded to grab a shovel and fill Lewis' pockets with sand.
"I had to march in them for two weeks, loaded down with sand, plus my body. So you will never catch me with my hands in my pockets," Lewis said.
Although these moments were hard for Lewis, he said it all taught him discipline, something he values highly to this day.
"I learned discipline in the Marines. When I became a Christian, I carried that discipline over into my life as a Christian. I've been opened up twice for heart surgery, I'm 93, I swam a half mile this morning. Discipline, it paid off for me and it helped me in my Christian life to be obedient to God," Lewis said.
After boot camp, Lewis said certain men were chosen to go on the line company, who fought in battle on the ground force and certain men were placed in other jobs, like office jobs, cafeteria jobs and more. Lewis was assigned to cafeteria duty and worked there for two years.
Although in the moment he was disappointed, looking back, Lewis was glad he did not become a lineman.
"When the people on the line would go in on the beach, they would be mowed down like flies. Literally, hundreds of men would die, infiltrating the island or the country to gain control of it. When I saw what was happening to them, I was glad that I didn't go into the line company," he said.
"Depending on your duties, you were promoted. So I was diligent in my duties and I got promoted," Lewis added.
He was 16 when he finally became a sergeant.
"They didn't know I was 16. I was the youngest sergeant in the Marines at that time. When I was going overseas to work in the Marine Air Corps in transportation, my sister wrote the commandant (the officer in charge) and told them I had lied about my age and they wouldn't let me go," Lewis said.
Lewis said that when you go overseas, you have a higher probability of being killed, and that his sister was worried. He had still been too young to go overseas, so he had to wait until he was 17.
Fortunately, he wasn't kicked out of the Marines.
"What they did was, they wrote letters to my parents because I was already a sergeant and a good Marine, they agreed I could stay. I got to stay in the service and carry on my regular duties to do what I was doing," Lewis said.
He was finally shipped overseas after he turned 17. He visited the small islands of the south Pacific until he turned 18, then the war was over.
Once he was sent back to the United States, he ended up at Eagle Mountain Lake Naval Air Station Joint Reserve Base in Fort Worth, where he worked in transportation until his time was up for him to get out.
Because he had signed up for the duration of the national emergency, even though the war was over, Lewis had to stay in the service until the emergency was over and everything was back to normal.
Military Lessons and Friendships
While he was stationed in Fort Worth, every day he would stand in the highway and hitchhike to Dallas. In Dallas, he met Rita, who would become his wife of 75 years.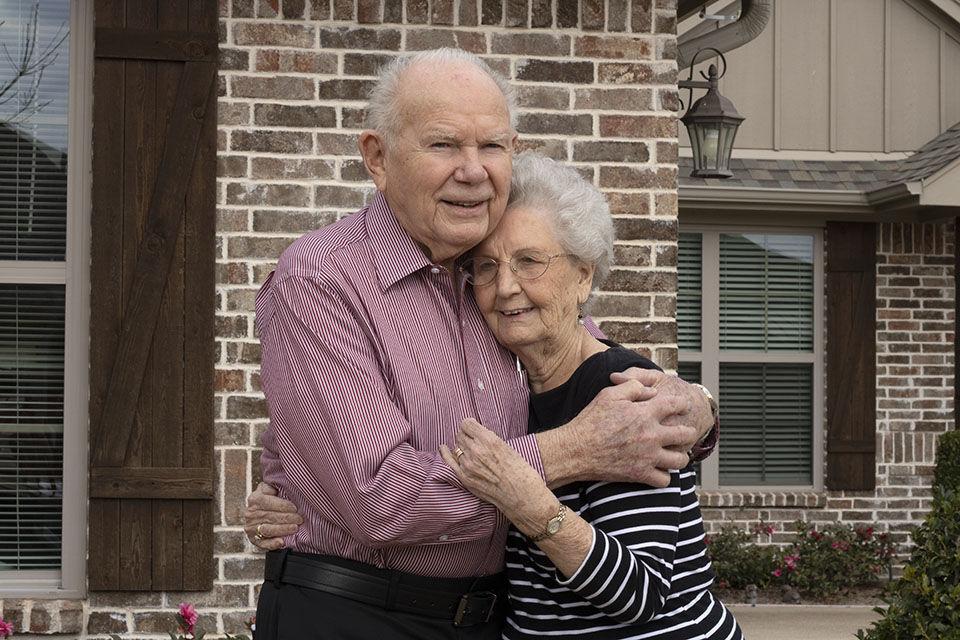 While he was in the military, he made a lifelong friend who was from Tennessee, Owen. He was a 30-year-old man he had met in the service. Before anyone knew about his age, Lewis entrusted Owen and told him his big secret.
"I wanted to be a man, just like they were. We did what friends do, we talked about everything. We talked about home life, marriage, getting out, what we were going to do, I spent some time with his family when I got out," Lewis said.
Lewis recalls Owen giving him advice and he had soon grown to see Owen as a father figure.
"If I had to do it all over again, I would do the same thing. I don't regret anything I did as far as going into the service. I learned, in the service, what you don't get educated in school," Lewis said.
Lewis accounts his manners and politeness, as well as taking up for people, for the things he learned in the Marines.
He remembers when some drunk men ambushed an older man who was in his Bible class, and they began pushing him around. Lewis stood up to the men and pushed them back and they backed off. This was what Lewis said he wanted to do his entire life — just protect. Lewis is now teaching Bible classes.
When he married Rita, he worked at a mechanic shop, greeting customers and taking appointments, but he always wanted to be a policeman or a cowboy.
Being a policeman was the most realistic.
So, he took a pay cut from the mechanic shop and took the job as a policeman for $175 a month. When he told his wife, she said, "We'll starve to death."
When he quit his job at the mechanic shop, his boss told him he'd give him a $50 raise if he stayed.
"I said money don't enter into it. I wanted to be a police officer. I wanted to be a Marine, I wanted to be a police officer. That was a priority to me. I wanted to protect people — catch people who were doing wrong: stealing cars, raping people, people that drive drunk, law violators. I wanted to do that," Lewis said.
He began his new journey on April 1, 1952, as a patrolman. He eventually got first place as patrolman at the Dallas Police Department for clearing the most felony offenses in a year.
"I made detective. I went to the juvenile bureau and it was my job to work with juveniles," he said.
There, he won first place as juvenile detective for clearing the most cases of offenses of burglaries, robberies and thefts.
"All because I was able to talk them into confessing, so I cleared those cases. When I did that for three years, in 1957, the chief called me in and said he wanted me to go into polygraph," Lewis said.
Lewis didn't know what a polygraph was, then learned it was a lie detector test. The chief said with Lewis' interrogation skills, he would be the perfect candidate to use the polygraph machine.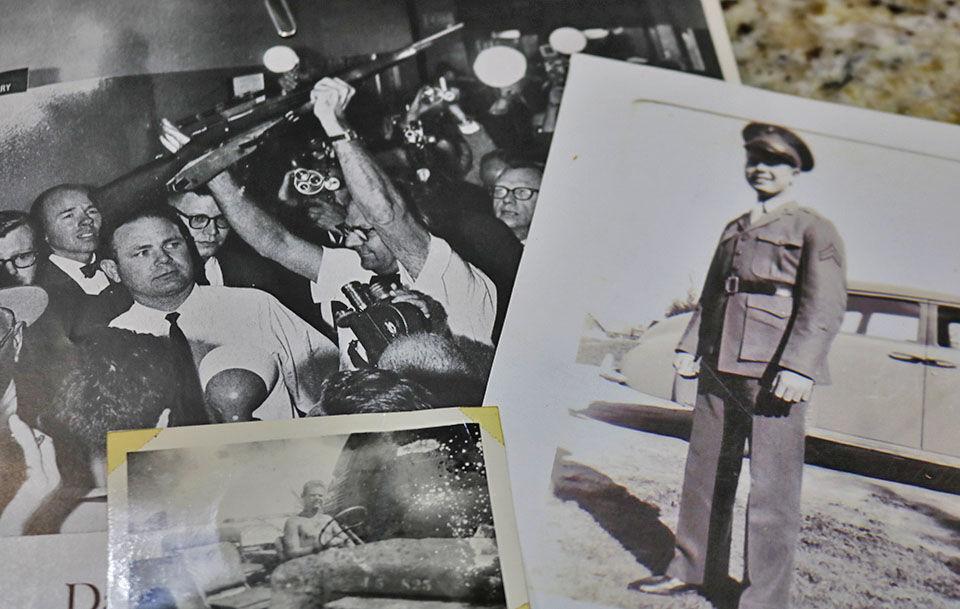 He worked in the Identification Bureau that housed the polygraph and fingerprint equipment. One day when he was driving to work, he received a call that President John F. Kennedy had been shot and killed.
When he arrived at work that day, after Lee Harvey Oswald was taken into custody, they took him back to Lewis' department, where Lewis took Oswald's fingerprints.
Once the Dallas Police Department obtained the rifle that Oswald used to kill Kennedy, there were many journalists and media surrounding the hall in which the lieutenant was walking with, gun in hand, raised in the air so that no one could touch it. Lewis was photographed and published in the book, "Four Days," where he is seen guarding his lieutenant who is holding the firearm.
"I was escorting him down to homicide with the rifle that shot Kennedy," Lewis said.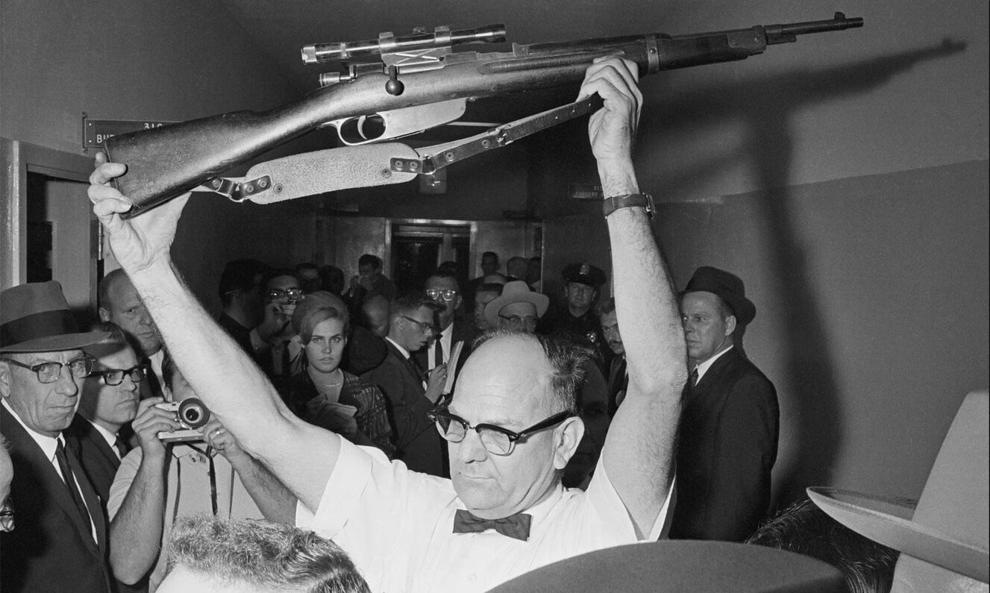 After the incident, Lewis polygraphed five people who claimed to be the one who shot Kennedy, but they all turned out to be copycats, Lewis said.
He said he was able to successfully determine the truth, both with the Oswald copycats and criminals, was because of the way he asked questions and treated people.
"That's an art that comes with the person. It's built into you. You know how to talk to a person, you treat them right to encourage them that the best thing to do is to tell the truth. You do it with a sincere heart, knowing that it's best to tell the truth, because if you tell the truth, most of the time you get off easier in court," Lewis said.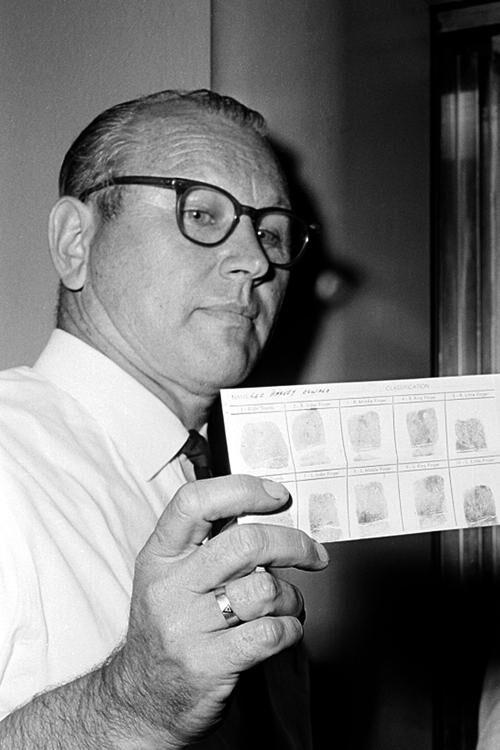 Lewis left the Dallas Police Department on Jan. 3, 1978.
"Pretty soon, in a room not bigger than a bathroom, it begins to close in on you. So I asked them, 'Let me out for six months and do nothing but fingerprints. Because I was a fingerprint technician also,' but they said no, they couldn't do without me in there. So I was fixing to turn 50 and I had my time in that I could retire. My retirement was almost nothing," Lewis said.
When he quit, Lewis moved his family to Lindale, where he became a plumber's helper for $5 an hour. He would work this job for about a year and a half, until he established his own polygraph company.
At the time, Tyler police officers would take prisoners they wanted to be polygraphed to Dallas, where Lewis would polygraph the people for free. When the Tyler Police Department knew Lewis moved to Lindale, they called him and asked if he would go to the police department and polygraph them there.
"Every time they had a polygraph test, they had to drive to Dallas, 70 miles. It'd take two men with a prisoner to come up, run the polygraph test, and if necessary, take a statement, then drive back. So they'd kill a day," Lewis said.
Lewis began doing polygraph tests with his company for pre-employment screenings, as well as criminal work for the Tyler Police Department and the Tyler Fire Department. He began doing the same thing in Lindale and Longview.
Lewis recalls Jim Mallory, who was in his Bible class at the time, telling him he was having a big turnover with police officers at the time and asked for Lewis' advice on what he should do.
"You can pay them more money and hire good men. I'll do the polygraph tests for you for almost nothing. You hire good men and pay them a decent salary and you'll quit having a turnover. And he did that," Lewis said.
On the side, he also did polygraph in surrounding cities for attorneys who requested him.
Lewis worked as a polygrapher for Lewis Polygraph until he was 84. Today at 93, Raymond and Rita, 92, live in Lindale and just celebrated their 75th wedding anniversary.