A team of students from the School of Nursing at the University of Texas at Tyler is studying and monitoring Parkinson's disease patients participating in the new Rock Steady Boxing program at a local fitness center, where patients participate in boxing exercises.
The program aims at stalling the progression of Parkinson's and improving a patient's strength, coordination, balance, flexibility, gait and in other ways, according to Brandon Jones, chief instructor/owner of Tyler Kung Fu & Fitness, which launched the boxing program recently.
Drs. Melinda Hermanns and Beth Mastel-Smith, both associate professors at UT Tyler's School of Nursing, are collaborating with Jones in bringing a half-dozen nursing students to the Rock Steady Boxing classes to assist closely with the patients and study the effects of the boxing exercises on their condition.
The outreach is part of the community engagement pillar of UT Tyler's strategic plan. The UT Tyler School of Nursing is very pleased to be involved in helping the community, Hermanns said.
"In nursing school, students can benefit from a variety of experiences and can read in a textbook what Parkinson's disease is," Hermanns said. "But reading in a textbook does not give the full picture of Parkinson's disease. These students are engaging with Parkinson's patients to see Parkinson's disease in real life and to gain a better understanding of it."
Prior to the students starting to assist with the boxing program, the associate professors spent several weeks sharing with them research articles and other resources and giving them a basic introduction to Parkinson's disease.
In the boxing program, the nursing students observe the Parkinson's disease patients and are strategically placed at stations that the patients rotate to in order to ensure safety and provide encouragement. Socialization is a huge piece of the boxing program, Hermanns said.
The nursing students do not receive a grade or credit for their work with the Parkinson's patients outside the classroom.
"They just get the satisfaction of having the opportunity for this unique learning experience," Hermanns said. "I think they are going to be better nursing students having had this experience. I think they are going to be more compassionate, more caring, more understanding and have increased knowledge should they encounter a person with Parkinson's disease or anyone with a chronic illness."
"I don't think you can get the caring and compassion from a textbook," she said.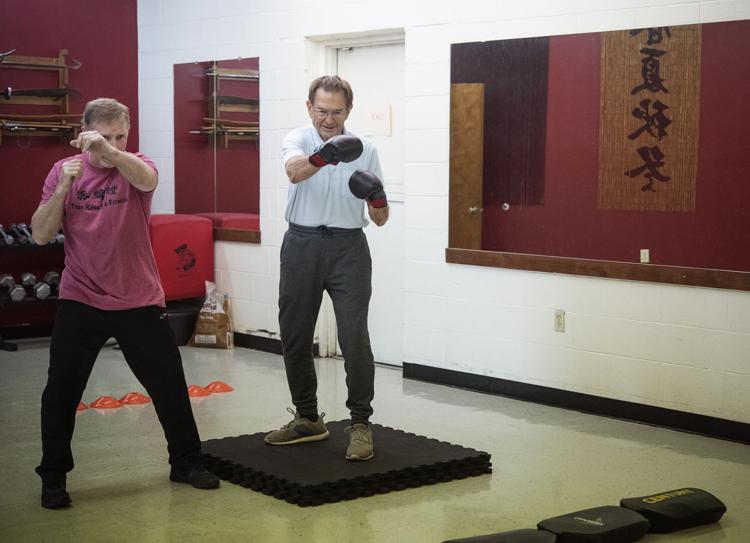 Besides assisting with the boxing classes, according to Hermanns, the students will assist in coordination with Jones in assessing the Parkinson's patients when they take functional status tests. They will observe, for instance, whether patients can get out of a chair with their arms crossed or whether they have to hold on to something to get up.
As the boxing exercise classes proceed, Hermanns anticipates the assessments will show not only physiological improvement, but also psychological benefits in mood and overall quality of life. The UT Tyler School of Nursing will share the findings with the Tyler nursing and medical communities, Hermanns said.
Melissa Rodriguez, an undergraduate nursing student and a member of the UT Tyler nursing team assisting with the Parkinson's patients in the boxing program, said, "It's eye-opening to see how much Parkinson's can affect one person so differently from another."
She added, "It's interesting to work with these people and help them and watch them get stronger. I enjoy it. I think everybody in their own way is getting stronger every time they come. Everybody started off at a different level, but they are all progressing. They are gaining confidence in themselves, too."
Before assisting with the program, Rodriguez had not helped take care of a person with Parkinson's.
"It's a lot different from the textbook definition because it affects such a wide age range of people and it affects them so differently," she said. "I'm getting to see it and working with (patients) is helping me see how different people can work through having Parkinson's. Looking at the whole patient aspect has helped me a lot and will continue to help me with my nursing education."
Tianjing "Crystal" Wang, an international master's of science nursing student, said she feels empathy for the Parkinson's patients as she helps them and looks out for their safety since some of them are shaking and prone to fall when doing the boxing exercises and other activities in the boxing program.
"It is a meaningful thing for me to see them improve and to see them getting stronger," Wang said, citing how one patient in the beginning could not go through the obstacle course without holding her hand and now can do it on her own.
"When they are happy, I am happy. That is like a reward for me," Wang said.
Emma Quarles, a freshman prenursing Presidential Scholar, said boxing is not anything she would have thought Parkinson's patients would be involved in.
But Quarles said it makes sense, because boxing requires dexterity and balance. A lot of times people think of boxing involving punching, but there's so much more that goes into the sport, she added.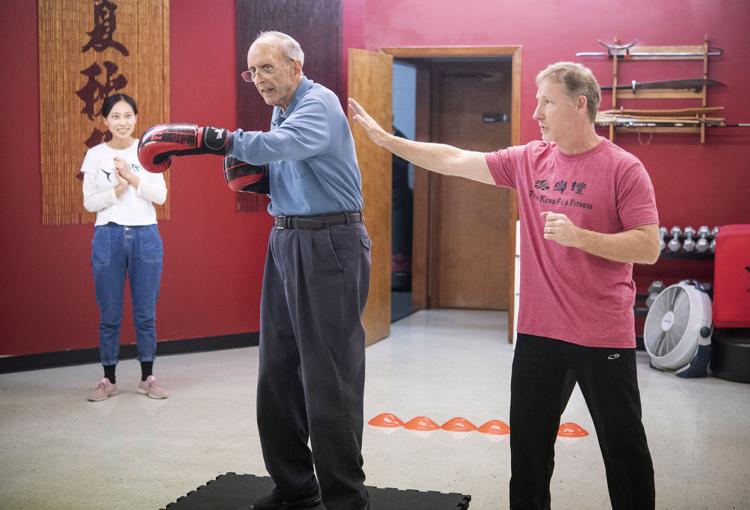 Before working in the boxing program for Parkinson's patients, Quarles said, "I don't think I had a grasp of the effect of Parkinson's. I don't think I truly understood the extent. Watching what these (patients) struggle with and how they have to work around their struggles has been very informative. I don't think I would have understood all the balance issues they have and vocalizing (problems)."
Quarles said she has seen them make progress not only physically, but also socially.
"Their balance has improved and they are more confident in their movements," she said.
Other UT Tyler students participating are Ethan Brown, a Presidential Scholar; Rachel Donnell, a graduate psychology student; and Alli Quarles, an honors nursing student.
Parkinson's disease is the second most common degenerative neurologic disorder worldwide and affects about 1 million adults in the United States.