Tyler officials have given preliminary approval to spending more than $200,000 to upgrade a railroad crossing on Martin Luther King Jr. Boulevard.
The city's Half Cent Sales Tax Board voted 4-0 on Tuesday to spend $212,258 on the railroad crossing at the intersection of West Martin Luther King Boulevard and Border Avenue, near the current fire station.
The project will remove the deteriorated wooden panels on the crossing, replace it with concrete paneling, and add sidewalks and lighting, city engineer Lisa Crossman wrote in a memo to the board.
The board makes recommendations on how the city should spend money from its half-percent sales tax, also known as the half-cent sales tax. The issue now goes to the City Council, which has the final say on spending items.
The city's proposed spending half of the total cost of the new railroad crossing. Under a contract with Union Pacific Railroad, which owns the railroad tracks in question, the city will reimburse half of the company's costs, and the company will pay the other half.
The railroad crossing project is a portion of the city's long-planned project valued at more than $4 million to put sidewalks on Martin Luther King Boulevard from West Gentry Parkway to North Broadway Avenue, according to Crossman.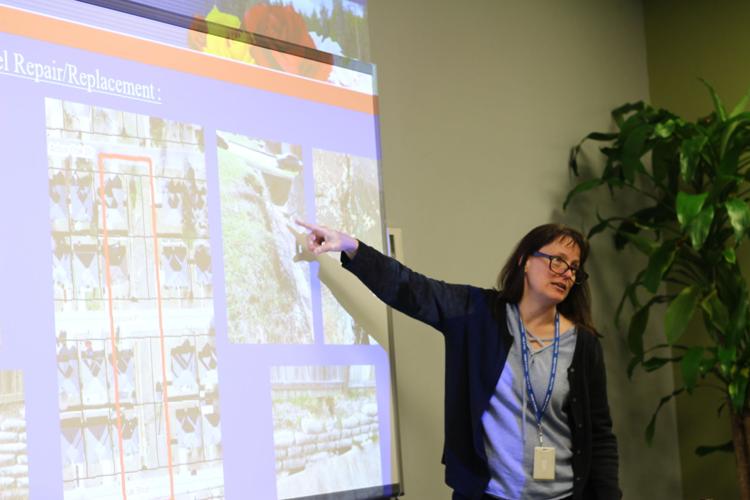 Crossman said Tuesday that the city has been pushing hard over the last several months to come to an agreement with the railroad company so that the full sidewalk project could move forward.
Mark Whatley, the chairman of the Half-Cent Sales Tax Board, asked Crossman whether the pricetag for the project would break the budget.
"We were anticipating a cost," she responded. "I'm not sure that we were anticipating this level of cost. We did not have an actual separate line item budgeted."
Crossman added that the city has budgeted more than $4 million for the full sidewalk project, and the railroad crossing portion still will fit within that budgeted total.
The city has not been able to send the project out to bid without an agreement, she said in an interview. At one point in time, Crossman said city staff considered shortening the project, so that sidewalks would run from West Gentry to Border Avenue and not cross the railroad tracks.
"Once we get this (contract) executed we'll be able to go ahead and put the project out for bid and hire the contractor to get the contract started," Crossman said.
TWITTER and INSTAGRAM: @_erinmansfield