A state representative from East Texas said Wednesday that the Legislature needs to invest in public education and use some of the state's rainy day fund for other challenges. 
Rep. Travis Clardy, R-Nacogdoches, made the comments at a Government Officials Appreciation Luncheon hosted by the Tyler Area Builders Association at the Willow Brook Country Club.
Clardy represents the counties of Cherokee, Nacogdoches and Rusk in the Texas Legislature. He announced his candidacy on Monday for speaker of the House, an election that members of the Texas House decide.
Clardy thanked members of the organization for their work putting roofs over people's heads. He also thanked the elected officials in attendance for their work in local government, saying the Legislature needs to continue to defer to local control over several issues. 
Most local elected officials in Smith County — including Smith County commissioners, Tyler City Council members, several county and district judges, and a state representative — attended the event. Aides attended on behalf of state Rep. Matt Schaefer, R-Tyler; U.S. Sen. Ted Cruz, R-Texas; and U.S. Sen. John Cornyn, R-Texas, among others.
Clardy compared the work local developers do building houses to the work he said he would like to do in the Texas House. He also joked that the crowd should all approach the only state representative in the room — Rep. Cole Hefner, R-Mount Pleasant — and encourage him to vote for Clardy in the speaker's race.
Tyler City Councilman John Nix, a local property developer who introduced Clardy at the event, called him "a strong, independent, conservative voice for East Texas." Nix said he has met with Clardy several times over the years for issues related to local government and the Tyler Area Builders Association. 
"Mr. Clardy announced that he's running for the (speaker of the) House of Representatives for the state of Texas, which is very good news," Nix said. "I would just say I wish you all the luck in the world. I love that an East Texan is running for that election right now." 
Clardy said he would like to tackle education finance reform if elected House speaker. He said the state should take a larger role in funding public education, and conservatives should support his stance because the state's role in providing a free public education is outlined in Article 7 of the Texas Constitution.
"Our public school system is broken," Clardy said. "It is not equitable. It is not funded appropriately or adequately. But it's not unconstitutional." He was referencing a 2016 Texas Supreme Court decision in which the justices criticized the state's school funding system but upheld it as constitutional. 
"It's been described as 'lawful but awful,' and I think that's fairly accurate," Clardy said. "Nothing is more important to eastern Texas than the next generation of Texans … And by the way, I think this is a conservative, constitutional position to take if our forefathers in Texas found it necessary to add that article to the Texas Constitution."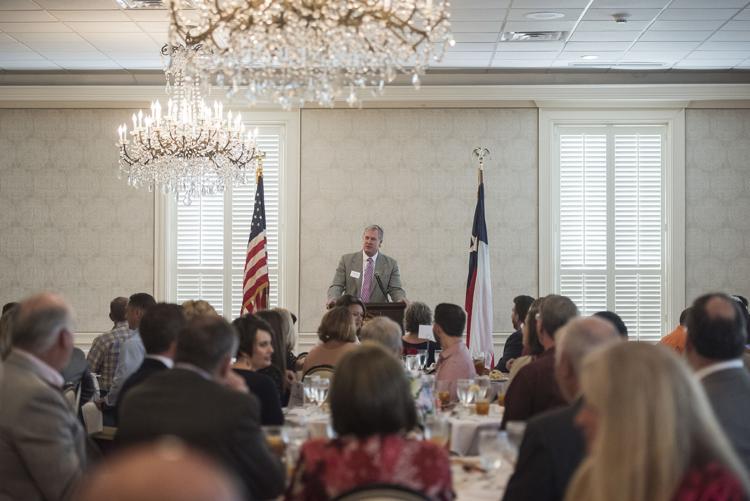 Clardy also questioned state leaders' resistance to spending from rainy day funds. He said the money is there because the state needs a savings account, but there are too many leaders who treat it as something that can be looked at but never touched.
In an interview after his speech, Clardy said he is choosing to speak about education finance reform despite the issue's divisiveness and difficulty because it's the biggest issue facing the state.
"I think it's the biggest problem to solve," he said. "You know, anybody can do the easy things, but what are we going to do about the hard things?
"We've seen state participation in funding public education drop in the last 10 years from 60 to below 40 percent," Clardy said. "We've seen that number shrink steadily over time and because of that we've seen property taxes skyrocket.
"So it's a state requirement to provide public education and I believe rightfully so," he said. "I think there is a moral and ethical imperative, but there's a constitutional requirement in Texas that we provide a free, fair and equitable public education.
"That burden should fall on the state," he said. "So it's up to us as lawmakers, as legislators, to figure out how to do that. And there are ways to do that that we can build in efficiencies, we can use the money more wisely, but we have to do this."
Clardy said the state can do things to lessen the administrative burden on schools and put that money back into the classroom. He said local school districts also could find administrative efficiencies and use technology to cut costs.
"But at the end of the day, this is a situation where we need to have monies put into public education," he said. "Again, you can move the money on the table around but sooner or later … it's going to take more money."
On the state's rainy day fund, Clardy said the money has been building up over time from oil and gas severance tax revenue. He said the fund now has "a staggering amount" — nearly double what economists say the state needs.
The state's rainy day fund had $9.7 billion in it in fiscal year 2016, according to the Texas Comptroller of Public Accounts. That was higher than any other state in the country, including California, which had $8.7 billion in its rainy day fund.
"That leaves money that is available to be invested back in the state of Texas," he said. "Not to be blown on new programs or thrown out the window or do anything crazy with it, but we have needs in Texas."
He pointed to Hurricane Harvey relief as a major expense the state could fund through the rainy day fund. He said the state also could spend money on a water plan because another drought could be coming, and he pointed to issues with the state's teacher pension fund.
Texas' rainy day fund has been used over the years to pay for disaster relief, although it has been rare, according to the Texas Tribune. Using the state's rainy day fund for a purpose other than a budget deficit or revenue shortfall also would require a two-thirds majority vote from the Texas House and Senate, according to the comptroller's office. Using it in the case of a budget deficit or projected revenue shortfall requires a three-fifths vote by the Legislature. 
"That money's available to fix that — real money in real time, not some accounting gimmick just to balance the budget," he said. "And that's what I'm committed to do and want to do. And I think that's what the majority of members in the Texas House and throughout the Texas government want to do.
"Let's solve real problems with real solutions, and when necessary, let's do it with real money," he said. "Let's not use smoke and mirrors."
TWITTER and INSTAGRAM: @_erinmansfield