KILGORE — Forty people from internet service companies and local governments crowded a conference room for an announcement that a regional agency had received a $375,000 federal grant for rural broadband.
"I feel excited to be here today finally," David Cleveland, the executive director of the East Texas Council of Governments, said Wednesday. He fought back tears as he described the path the agency took to receive federal funding.
Cleveland's announcement followed a decade of unsuccessful attempts by the agency to secure funding for rural broadband in its 14 counties: Smith, Gregg, Upshur, Camp, Harrison, Marion, Panola, Rusk, Van Zandt, Rains, Wood, Henderson, Anderson and Cherokee.
"It's a major issue in East Texas," Lindsay Vanderbilt, the communications director for the East Texas agency, said in an interview about the lack of broadband. "It affects the economic development in the area.
"Without stronger connectivity, we believe that that affects our region, and the types of businesses and development that can occur," Vanderbilt said. "So it's something that our board has agreed that it would be a major benefit to East Texas if we were to have stronger connectivity available.
"We've kind of helped with the charge of researching and fund-seeking and we have found that the broadband funding that's out there really wants you to come with a strong plan, how to accomplish it," she said.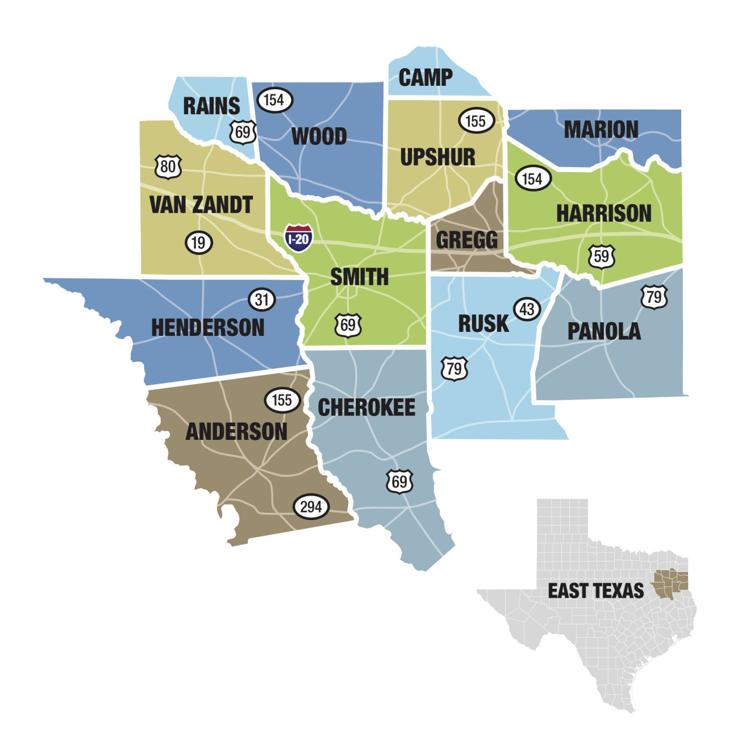 The first was in 2009, when the agency put in work for a $20 million to $35 million grant funded through a federal stimulus package in response to the Great Recession. The agency and its contractors worked all night to meet the grant submission deadline, according to the Longview News-Journal.
The grant application sought to connect anchor institutions — like schools, government buildings and large businesses — to higher-speed technology. Residential customers would then have a better shot at getting the service extended to their homes because the bulk of the infrastructure in the region would have already been built.
The agency wasn't able to receive the grant due to a submission error from a contractor, Cleveland said in an interview in March. And it was later announced that Peoples Telephone Cooperative in Quitman would receive $28.8 million in federal money through the same grant program, and build out a similar project with a value of $36 million.
The second attempt came a few years later, when the agency worked with a project called Connected Texas. The project was a branch of the national organization Connected Nation and worked under the Texas Department of Agriculture to map broadband availability as a step in increasing access.
Chris Pederson, a vice president for Connected Nation, said in an interview that the project had five years of funding through the federal government. When the funding ended, responsibility for mapping broadband availability was sent back to the Federal Communications Commission.
"Unfortunately, before we could get finished, that initiative ran out of funding," Cleveland said of Connected Texas. "But the good news about those two initiatives are we learned an awful lot from those two initiatives combined together that gave birth to our present strategy today."
The East Texas agency then approached the U.S. Economic Development Administration in early 2016 about another proposal, and were told in late 2017 to resubmit the application for a future round of grants, Cleveland said. The agency resubmitted in mid-2018 and learned it would be accepted in early 2019.
"Through this project, we would like to see by the close of 2026 that no less than 90 percent of our regions' business, health care facilities and educational institutions will have access to the marketplace equivalent of gigabyte internet service as it exists in 2016, at an affordable cost within the reach of the average small business in the region," the grant application said.
"Broadband has become not just a luxury, but now a necessity in the East Texas region to continue our growth and to keep up and compete with the growth of larger metropolitan areas in the state," the application said. "This proposal has been submitted to several other agencies and has not been chosen for funding but we believe a successful project can be achieved through partnership with the EDA."
Under the grant, which requires a local match of $161,000, the agency will create a strategic plan for funding individual broadband projects in each of the 14 counties. Projects will be public-private partnerships in which an internet service provider will be asked to sponsor a project with a local business.
An example would be if a small business wanted to run broadband technology to its location, but the cost would be $15,000 and the business didn't have it, Cleveland said. An internet service provider would need to agree to take on the project to build the connection, and the agency would work to get funding to pay the provider for the project.
Getting the grant is just the beginning, because now businesses and internet service providers will need to start proposing projects for the strategic plan, Cleveland said. He thinks the agency can identify five projects in each county — for a total of 70.
"It's been a decade worth of effort to get it to this point," Cleveland told the group gathered on Wednesday. "It's great to see some of our broadband providers also in the room. They're part of our partnership to make this whole project happen now and in the future.
"This is testimony to the fact that perseverance pays off, and never give up and if you work hard good things eventually happen," Cleveland said.
TWITTER and INSTAGRAM: @_erinmansfield