After seeing photos of the Texas Rose Festival Parade and the awe-inspiring costumes and gowns worn by the rose queen and members of her royal court, Denise Ross traveled from Bastrop to attend the event.
When she returns home, she and her 4-year-old granddaughter Reign will have dozens of photos they can share with others of their time at the parade on Saturday.
Ross snapped pictures of many of the floats and parade entries as her granddaughter happily waved from the crowd at participants.  
They were part of the many who gathered to see the more than 100 entries at the 85th Texas Rose Festival Parade. This year's festival follows a "Rock the Rose" theme.
Crowds lined up around the parade route, which began at Front Street and Glenwood Boulevard, followed a route west on Front Street and ended inside Christus Trinity Mother Frances Rose Stadium.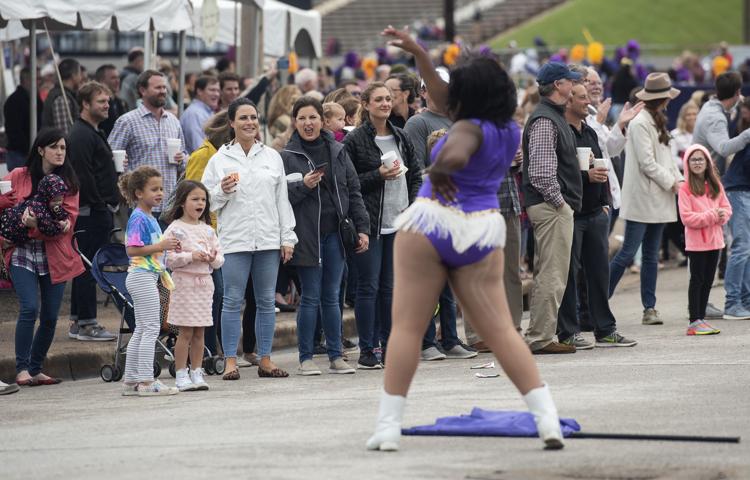 The Robert E. Lee High School Southern Belles, the Tyler Golden Girls and the Dance-N-Drill junior jazz team delivered pre-parade performances.
Members of the Tyler Fire Department kicked off the parade. Entries featuring the Sharon Shriners, Elvis tribute artist Josh Davis, Rose Queen Amanda Elaine Hiles and members of her court were some of the crowd's favorites.
Alan Wharton, president of the Strutters, the volunteer organization that stages the parade, said he felt everything turned out wonderfully and was pleased the rain ended before the event took place and stayed clear.
He also was pleased about the amount of support the event received from attendees, who came out despite chillier than usual temperatures and the chance of rain.
"I didn't anticipate this many people and it's just unbelievable," he said. "To see everyone here today is just great."
He also hoped all who came were able to make great memories and left having been entertained.
"It's just a wonderful day for Tyler and the community of East Texas," he added.
Upon Hiles' entrance into Christus Trinity Mother Frances Rose Stadium, the Tyler Junior College Apache Band serenaded her. Hiles attends the college and is a dance captain on the world-famous Apache Belles dance line.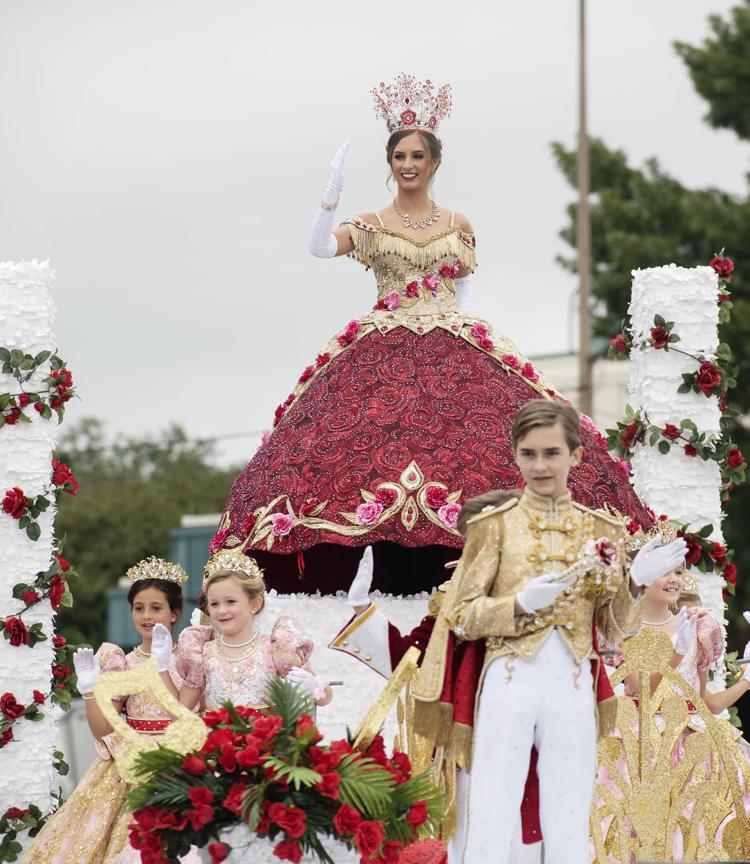 For Hiles, serving as rose queen in the parade is something she will always cherish.
"The parade was so much fun and I loved seeing all of Tyler, and even people from out of town, come to support the Rose Festival," she said. "It was just an experience I will never forget."
TWITTER:@TMT_Augusta
A commemorative magazine featuring the Tyler Morning Telegraph's coverage of the 2018 Texas Rose Festival can be purchased online. View more photos from the event at focusinon.me.