In her 1967 yearbook, sophomore Marie Washington smiled through a pair of wing-tipped black-framed glasses, her short bangs inches from the rims, her cheeks full of life. 
Now named Marie Taylor, the 1969 graduate of Emmett J. Scott High School, was one of the organizers of a 50-year class reunion this weekend that brought more than 60 people together in Tyler.
Taylor's was the second-to-last class to graduate from the school, before it was closed in June 1970 as part of a desegregation plan approved by a federal judge to integrate white and black students.
"That '69 class was a very good year," Taylor said. She said the class is still united; classmates have gatherings every two months and routinely collect funds to send flowers to families on occasions they need them. "We just haven't forgotten each other."
The class of 1969 had about 310 graduates, Taylor said. Those who attended the reunion at Staybridge Suites came from places as far as California, Oregon, New Jersey, Alabama and Oklahoma.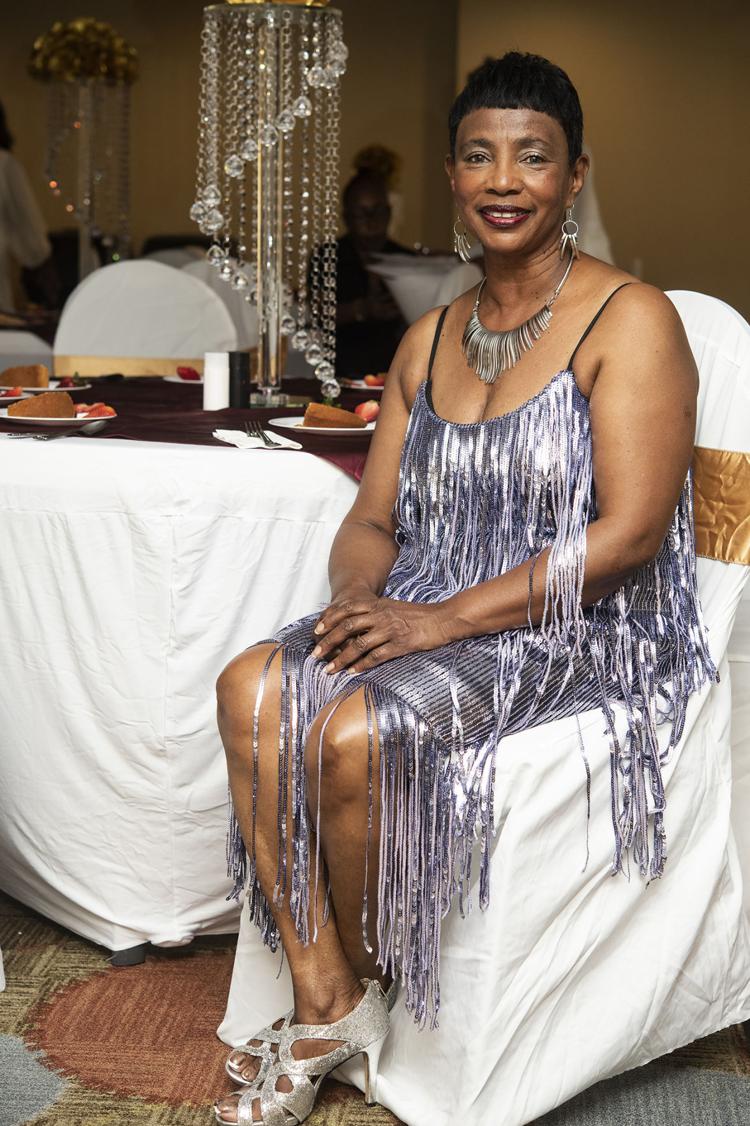 "We were the high-stepping rosettes, and we had excellent basketball and football teams," Taylor said. Many have gone on to become nurses, doctors, judges and college professors, she said. 
On Friday, the class held an opening ceremony with a speech from Councilman Ed Moore, class of 1966, followed by a mixer. On Saturday, they attended a social at Woldert Park, received a resolution from the Smith County Commissioners Court from Commissioner JoAnn Hampton and held a red carpet event.
Maxine Marshall, who was a majorette and played in the marching band, was the chair of the reunion's planning committee. She said she wouldn't change a thing about her high school days, and wishes more students could have attended.
"It was just a fun time," Marshall said. "And you know they closed our school down in 1970, and a lot of the students that did not get to go there they wish they had."
History of Emmett J. Scott High School
What later became Emmett J. Scott High School began as an all-black school built in a four-room building on Herndon Avenue in 1888 during a time of segregation. The original school housed grades 1 through 10, and its first graduating class had four students.
The school was later expanded, and added a building called the Northwest School, according to a documentary by the city of Tyler. The school had consistent problems with overcrowding, and teachers routinely worked across grade levels to compensate for shortages, the documentary said.
The original school burned in 1921, and students were taught in local churches while a new school was built. The resulting school on North Border Street was called Emmett Scott School, and included elementary and junior high school classes.
Those students were later moved to T.J. Austin Elementary School on Franklin Street, built in 1954, and W.A. Peete Elementary School, on Bellwood Road, built in 1955. Those schools are still standing today and part of the Tyler Independent School District.
The final Emmett J. Scott High School was built in 1959 on West Lincoln Street, on the corner of North Confederate Avenue. The school's namesake was a Houston native, journalist, author, educator and adviser to Booker T. Washington. Scott had died two years prior to the new school's construction, in 1957.
Part of the Tyler Independent School District, the school offered academics, arts and athletic programs that alumni said often won championships. The mascot was the bulldog. Students called themselves Scotties, and to this day, students proudly call themselves Scotties.
However, federal judge William Wayne Justice allowed the school to close in August 1970 as part of an agreement to integrate Tyler's public schools after many years of delaying racial integration by a mostly white school board, according to the Tyler Loop. 
"It stayed up for a little while, and they were going to try to make like a recreation place with it," Marshall, the reunion's chair, said. "It turned into the YMCA over here in north Tyler and finally since it could not go any further, I think they tore it down. Texas College has since bought the land."
The federal judge who approved the desegregation order closing the school said in a 1991 biography: "I had ambivalent feelings about the way they had done it, but it did accomplish what I was demanding," the racial integration of Tyler's public schools.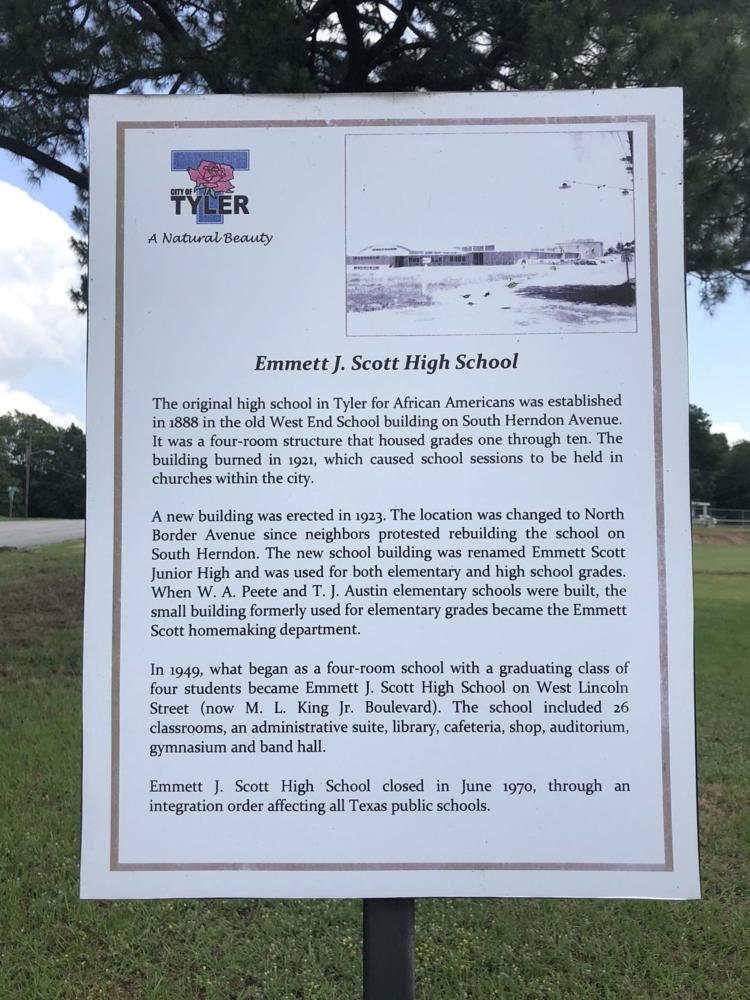 Nearby land in what the city has since designated as the Texas College District is now preserved as Emmett J. Scott Park, with tree-shaded areas, a playground, sports fields and picnic tables. Texas College also has an event center named for Emmett Scott.
In July of 2012, the city of Tyler honored the school as a historic landmark, and the plaque can be seen today in green space at the corner of Martin Luther King Jr. Boulevard and North Englewood Avenue.
The Class of 1969
Carolyn Kirkland worked as a teacher for 31 years. She didn't plan to go to college until her teacher, Ora Jane Taylor, pulled her aside and asked her what she wanted to do, and then said hanging around Tyler was not an option. The teacher didn't push her into the education field, but she ended up there anyway.
Kirkland got her bachelor's degree from Prairie View A&M University, and later a master's degree from the University of Texas at Tyler. She taught for 21 years in Chapel Hill, for one year in Bullard and for six years in Frankston before working as a substitute in Lindale during her retirement. 
"I just feel like we got the best of education," she said. "When I went off to college, I was told by one of the professors that when they got Emmett Scott kids, they knew they got good students."
Dianna Younger, of Tyler, the cheerleading captain in 1969, also feels she received a top-notch education at the school.
"Even though (teachers) had large classes they still worked with us individually to make sure that we learned what we were supposed to be learning," she said.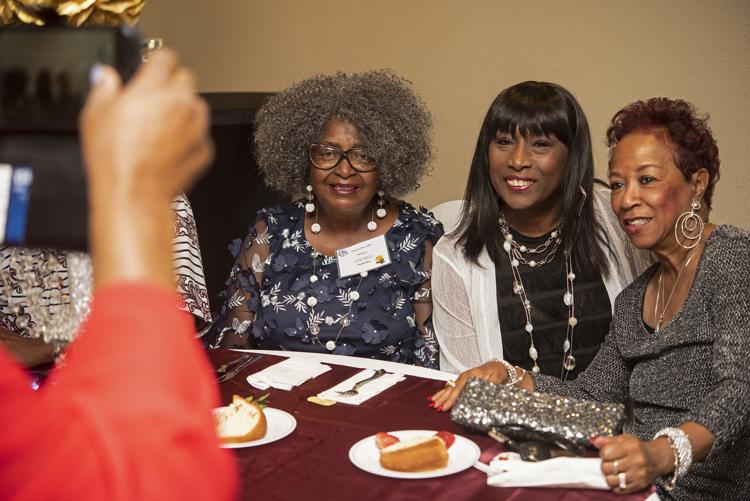 Frederick Wayne Biggs, of Dallas, recalls a strong sense of community among those on campus.
"My favorite memory was when people didn't have food how people were willing to share their lunches," he said. "It was such a loving, giving atmosphere."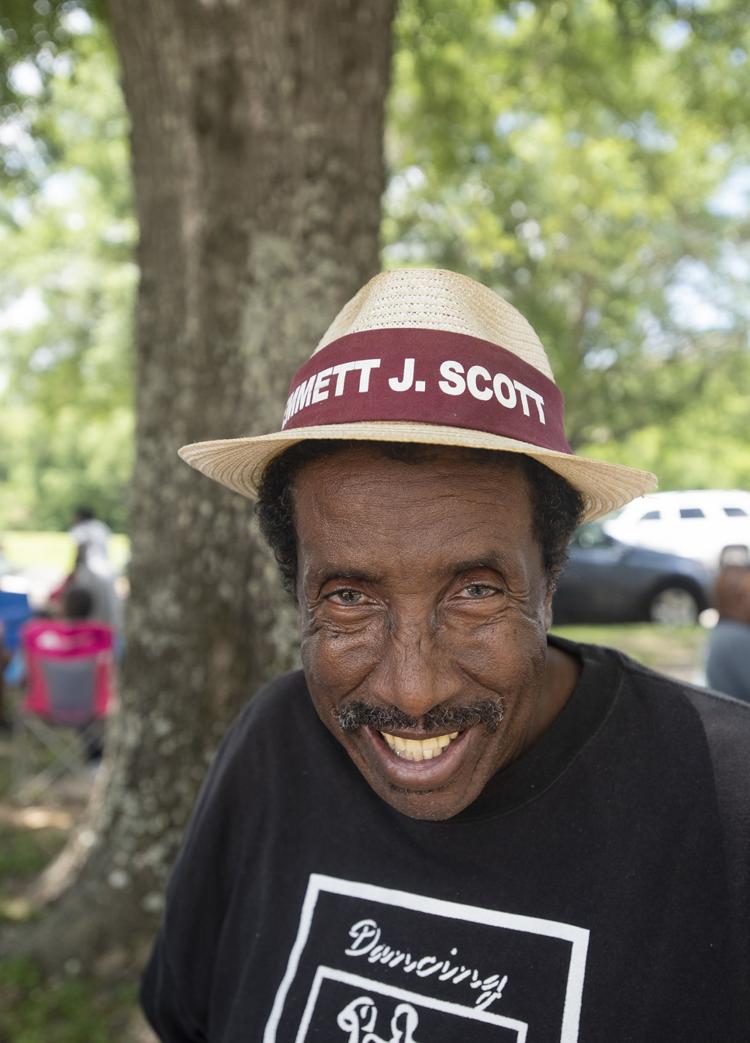 While many in the class describe feeling cared for and loved by teachers and administrators, they also knew they had to meet high expectations.
"If you got caught shooting hooky or with your shirt tail out, (Vice Principal) Alvin Anderson would say, 'Hey cat, come here and let me talk to you,'" Biggs said. 
He said those conversations — along with several wooden paddles used by teachers and administrators to discipline misbehaving students — could be very convincing.  
Biggs beamed with pride as he caught up with several of his classmates during a gathering at Woldert Park on Saturday.
"It wasn't about material things then, it was just being loved and loving one another," he said. 
"This is why all this love is showing right (here) today," Biggs said as he looked toward his former classmates.
Kirkland, the retired teacher, fondly remembers the basketball team and the marching band, but said the football team wasn't too memorable. What she remembers were the teachers pushing students to be their best, and the closeness of her classmates.
"The thing about that school is we knew everyone in our grade level, the year above you, the year below you, so we all were like one big family," Kirkland said. "We were like sisters and brothers."
Staff writer Augusta Robinson contributed to this report. 
TWITTER and INSTAGRAM: @_erinmansfield