A Portland Protest Rally and a Back the Blue Rally in Tyler on Sunday turned violent as supporters from each side started arguing about politics and issues that had nothing to do with either movement.
Three people said they are filing police reports and Tyler Police officials confirmed they were contacted. No arrests were made.
Both sides are posting photos, videos and statements about the physical confrontations that took place. A video is on the Tyler Paper Facebook page, but some point out it does not show everything leading up to the confrontations.
Democratic congressional candidate Hank Gilbert of Tyler held the original rally, scheduled for 2 p.m. Sunday. However, a Back the Blue Rally started at 12:30 p.m. on the downtown square. Gilbert said he supports the police but was against federal agents not in uniform taking people and putting them in unmarked vehicles in Portland during protests.
As Gilbert spoke, a large crowd waving Trump signs and a confederate flag got closer and closer. One man tried to keep the people chanting "Trump" and "Louie" within 6 feet of the speakers, but failed. When the three speakers ended, the arguments began as one person was choked, a woman said she was punched and Gilbert's campaign manager was cut in the face, bleeding and said someone took his phone. The Trump supporters say they were provoked.
The incident overshadowed other pockets of people in the square on opposite political sides having an open dialogue about issues.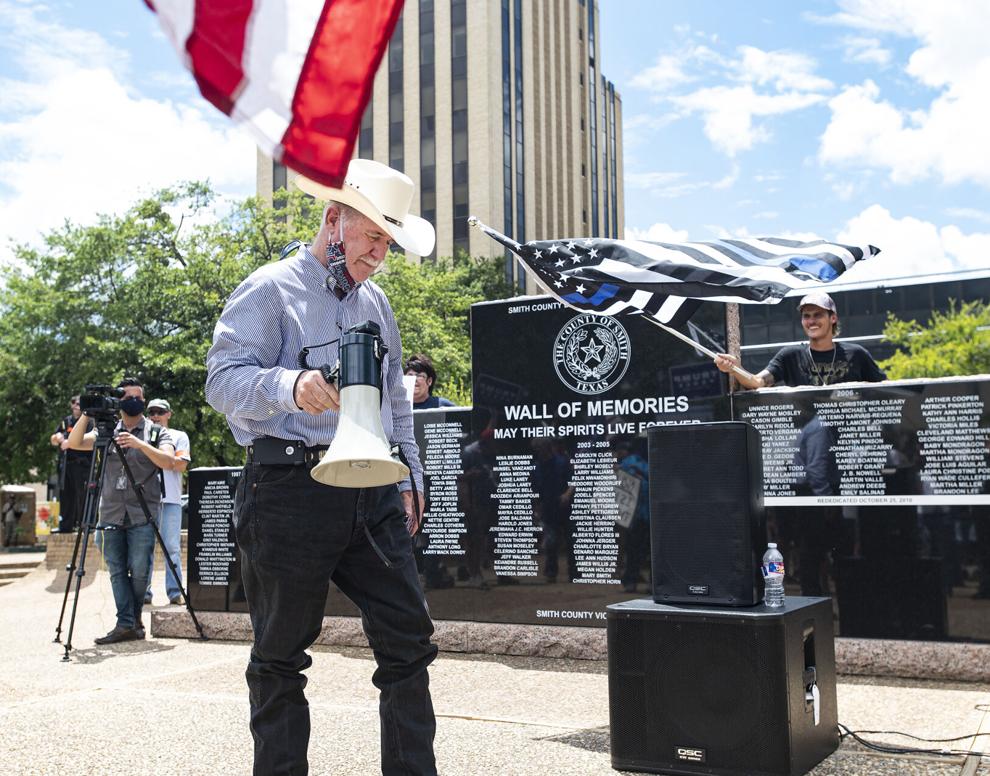 Around 2:45 p.m. a Black Lives Matter group formed on the sidewalk on the corner where protests have taken place almost nightly since May 27, two days after the death of George Floyd in Minnesota. One man waved a confederate flag on the street as they chanted and others armed who were part of the Back the Blue Rally stood behind them without incident. Another group about 15 yards away chanted "blue lives matter" between chants.
Gilbert is running against Republican Congressman Louie Gohmert of Tyler.
Gilbert's campaign staff sent out a press release stating, "Armed supporters of Congressman Louie Gohmert brutally beat and assaulted Ryan Miller, the campaign manager for Gohmert's opponent, Hank Gilbert around 2:30 p.m. Sunday during a peaceful rally organized to protest the unconstitutional occupation of Portland, Oregon on the courthouse square in downtown Tyler."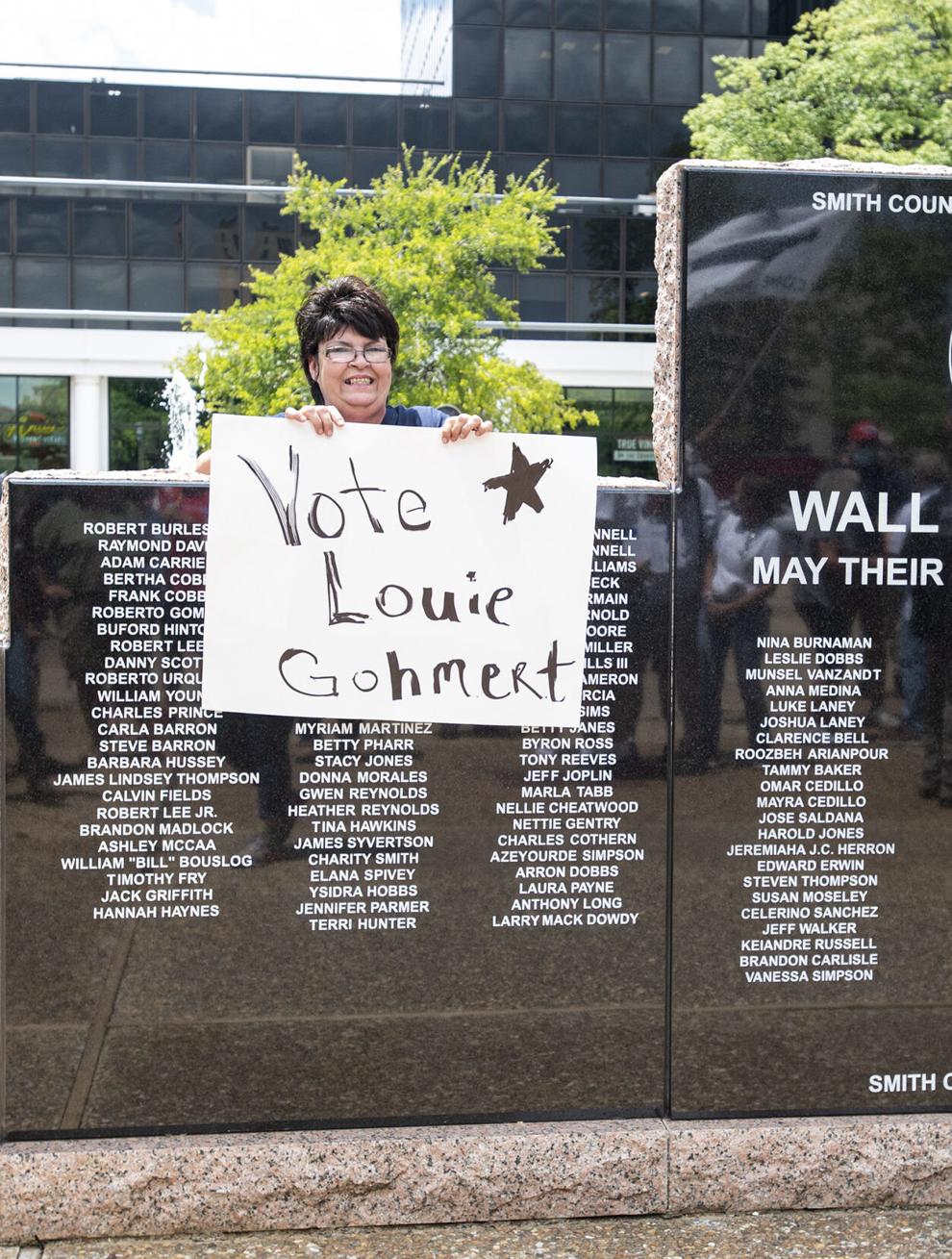 The release continued, "Miller was attacked by at least four protesters, some of whom were armed, and sustained blows to the head and other parts of his body, as well as a large gash under his eye. The incident occurred as officers from the Tyler Police Department drove around the square idly, waving at the Blue Lives Matter counter-protesters who had come to support Gilbert's opponent. Gohmert's supporters disrupted the rally by shouting, "Louie! Louie! Louie!" repeatedly, including while Miller was being brutally attacked."
However, Caroline Artmire said in a public statement on her Facebook page that Miller tripped and was not attacked.
"No he was not beaten, he got shoved and then tripped himself because he was trying to defend the stupid guy that called me a name," said Artmire in her statement. "Don't let the dems fool you. All these men stood up for me, a young woman because I was disrespected by a 50+ year old. Apparently us gun toting Republicans are 'thugs w guns,' well Mr. Ryan Miller don't forget to let everyone know you were trying to argue with everyone about '40% of the world not having internet and that it isn't fair!' Why would you even bring that up when it's completely irrelevant. And Mr. Ryan don't try to defend a uneducated SOB who tried to come at me sideways for no reason. You are a sheep," she posted.
Artmire said violence could have been prevented, but she was being defended. "Yes violence occurred and it should have been handled another way but these men and MY DAD stood up for me and I see nothing wrong with it," she said in her statement. "The opposing side is just full of uneducated snowflakes and they are the problem with our country." Gilbert's campaign said a police report was filed and they said supporters of the protest were afraid to show up.
"We had more than 100 people RSVP to participate in this protest, and were flooded with calls, texts and emails in the 20 minutes before it began with folks telling us they would not be getting out of their cars after seeing the mass of armed counter-protesters who had descended upon the square," said Vince Leibowitz, a consultant for Gilbert.
Nancy Nichols said she was asked along with her husband, Mike, to attend and help sign up voters. She said her title as committeewoman for the state Democratic Executive Committee for Senate District 1 did not factor into that decision as she has helped sign people up to vote several times a week.
She said she was punched in the chest and filed a police report.
"I'm 65 and I get punched. I was there because it was a beautiful Sunday afternoon and we were going to register voters. We were asked the register voters which we are every week and the answer is always yes," said Nichols after returning from the police department. "We don't want this in our city. It's a big deal. We need to interview our elected officials. Are they OK with this happening? The lack of social distancing is such an understatement. They were literally in my face. In all of our faces.
"There were non-officer militia in camo with assault rifles involved. This is not going away, this will be corrected, it has to be," Nichols continued. "A lot of people had Trump attire and carried flags. They also carried the signs with detached metal H brackets. The exposed metal rods can be dangerous and concerned me. Most did not wear masks and they moved close to the other attendees, as in within inches of me and others.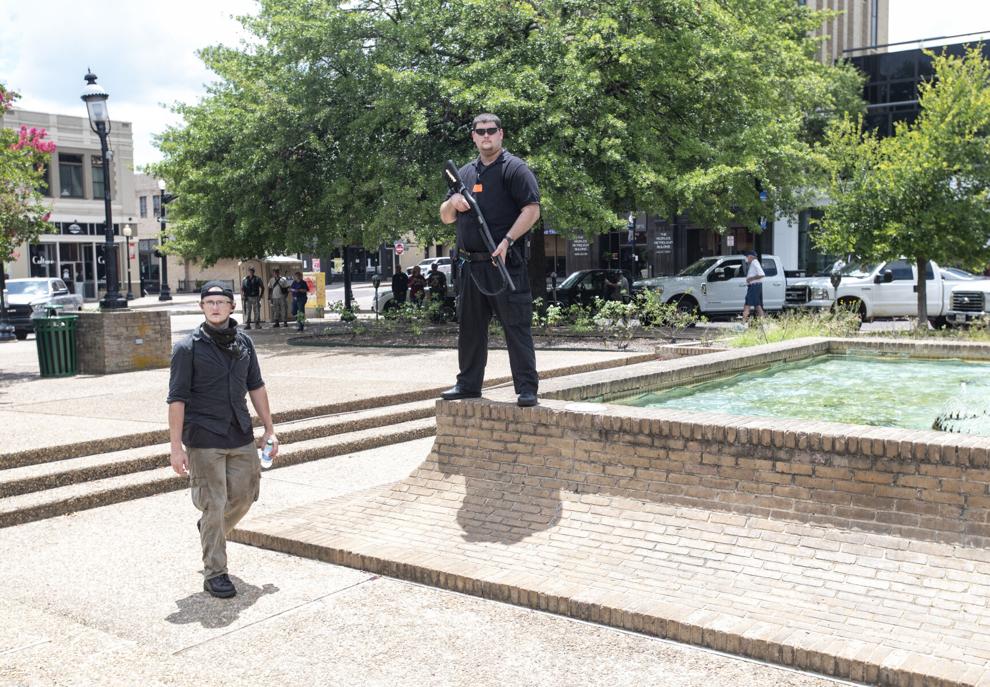 "When Hank Gilbert began speaking, the Trump people sounded air horns, yelled derogatory remarks and obscenities, and moved close to the stage area," Nichols said. "They shouted Hank down. A couple other speakers attempted to give their talks. The crowd got louder and pushed closer. By that I mean they moved within touching distance of the speakers. The speakers stepped back, but the memorial monument was behind them. There was no protection. You can hear the obscenities the crowd was shouting on videos."
Nichols said her husband stepped in to help roll up audio cables and swear words started coming at them, swear words against Democrats, they were called communists and told to leave the country.
"Three guys crowded Mike against the Memorial wall. He felt the wall start to fall over backwards. By that time, I had picked up Mike's voter registration materials and was standing next to him," said Nichols. "The Trump people were forcing us against the Memorial wall. I said to Mike, 'Now. Let's go,' several times. The man in overalls moved into Mike's space yelling continually. I stepped between them just as the man in the overalls threw a punch that hit me in my left breast. Mike dropped the cable and we moved quickly against and along the memorial wall and away from the crowd."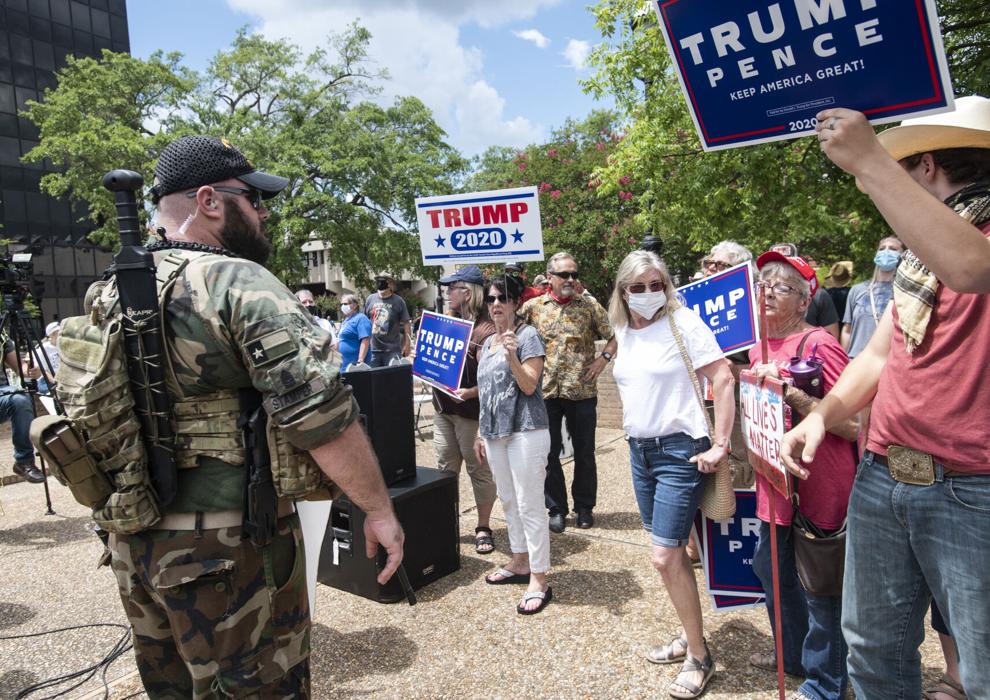 Tyler Police showed up and took statements. Gilbert said that was not enough.
"The Tyler police were idly driving around the square in their patrol cars, and waving at the counter-protesters who were heavily armed," Gilbert said. "They didn't get on the square until the violence was well underway and weren't even near the scene of the actual protest until Ryan had already been beaten up. This is after we were told by the city last week there would be a sufficient police presence downtown for our rally."
Tyler Police Department Public Information Officer Andy Erbaugh said officers responded and were quickly at the scene and no arrests were made. Police Chief Jimmy Toler was not available for comment on Sunday night.
Gilbert called on Gohmert to denounce the violence his supporters engaged in. The newspaper has reached out to Gohmert for comment.
"Louie Gohmert needs to immediately denounce the violence that occurred in his name in downtown Tyler today," Gilbert said. "When your armed thugs are shouting your name as they beat the hell out of a 21-year-old political operative, you need to get your people under control. Gohmert also needs to get his disgusting rhetoric under control, because, just like Donald Trump, the vitriol that spills out of his mouth leads to violence. This time, against a 21-year-old college kid."
Gilbert also said he did not understand why so many weapons were on the square.
"I immediately call upon Texas Governor Greg Abbott to direct the Texas Rangers to investigate why the Tyler Police Department was not actively working to prevent violence when more than 100 armed thugs descended on the square," Gilbert said. "I also call upon the city of Tyler to immediately undertake an internal investigation of this matter, to determine if proper procedures were followed."
Gilbert went a step further and said he wants it investigated to see if "they had intended to engage in premeditated violence today," and said it seemed their intent was to provoke violence all along.
He said Miller's cellphone is still missing. Right after the incident, Miller was trying to point out who took his phone.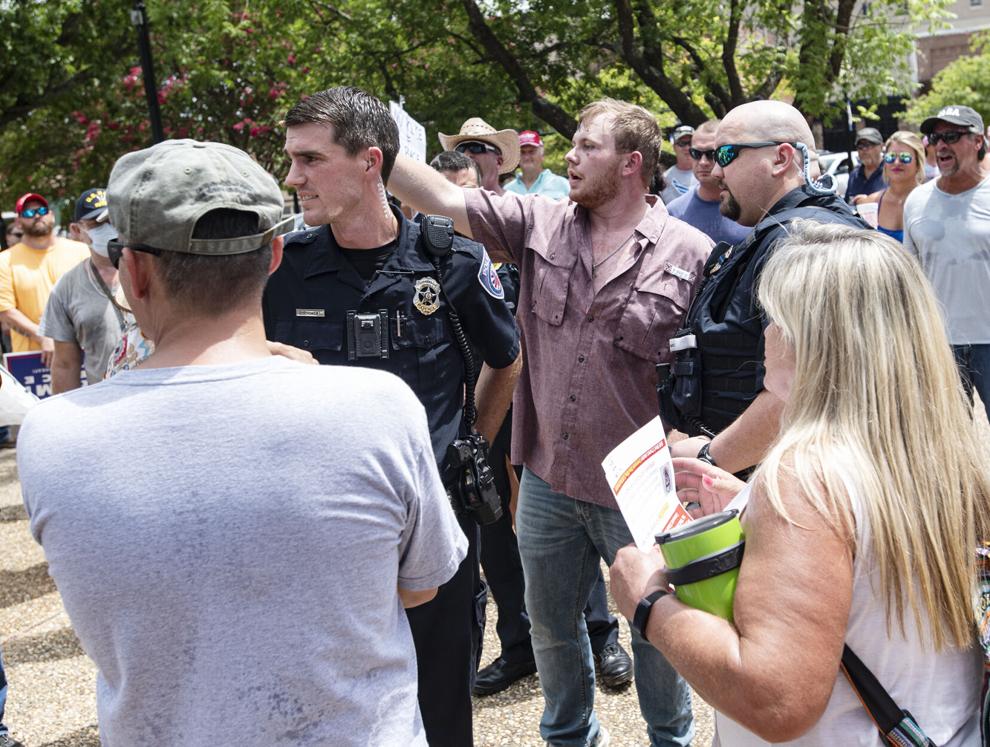 "We fully intend to make sure that felony charges are brought against the person who stole Ryan's brand new iPhone, which costs enough that theft of that device is a felony in Texas. We also intend to ensure that those who attacked Ryan are prosecuted to the fullest extent of the law," Gilbert said.
Democratic State Senate District 1 candidate Audrey Spanko called the incident "intimidation methods in an attempt to scare East Texans."
"Peaceful protesting is a fundamental American right, and we must ensure all East Texans are given the opportunity to peacefully assemble — it's the bedrock of being an American," said Spanko. "For months, Black Lives Matter supporters have peacefully protested in Tyler and across East Texas, and I applaud them for sharing their message with courage, respect and love.
"In East Texas, we should show respect to everyone exercising their constitutional right to peacefully protest, not shout them down and try to intimidate them. Protesters should not be met with hostility — or especially physical assault — from people who simply don't want to hear what they have to say," Spanko added.