How much is a promise worth? For one East Texas school district, a promise already is reshaping the community.
For Alyssa Isaacs, a promise kept gave her the opportunity to start her own business with minimal debt. For parent Amanda Kellis, it eliminated the uncertainty about how her family would send three children to college.
A city of just 5,500 residents in East Texas might not be the first place people would think of when looking to pilot a program that could change the college landscape, but it's happening in Rusk.
Over the past five years a scholarship program at Rusk High School has made good on almost 150 life-changing promises.
With a $3.25 million gift from Citizens 1st Bank and the James I. Perkins Family Foundation, the Rusk TJC Citizens Promise scholarship program became the first of its kind in the state when it launched in 2014, according to TJC.
The first Promise program was born in Kalamazoo, Michigan, more than a decade ago and has inspired similar programs around the nation. As of April 2019, 24 states had passed or taken steps to write statewide promise programs into law, according to CollegePromise.org.
The Rusk promise differs from the Kalamazoo program and better represents many of the programs being launched by both colleges and state legislatures. The goal, however, is the same.
The Kalamazoo program is good for any college in Michigan and funds are applied before financial aid for eligible students. It is what is referred to as a first dollar program, whereas the TJC program is considered last dollar. With the latter, state and federal financial aid are applied first and the college makes up the difference for tuition, books, fees and housing up to $2,000 per semester.
TJC's Vice President for Advancement Mitch Andrews said last dollar programs can stretch funding further, making them more attractive to donors and lawmakers.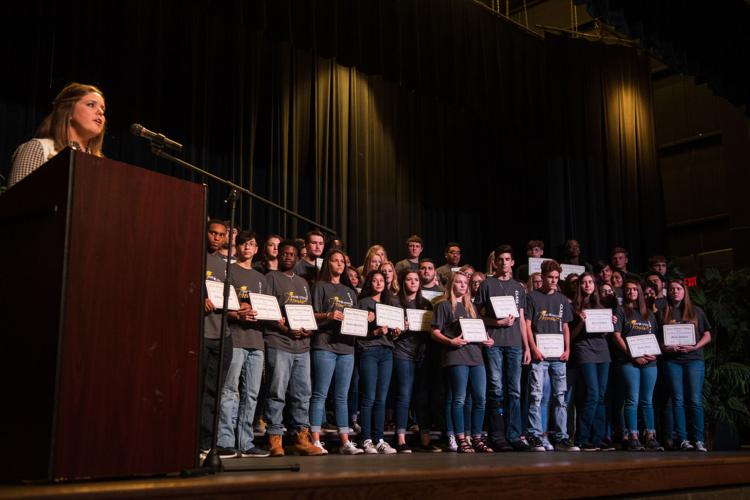 For the stakeholders though, the program is about more than just providing a scholarship. Their goal is to transform a community. To qualify, students must graduate in the top 50% of their high school class with a grade point average of 2.5 or higher and attend TJC within three years of graduating from Rusk High School.
A Perkins family representative said their goal was to increase educational opportunities in the community and they hope to see the program transform the educational culture of the community from pre-K to 12th grade.
When the Rusk promise launched in 2014, it was the first community promise initiative in the state. In just five years, the results already are creating change in the community.
Between 2012 and 2017, the rate of Rusk High School students pursing postsecondary credentials has more than doubled, from 36.3% in 2012 to 73.4%. That rate is a critical component of the Texas Higher Education Coordinating Board's 60x30TX plan, which aims to increase the number of adults age 25 to 34 earning a certificate or degree to at least 60% by 2030. The plan also looks to increase the number of students completing their degrees each year and reduce the amount of student loan debt they hold.
The first class of Rusk Promise students posted an overall degree completion rate nearly 20 percentage points higher than their first time in college peers at TJC, with a 5-year completion rate of 47.06% compared to their peers. Each of the subsequent classes has continued to post completion rates higher than that of their peers.
TJC's data shows that each class of Rusk promise students complete their degrees earlier and more often than their first time in college peers. For students enrolling in TJC in fall 2013, first time in college students showed a 2-year completion rate of 11.82%, while the Rusk promise cohort was at 26.47%.
While TJC has seen growth in those metrics, the Rusk cohorts continue to outpace first time in college students. The most recent TJC graduating class showed first time in college students completed their degree at a rate of 14.33% compared to the Rusk cohort's 34.09%.
Those students also posted a higher cumulative GPA than their peers of 2.57 compared to the first time in college students GPA of 2.05.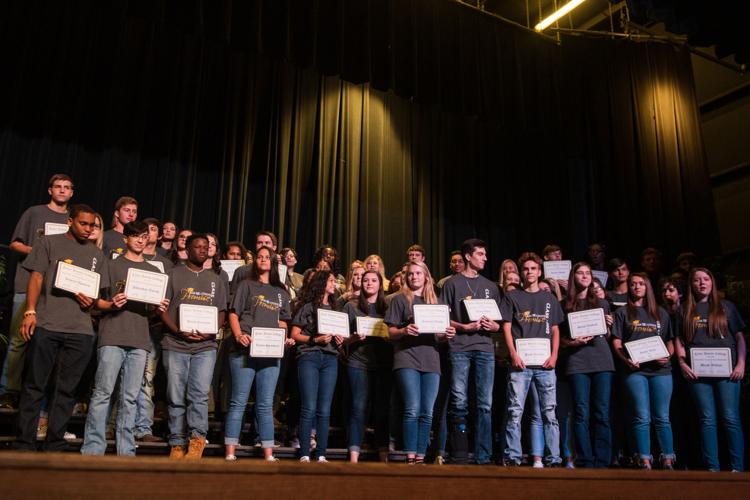 One major reason for the success of students is the program's coordinator Megan Cumbee Burns, herself a Rusk High School alumna, who works directly with students to ensure they're on track.
Burns helps students with all of the traditional roles a college adviser would, but also builds a relationship with students, follows up with them when grades or attendance begin to slip and meets regularly both individually and as a group.
"We've seen it over and over again with Promise Programs, that you can bring the money, you can get the students to the table, but you've got to have that support," Burns said.
While students sign up for the program in high school, they are not committed to it. Students are still free to pursue scholarship opportunities at other schools, while taking advantage of the extra support the program offers during their high school years.
Rusk ISD Superintendent Grey Burton said the program has been nothing short of transformational. Throughout the year, TJC and Rusk ISD partner to host events for advising, financial aid assistance, registration and more. By the time students walk the stage for their high school graduation, they already have completed everything they need to start college the next semester.
From 2014 to 2017, the program has seen 66% of students enrolled choosing TJC.
Burton said the support students receive is helping them see that they really can go out and make it through college.
"Jimmy Perkins and my dad graduated high school from Rusk together at the same time and they both went to University of Texas. My dad came home after one semester," Burton said. "It wasn't because he wasn't smart. He wasn't prepared and the second half of this program is not just the money, it's the backing and the support we have in place."
Burton said that while the financial aspect is a big draw, families have come to rely on the support system and especially Burns.
"It's so much more than … getting a scholarship, it will absolutely change their lives," Burton said.
Kellis, a Promise parent, said that one of the biggest lessons other communities can learn from Rusk is the importance of that support network.
"I think that having that accountability system is important, because I feel like even as adults we sometimes drop the ball," she said. "That's something that if someone is going to implement in that program they'd need as well."
Challenges, opportunities and a look ahead
During a roundtable with the Tyler Morning Telegraph, Rusk parents and students said housing was the single biggest cost of attending college.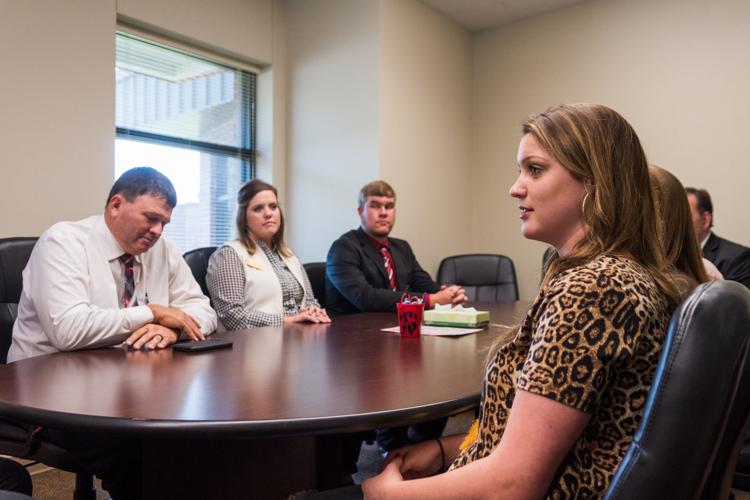 Kellis said that her family and many others have children who chose to commute the 45 minutes from Rusk to Tyler for classes in order to save money on that additional cost. She said that while the commute isn't overly taxing, other options such as online classes are a huge bonus.
Her oldest daughter had completed some dual credit classes in high school which helped stretch her scholarship dollars when she was accepted into the nursing program. She also considered taking courses at the TJC campus in Rusk State Hospital, which offers nursing and health science courses.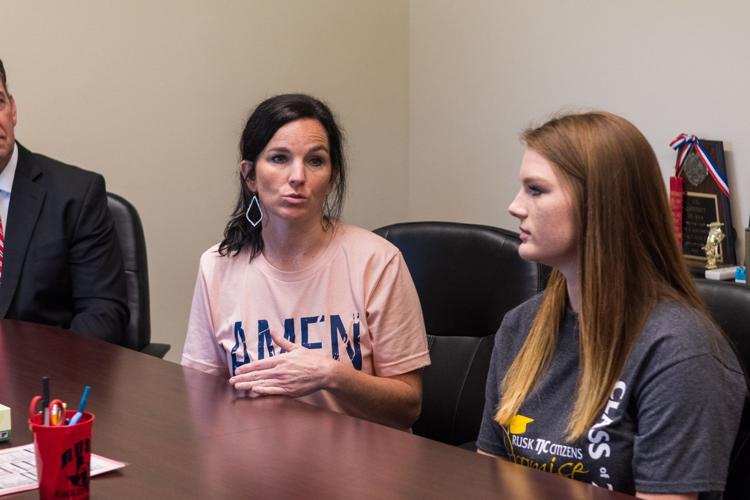 When her younger daughter Claire starts college next fall, she'll be doing so with the intent to transfer and complete a bachelor's degree. Kellis said having that extra two years to look for scholarships and prepare already is making their lives easier.
"Blessing is an understatement; it's taken so much stress and uncertainty off of us," Kellis said.
Starting a business fresh out of college was a challenge for Isaacs, but it was a challenge she said she knew had been made easier by not having additional student loan debt on top of the costs of getting her business up and running.
"It would have been a lot harder, I would be in debt a lot longer," she said. "It wasn't an easy decision. I didn't necessarily want to come back to Rusk because the Tyler area is bigger, but ultimately I wanted to be closer to my family and I just feel comfortable here in this community and I like it."
For Burton the challenge of bringing students back to the community after graduation is a priority. With two sons away in college, he wants to see his hometown become a place for students to find opportunities to come home to.
"Our long game here is to encourage our students to graduate. We want them to come back to Rusk. We want our city and our community to grow," Burton said. "I don't want you to have to go to Houston or Dallas to get a job; we want to have those jobs here."
To that end, the district is working hard to build a college-going culture for all students, and to help them see they also have the opportunity to pursue vocational or professional certificate programs with the Promise program.
"As a student, I know that in the past (few) years a lot has changed," Claire Kellis said. "A lot of people have been making comments like, 'I wish I would have worked harder and gotten (the scholarship). I think that it's kind of made everybody compete for the top 50 percent and made everyone work harder."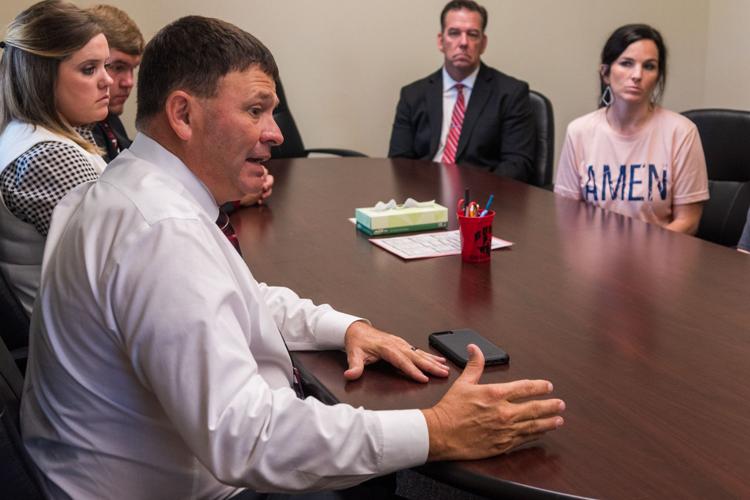 Rusk High School Principal Ronny Snow said what's happening in Rusk is a road map for communities across Texas.
"There are a lot of communities that are like Rusk and they have families with the financial means to do something similar," Snow said. "Getting the word out that this is a possibility, to partner with a local community college, could literally change the lives of thousands and thousands of our fellow Texans."
For Tyler Junior College, the lessons they're learning in Rusk are being put to use. The TJC Promise Program which will serve all schools within the TJC tax district is set to launch in the fall of 2020, with an inaugural class of about 800 students.
This story was produced with support from the Education Writers Association Reporting Fellowship program.