A political newcomer running as an independent outraised a three-term incumbent and the chairman of the Texas Freedom Caucus in the latest campaign finance reporting period.
Rabbi Neal Katz raised $58,654 in the latest campaign finance period, while Schaefer raised $9,878 from Feb. 25 to June 30, according to campaign finance reports filed with the Texas Ethics Commission on July 16.
Katz's fundraising was from Jan. 1 through June 30, while Schaefer's was from Feb. 25 to June 30. The exact filing periods are different because of the Texas Ethics Commission's filing requirements during a primary race. 
Katz also outspent Schaefer during the filing period by a 2-to-1 margin, $52,717 to $26,284, according to the filings. He now has a small advantage to Schaefer in cash on hand, $12,404 to $7,231.
The two are running for the District 6 seat in the Texas House of Representatives in the Nov. 6 election. The seat represents most of Smith County in the Texas Legislature, which meets every other year in Austin.
Katz, who leads services at Congregation Beth El in Tyler, has never held political office and is running as an independent. Schaefer, an officer in the U.S. Navy Reserves who also works in the real estate industry, was elected to the seat in 2012.
"I think what it indicates is that Matt Schaefer feels pretty good about his re-election chances and isn't at all worried about it because, were he worried, he would be out fundraising," said Mark Jones, a political science professor at Rice University in Houston.
"The fact that he has a small amount of campaign donations suggests that he has not been seeking donations over the past few months," Jones said. "He, as well as most observers, believe he is a sure thing to win to be re-elected.
"You're not going to go out and ask donors for money, especially when there are dozens of Republicans not only across the state but across the country who are in very tight races and need every dollar to win," Jones said.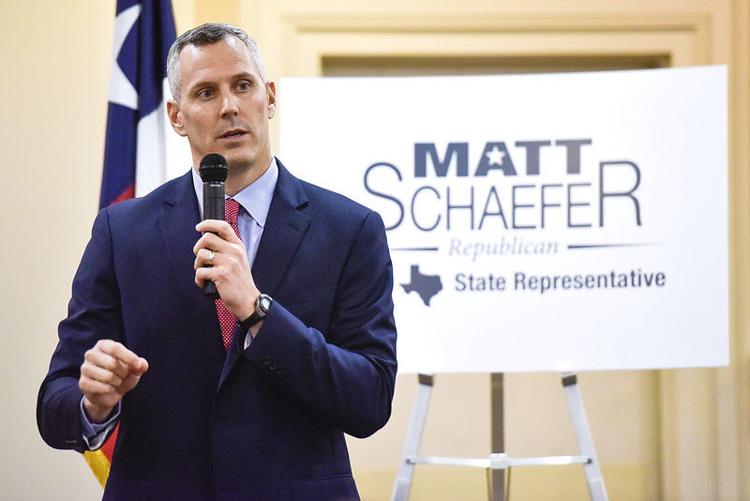 Nonetheless, Schaefer and Katz both say that the race is barely getting started. Both candidates say they plan to do more fundraising in the fall. The next campaign finance filing deadline is Oct. 9.
"I'm energized," Katz said in an interview. "We know that this is going to be an expensive race, and there's just a lot of community energy behind it, and I'm very happy."
Katz received his donations from 185 individuals plus himself. Schaefer received money from 42 individuals and three entities: the Smith County Republican Women, the Texas Dental Hygienist Association PAC, and the Texas Ophthalmological Association PAC.
Katz received $3,264 from people living in other states, but he said 90 percent of his donations came from people inside District 6. All of Schaefer's money came from individuals or entities in Texas, according to the campaign finance filing.
"We haven't geared up for fundraising for this fall, so it's not really a reflection of what's going to happen this fall," Schaefer said. "We're going to get out and talk about our message. I'm working with Gov. (Greg) Abbott to build a better Texas."
Schaefer said Katz leans too far to the left for Smith County voters to support him.
"Look at the conservative results that have been happening in the state of Texas," he said. "I want to keep us building in the state of Texas. We've got challenges in this state, but to turn hard left is not the direction that most voters in Smith County want to go."
Meanwhile, Katz said he is running to serve the community and chose to run without a political party. He said he was asked to run in the Republican primary against Schaefer in March but turned the request down.
Katz's expenditures also show him engaging minority communities, which historically have low voter turnout numbers. He spent money on advertising in a local NAACP newsletter and paid a consultant to translate his campaign materials into Spanish.
"There's an argument that because those minority communities have low voter turnout or don't vote strong that you stay away from them," he said. "I'm doing the exact opposite, which is to say it's possible they've never had someone to vote for. Nobody's ever asked them."
In addition to the NAACP advertising, Katz said he held a lunch event with about 25 leaders in the African American community during the campaign, and he said he is the only statewide candidate in East Texas with campaign materials available in Spanish.
"You can sit there and wring your hands over the nonvoting African-American community," Katz said, "but if I win, then they're my neighbors and I need their voices, too, and I need to make sure that my campaign is respectful of that."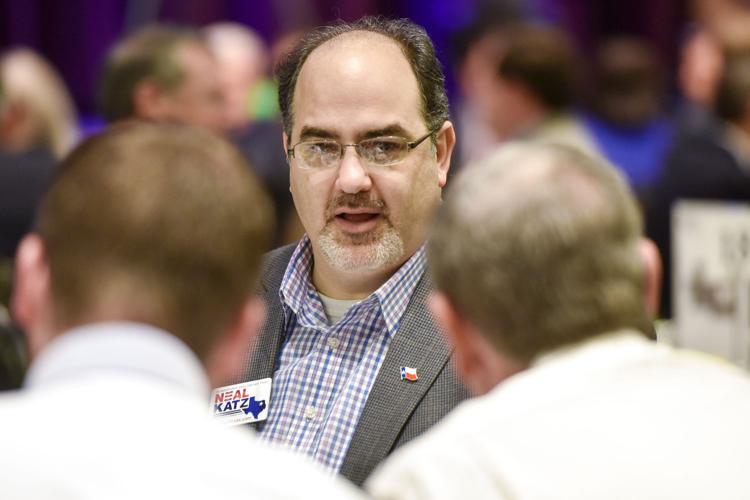 Schaefer criticized Katz's position on the board of directors for the Texas Freedom Network, a statewide organization based in Austin that has a mission of promoting religious freedom, individual liberties and public education.
"Rejecting Republicans isn't a way to be effective in representing citizens in Smith County," Schaefer said. "Leading a far-left political group isn't a way to be effective in representing our community."
Both candidates also say they would be the more effective candidate.
"I think Matt's proven what he's incapable of doing, and I think even Republicans know that," Katz said. "I'm running because we have ineffective representation in Austin, and it's time to fire Matt."
Schaefer responded: "If he were to be elected to the Texas House, Democrats won't trust him, and Republicans won't come near him. How is that going to be effective?" He added, "I don't know how you can be effective if you don't have a seat at the table in Texas government." 
Despite the strong fundraising during the past few months, Jones said Katz faces an uphill fight to be competitive in November. That's because Texas allows straight-ticket voting that lets Texans mark their ballots quickly to vote for all Republicans or all Democrats on the ticket, and no independents, he said.
Jones said Schaefer has connections to PACs across Texas, such as the Empower Texans PAC, which gave Schaefer $25,000 during the primary season to help him fend off a challenge from former state Rep. Ted Kamel.
"If he felt threatened, he could raise hundreds of thousands of dollars without too much trouble," Jones said.
TWITTER and INSTAGRAM: @_erinmansfield
Neal Katz Campaign Spending - July 16, 2018 Filing
| Company | Amount ($) | Category |
| --- | --- | --- |
| 1836 Texas Kitchen | 1183 | Food |
| All American Party | 139 | Event |
| Juan Arellano | 100 | Consulting |
| Ashcraft, Rachel | 320 | Advertising |
| At Home | 43 | Overhead |
| BannersOnTheCheap.com | 62 | Advertising |
| Capitol City Research | 500 | Consulting |
| Checks Unlimited | 24 | Printing |
| City of Tyler | 155 | Event |
| Danwal Inc. | 732 | Printing |
| Dominos Pizza | 60 | Food |
| Donna Cummings Photography | 433 | Advertising |
| East Texas Brewing Co. | 426 | Food |
| East Texas Peace Officers Association | 350 | Advertising |
| Facebook | 190 | Advertising |
| Fedex Office | 47 | Printing |
| Flowers Davis, P.L.L.C. | 339 | Legal |
| Shemonica Garrett | 75 | Overhead |
| Genecov Corporation | 6741 | Overhead |
| GoDaddy | 26 | Overhead |
| Helping Hands | 220 | Event |
| Home Depot | 125 | Overhead |
| Jack's Catering | 468 | Food |
| Jason's Deli | 495 | Food |
| Juneteenth Assoc. of Tyler | 15 | Donation |
| Amy Lively | 5000 | Consulting |
| Loose Thread | 200 | Event |
| Name Badges, Inc. | 55 | Advertising |
| Nation Builder | 354 | Advertising |
| Office Max | 104 | Overhead |
| One Moore Production | 50 | Advertising |
| Evan Payne | 200 | Event |
| Potpourri House | 320 | Food |
| PrintPlace.com | 986 | Printing |
| Project Progress | 100 | Advertising |
| Ray & Wood Law Firm | 5353 | Legal |
| Ridiculously Good Branding & Thread Co LLC | 950 | Advertising |
| Robert E. Lee Band Parents Association | 250 | Advertising |
| South Tyler Rotary Foundation | 200 | Advertising |
| SPV Events Consulting | 300 | Event |
| Stanley's Barbecue | 541 | Food |
| Suddenlink Communications | 610 | Overhead |
| TXU Energy | 650 | Overhead |
| Tyler Smith County NAACP | 130 | Advertising |
| Upward Strategy Group | 20500 | Consulting |
| US Post Office | 546 | Overhead |
| Jacob Walker | 1446 | Advertising |
| Wally's Party Supply | 48 | Event |
| WebEdge Marketing Pty Ltd | 195 | Overhead |
| Worley Printing | 364 | Printing |
Matt Schaefer Campaign Expenses - July 16, 2018 Filing
| Payee | Amount ($) | Category |
| --- | --- | --- |
| 1st Class Design | 243.57 | Advertising |
| Alisha Jackson | 2000 | Salaries |
| AT&T | 205.86 | Overhead |
| Best Western Plus Austin City Hotel | 70 | Travel |
| Broadway Plaza LTD | 852.2 | Overhead |
| Edward Shack | 1360 | Legal |
| Eventbrite, Inc | 60 | Event |
| Facebook, Inc | 1127.02 | Advertising |
| John Moore | 50 | Advertising |
| Kaitlin Tifft | 2550 | Salaries |
| Lowes | 129.12 | Advertising |
| Macias Strategies | 2000 | Consulting |
| Matt Rinaldi Campaign | 1000 | Donation |
| Matt Schaefer | 10038.38 | Loan |
| Menger Hotel | 580.35 | Travel |
| Patriot Academy | 100 | Donation |
| Republic Ice House | 250.4 | Food |
| Suddenlink Media | 3054 | Advertising |
| USPS Tyler Azalea Station | 70 | Overhead |
| Whitehouse Chamber of Commerce | 175 | Event |
Neal Katz Campaign Donors - July 16, 2018 Filing
| Name | Type | Amount ($) | Location |
| --- | --- | --- | --- |
| Aaron Edelheit | Individual | 180 | Santa Barbara, CA |
| Alesha Buckner | Individual | 50 | Flint, TX |
| Allison Cambre | Individual | 100 | Tyler, TX |
| Amy Lively | Individual | 525 | Tyler, TX |
| Anderson Richard | Individual | 100 | Marshall, TX |
| Ann Lois Ballon | Individual | 100 | Owens Cross Roads, AL |
| Anthony David | Individual | 100 | Bullard, TX |
| Arnold Wharton | Individual | 1000 | Tyler, TX |
| Arthur Brown | Individual | 25 | Kissimmee, FL |
| Aubrey Monlezun | Individual | 50 | Dallas, TX |
| Aubrey Sharpe | Individual | 200 | Tyler, TX |
| Babin Kathy | Individual | 250 | Tyler, TX |
| Banta Rochelle | Individual | 25 | Chevy Chase, MD |
| Barbara Shtofman | Individual | 200 | Tyler, TX |
| Barron Gay | Individual | 500 | Whitehouse, TX |
| Bob Dyer | Individual | 300 | Tyler, TX |
| Bob Westbrook | Individual | 500 | Tyler, TX |
| Bobbye Levy | Individual | 50 | Little Rock, AR |
| Brad Root | Individual | 250 | Tyler, TX |
| Brenda Corley | Individual | 25 | Whitehouse, TX |
| Brett Harrison | Individual | 500 | Tyler, TX |
| Brian Dufour | Individual | 100 | Tyler, TX |
| Buck Files | Individual | 500 | Tyler, TX |
| Cabell James | Individual | 500 | Tyler, TX |
| Carole Kronenberg | Individual | 100 | Tyler, TX |
| Carroll Otis | Individual | 500 | Tyler, TX |
| Cathy Burleson | Individual | 50 | Edgewood, TX |
| Celia Bunt | Individual | 500 | Tyler, TX |
| Chad Humphries | Individual | 100 | Tyler, TX |
| Chris Cochran | Individual | 60 | Tyler, TX |
| Christopher Abraham | Individual | 100 | Tyler, TX |
| Chuck Cowan | Individual | 100 | Tyler, TX |
| Clay White | Individual | 250 | Tyler, TX |
| Cynthia Sprayberry | Individual | 45 | Tyler, TX |
| Daniel Brown | Individual | 50 | Hilo, HI |
| Daniel Friedman | Individual | 100 | Tyler, TX |
| David Brown | Individual | 100 | Tyler, TX |
| Daye Collins | Individual | 250 | Tyler, TX |
| DeAnne Blackwell | Individual | 50 | Tyler, TX |
| Deborah Race | Individual | 1000 | Tyler, TX |
| Debra Winegarten | Individual | 360 | Austin, TX |
| Dennis Cullinane | Individual | 100 | Tyler, TX |
| Derrith Bondurant | Individual | 100 | Tyler, TX |
| Diane Kavanaugh | Individual | 50 | Tyler, TX |
| Donna Metke | Individual | 200 | Tyler, TX |
| Dorothy Brown-Freiman | Individual | 100 | Toms River, NJ |
| Dubre Vandy | Individual | 250 | Tyler, TX |
| Edwin Duncan | Individual | 75 | Tyler, TX |
| Elicia Eckert | Individual | 350 | Tyler, TX |
| Elizabeth Smith Ellis | Individual | 450 | Tyler, TX |
| Ellen Brewer | Individual | 100 | Reston, VA |
| Ellen Meyer | Individual | 100 | Wilmington, DE |
| Ellen Musselman | Individual | 200 | Tyler, TX |
| Erickson Jeffrey | Individual | 250 | Takoma Park, MD |
| Evelyn Cheatham | Individual | 45 | Tyler, TX |
| George Fryer | Individual | 25 | Tyler, TX |
| Ginger Cardwell | Individual | 25 | Whitehouse, TX |
| Ginny Harleston | Individual | 100 | Tyler, TX |
| Greg Grubb | Individual | 100 | Tyler, TX |
| Griff Hubbard | Individual | 250 | Longview, TX |
| Heidi Coretz | Individual | 100 | Dallas, TX |
| J. Banner | Individual | 100 | Gladewater, TX |
| Jack Harris | Individual | 300 | Tyler, TX |
| Jack Wilson | Individual | 250 | Hideaway, TX |
| Jamal Moharer | Individual | 250 | Tyler, TX |
| James Harris | Individual | 1000 | Virginia Beach, VA |
| James Kessler | Individual | 100 | Galveston, TX |
| James Noble | Individual | 250 | Tyler, TX |
| Janee McGoff | Individual | 25 | Tyler, TX |
| Janice Carter | Individual | 25 | Moyock, NC |
| Janice Schwarz | Individual | 25 | Dallas, TX |
| Jean Harris | Individual | 200 | Tyler, TX |
| Jeff Austin | Individual | 1000 | Jacksonville, TX |
| Jeffrey Gottesman | Individual | 50 | Murchison, TX |
| Jerry Bain | Individual | 500 | Tyler, TX |
| Jesse Acosta | Individual | 50 | Tyler, TX |
| Jessica Richardson | Individual | 100 | Tyler, TX |
| Jim Kolker | Individual | 250 | Bryn Mawr, PA |
| Jo Lynn Cooper | Individual | 150 | Tyler, TX |
| Jodi Brock | Individual | 50 | Tyler, TX |
| John Gribble | Individual | 250 | Tyler, TX |
| John Lipscombe | Individual | 100 | Austin, TX |
| John Trube | Individual | 225 | Tyler, TX |
| Jon Ledlie | Individual | 500 | Tyler, TX |
| Jonathan Katz | Individual | 200 | Sarasota, FL |
| Jordan Byrd | Individual | 25 | Palestine, TX |
| Josh Banta | Individual | 50 | Tyler, TX |
| Joshua Kaufman | Individual | 300 | Tyler, TX |
| Karyn Hacker | Individual | 100 | Tyler, TX |
| Kenneth Cobb | Individual | 25 | Tyler, TX |
| Khalifa Soumaya | Individual | 50 | Smyrna, GA |
| Kim Beckham | Individual | 50 | Tyler, TX |
| Kogutt Jeff | Individual | 15 | Dallas, TX |
| Ladawn Fletcher | Individual | 25 | Missouri City, TX |
| Larry Wiertz | Individual | 250 | Tyler, TX |
| Laub-Zatcoff Susan | Individual | 18 | Richmond, VA |
| Laura Corbett | Individual | 300 | Tyler, TX |
| Laurie Barham | Individual | 100 | Tyler, TX |
| Leonard Decarlo | Individual | 1000 | Tyler, TX |
| Leslie Brown | Individual | 25 | Kissimmee, FL |
| Leslie Klieger | Individual | 36 | Fanwood, NJ |
| Levy Gene | Individual | 50 | Little Rock, AR |
| Linda Resnik | Individual | 100 | Tyler, TX |
| Linehan Mary | Individual | 50 | Tyler, TX |
| Lisa Lujan | Individual | 8250 | Tyler, TX |
| Lisner Chuck | Individual | 100 | Pensacola, FL |
| Margie Victor | Individual | 100 | Tyler, TX |
| Marian Weaver | Individual | 25 | Bisbee, AZ |
| Marilyn Glass | Individual | 100 | Tyler, TX |
| Marjorie Ream | Individual | 500 | Tyler, TX |
| Martin Muntz | Individual | 11550 | Tyler, TX |
| Mary K Peltier | Individual | 500 | Tyler, TX |
| MaryMargaret Ryder | Individual | 100 | Tyler, TX |
| Janee McGoff | Individual | 25 | Tyler, TX |
| Melissa Briscoe | Individual | 50 | Whitehouse, TX |
| Melissa Decarlo | Individual | 500 | Tyler, TX |
| Michael Allen | Individual | 300 | Tyler, TX |
| Michael Gross | Individual | 1000 | Tyler, TX |
| Michael Jarrett | Individual | 500 | Tyler, TX |
| Milner Lilyan | Individual | 100 | Kilgore, TX |
| Myka Berkson | Individual | 100 | Tyler, TX |
| Nancy Lamar | Individual | 50 | Tyler, TX |
| Neal Katz | Individual | 1500 | Tyler, TX |
| Neal Katz | Individual | 40 | Tyler, TX |
| O.L. Gilbert | Individual | 200 | Boynton Beach, FL |
| Owen Rebecca | Individual | 1000 | Tyler, TX |
| Patricia Terrell | Individual | 125 | Tyler, TX |
| Patrick Thurmond | Individual | 200 | Tyler, TX |
| Patty Steelman | Individual | 100 | Tyler, TX |
| Paul Andrews | Individual | 100 | Tyler, TX |
| Paul Pitts | Individual | 500 | Tyler, TX |
| Paul Wick | Individual | 200 | Tyler, TX |
| Paula Jackson | Individual | 25 | Tyler, TX |
| Precia Graham | Individual | 20 | Mabank, TX |
| Rathbone Andrea | Individual | 25 | Flint, TX |
| Rebecca Owen | Individual | 1000 | Tyler, TX |
| Resnik Linda | Individual | 100 | Tyler, TX |
| Richard York | Individual | 100 | Tyler, TX |
| Rita Fryer | Individual | 100 | Tyler, TX |
| Robert Friedman | Individual | 100 | Bellaire, TX |
| Roberts Steve | Individual | 100 | Tyler, TX |
| Robin Insalaco | Individual | 1000 | Tyler, TX |
| Ron Gleason | Individual | 200 | Tyler, TX |
| Ron Schoenbrun | Individual | 50 | Tyler, TX |
| Ross Sherman | Individual | 250 | Tyler, TX |
| Ruth Martinez | Individual | 25 | Lubbock, TX |
| Sally Smith | Individual | 250 | Tyler, TX |
| Sanford Fagg | Individual | 250 | Tyler, TX |
| Shana Goldstein Mackler | Individual | 100 | Nashville, TN |
| Shannon Dacus | Individual | 1000 | Ben Wheeler, TX |
| Sharff Benjamin | Individual | 50 | Valley Cottage, NY |
| Shepperd Beth | Individual | 25 | Tyler, TX |
| Sherry Skorkowsky | Individual | 100 | Tyler, TX |
| Shipp Cathy | Individual | 250 | Tyler, TX |
| Shumaker Eleanor | Individual | 100 | Fairfax, VA |
| Solomon Michael | Individual | 100 | Austin, TX |
| Stacy Beyer | Individual | 50 | Nashville, TN |
| Steve Duffey | Individual | 100 | Tyler, TX |
| Steve Fisch | Individual | 100 | Plano, TX |
| Steve Higgbotham | Individual | 100 | Tyler, TX |
| Steve Hillis | Individual | 500 | Tyler, TX |
| Steve Roberts | Individual | 100 | Tyler, TX |
| Stuart Baskin | Individual | 100 | Tyler, TX |
| Sue Lander | Individual | 100 | Tyler, TX |
| Susan Katz | Individual | 50 | Virginia Beach, VA |
| Susan Keener | Individual | 100 | Longview, TX |
| Susan Oravetz | Individual | 50 | Tyler, TX |
| Suzanne Benson | Individual | 15 | San Antonio, TX |
| Suzanne Myers | Individual | 100 | Tyler, TX |
| Swain Colleen | Individual | 50 | Tyler, TX |
| Switsky Tana | Individual | 100 | Bullard, TX |
| Tammy Burnette | Individual | 50 | Tyler, TX |
| Tapley Martha | Individual | 25 | Tyler, TX |
| Ted Paup | Individual | 100 | Fort Worth, TX |
| Terry Combs | Individual | 200 | Tyler, TX |
| Thomas Dewitt | Individual | 100 | Tyler, TX |
| Tolmasoff Dale | Individual | 25 | Tyler, TX |
| Tom Hargrove | Individual | 400 | Tyler, TX |
| Toni Ferrell | Individual | 100 | Tyler, TX |
| Tracy Lisner | Individual | 300 | Tyler, TX |
| Twinkle Duncan | Individual | 75 | Tyler, TX |
| Valorie Hedrick | Individual | 50 | Tyler, TX |
| Verma Vikas | Individual | 5 | Merrill, WI |
| Vernau Mary | Individual | 100 | Tyler, TX |
| Watterston Shirley | Individual | 40 | Nacogdoches, TX |
| Zeid Yasser | Individual | 1000 | Longview, TX |
Matt Schaefer Campaign Donors - July 16, 2018 Filing
| Name | Type | Amount ($) | City, State |
| --- | --- | --- | --- |
| April Mahfood | Individual | 100 | Austin, TX |
| Brad and Janel Merritt | Individual | 250 | Tyler, TX |
| Carl & Carole Hodges | Individual | 50 | Arlington, TX |
| Clarence Stephan | Individual | 350 | Irving, TX |
| Dane Smith | Individual | 25 | Tyler, TX |
| Daniel and Paulette Johnson | Individual | 50 | Coyanosa, TX |
| David Lasser | Individual | 50 | Tyler, TX |
| Dean Nichols | Individual | 100 | Frankston, TX |
| Denny and Nancy Kennedy | Individual | 100 | Tyler, TX |
| Don and Sally Rohde | Individual | 50 | Tyler, TX |
| Edgar L. & Jo Helen McGee | Individual | 200 | Tyler, TX |
| Elizabeth Sutton | Individual | 100 | Tyler, TX |
| Ernest & Della Clark | Individual | 50 | Tyler, TX |
| Freddie & Laura Geese | Individual | 25 | Tyler, TX |
| Gene Moody | Individual | 50 | Flint, TX |
| George Harvey | Individual | 100 | Tyler, TX |
| H Apley | Individual | 10 | Flint, TX |
| H. Don & Betty Ann Smith | Individual | 100 | Tyler, TX |
| Herman & Pat Cryer | Individual | 25 | Tyler, TX |
| Ivor and Kathryn McKeown | Individual | 50 | Tyler, TX |
| James Perkins | Individual | 500 | Tyler, TX |
| Janet Booth | Individual | 250 | Bullard, TX |
| Jason Wright | Individual | 250 | Tyler, TX |
| Joe McMahan | Individual | 250 | Winona, TX |
| Joe & Betty McMahan | Individual | 100 | Tyler, TX |
| John Adams | Individual | 25 | Bullard, TX |
| Kenneth Depew | Individual | 18.36 | Tyler, TX |
| Kenneth Threlkeld | Individual | 250 | Tyler, TX |
| Kent & Theresa Nicholson | Individual | 300 | Tyler, TX |
| Lauretta & Glen Underwood | Individual | 50 | Tyler, TX |
| Marcia Johnson | Individual | 25 | Flint, TX |
| Max & Toni Anderson | Individual | 100 | Tyler, TX |
| Neal & Stephanie Vasso | Individual | 300 | Tyler, TX |
| Patsy Phillips | Individual | 25 | Tyler, TX |
| Robert Jackson | Individual | 25 | Tyler, TX |
| Ron & Pat Pinkenburg | Individual | 50 | Bullard, TX |
| Ruth York | Individual | 25 | Flint, TX |
| Sam Griffith | Individual | 100 | Tyler, TX |
| Shirley Pyle | Individual | 100 | Flint, TX |
| Stacy & Garet Leverett | Individual | 250 | Tyler, TX |
| Trevor Ahlberg | Individual | 2500 | Tyler, TX |
| Walter Moore | Individual | 50 | Tyler, TX |
| Smith County Republican Women | Entity | 1000 | Cisco, TX |
| Texas Dental Hygienist Assoc. PAC | Entity | 500 | Houston, TX |
| Tx Ophthalmological Assoc. PAC | Entity | 1000 | Dickinson, TX |