When Emily Franklin wears her mascot suit, she becomes a "hype beast" and embodies school spirit to share with Van High School and the community.
"You're in a costume and you get to be whoever you want to be," she said. "And nobody can say anything about it because mascots are so much bigger than what they're supposed to be."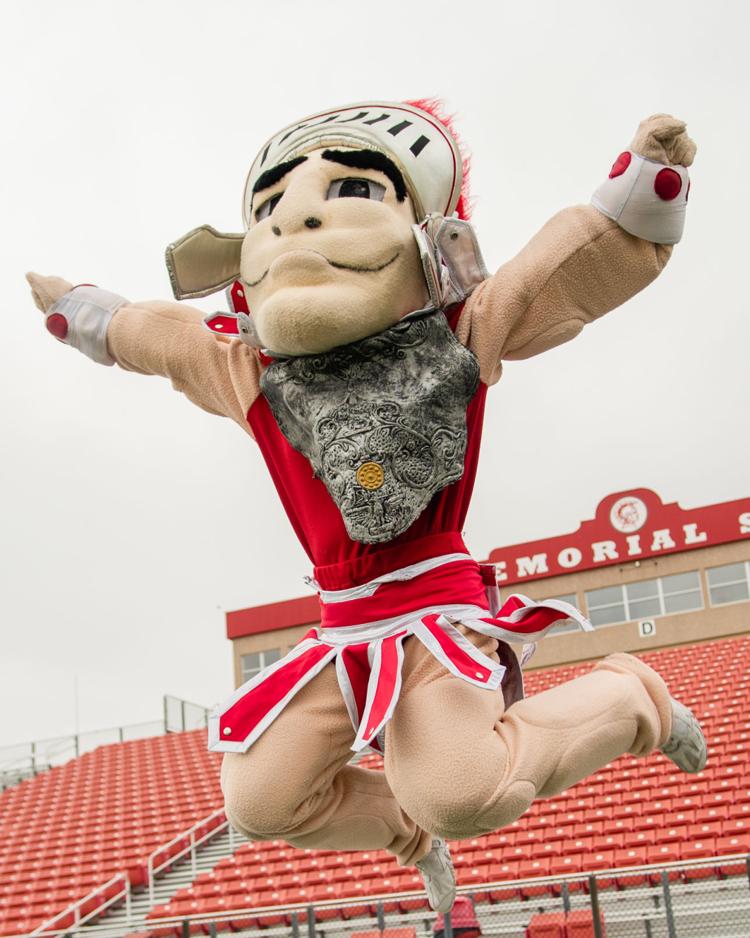 Van High senior Franklin, 17, calls herself clumsy and ditzy. "So when I'm in the suit, I can be that 10 times more than who I am outside of the suit," she said.
Her hard work as Van's Vince the Vandal paid off when she performed as one of 48 all-star mascots from across the country in the Citrus Bowl pregame, in Orlando, Florida, on Jan. 1.
Her invitation was a result of being chosen as a Mascot All-American from the National Cheerleaders Association while at camp at Texas A&M-Commerce last summer. She received All-American and Top All-American honors.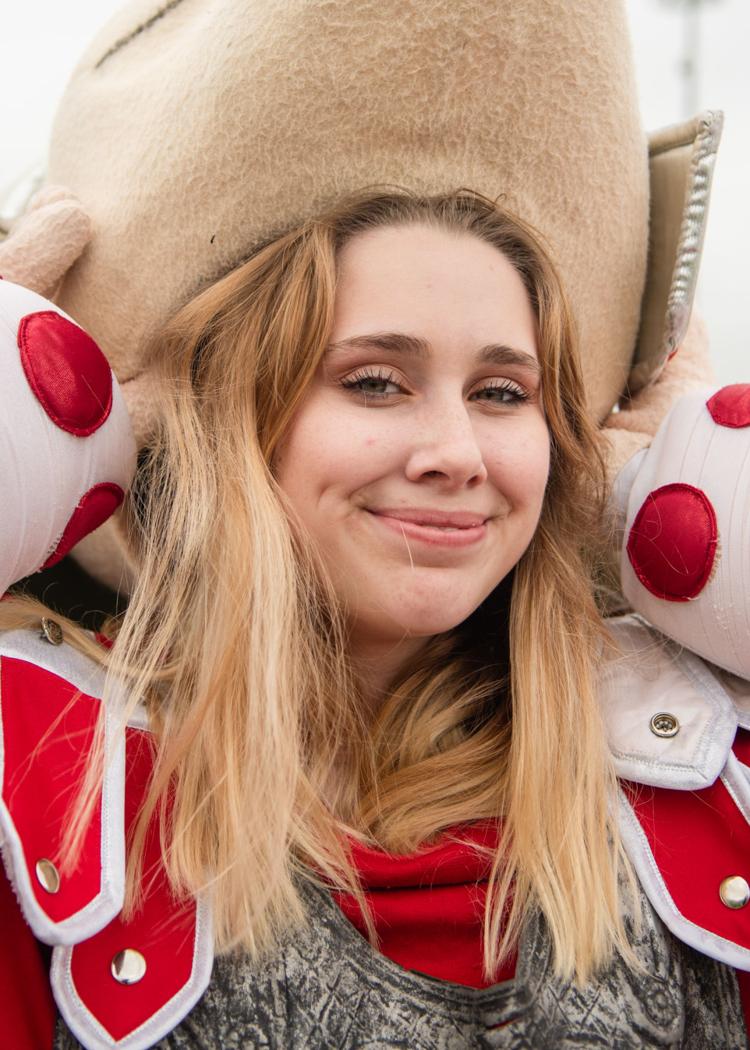 The All-Americans try out for the honor through the NCA and Universal Cheerleaders Association on their character development and crowd leading skills. Only 10% of mascots at NCA and UCA are chosen for a bowl performance, according to Varsity Spirit.
"I was just in shock," Franklin said. "It kind of had to register for a couple of days, then I was like, 'Oh my God, I'm going to the Citrus Bowl.'"
The mascots learned a big dance routine during morning practices and they spent the rest of the day at Walt Disney World. She said a lot of the other mascots had her personality.
"It's incredible. I didn't know that I was actually going to be this good. When I started out, I thought I'm just going to be an average mascot, but I have made more friendships," she said. "I think of myself as a legacy at this school. I'm going to miss it. I cried on senior night because I wished I'd done this before."
Franklin said she always thought about being a mascot, but her friends encouraged her to pursue it last year. She's always had a high level of school spirit, she said.
"In the student section, I was always in the front. I always started all the chants and I'd be crowd surfing," she said. "At pep rallies, I would go crazy."
Since becoming Vince the Vandal last March, Franklin has become someone to get the crowd excited at sporting events, band contests, birthday parties and more.
At football games, attendees can see her in costume with a cow bell and a messy get-loud sign. Sometimes, she'll take the cheerleaders' third-down sign.
During football season, Franklin will visit the kids in lower grades every Friday for mini pep rallies with the football players. Her first event as mascot was Vandal Victory, a Special Olympics event for kids across the area, in April.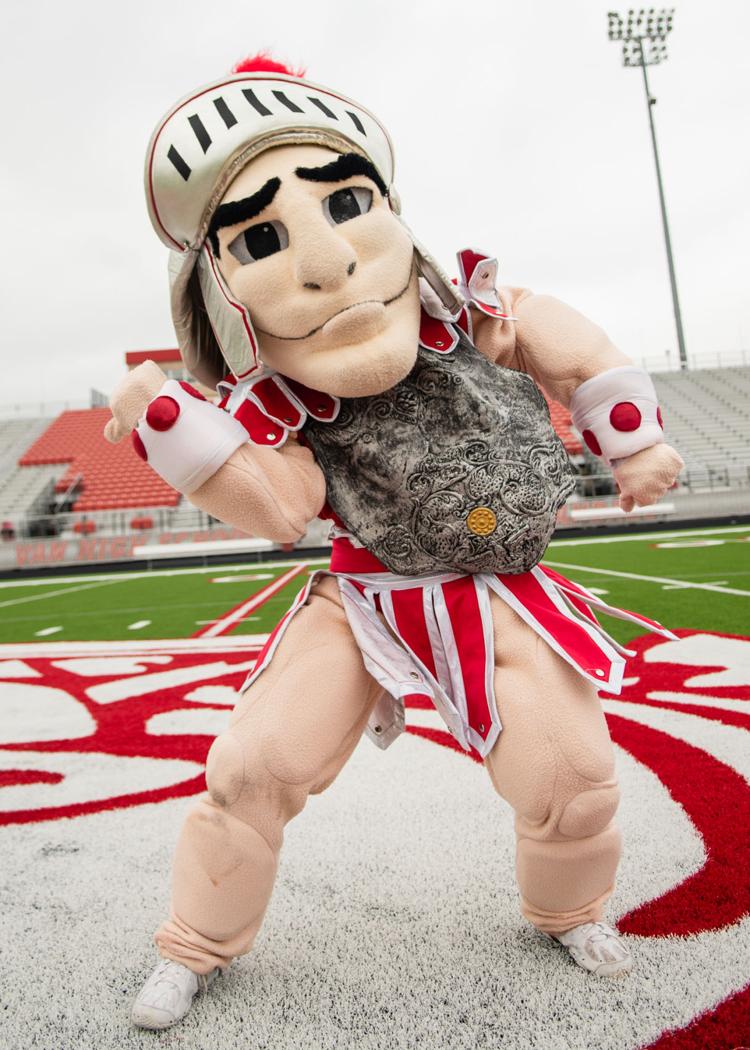 She also tries to be a role model for kids and supports people wherever she's needed, she said.
"It's actually kind of awesome. I love it. I like people's reactions. The main part of it is, kids, really, because for me, personally, it feels like I'm changing their lives," Franklin said. "When they see me, they're like 'Oh my God, it's Vince the Vandal.' It's really amazing."
Van High School cheer coach Elizabeth Harvey said Franklin is energetic and is willing to go anywhere and be the mascot.
"I'm proud of everything she's accomplished this year and getting to go perform because that's a big honor," Harvey said.
As mascot, Franklin and the cheer squad work well together and have bonded at cheer camps and get-togethers, Harvey said.
"They're a big part of who I am and how I am because we all bonded at cheer camp," Franklin said. "They've all accepted me and they considered me family and they'd do anything and everything for me. They're my number one supporters."
Before being Vince, she was in theater for five years, and tried out for cheer but didn't make the team. The band has also accepted her into its familylike group, she said.
"I go around the school and I'm like, 'You can't go to the band hall, but I can,'" she said. "It's incredible and I absolutely love it."
She calls her journey of being mascot and performing at the Citrus Bowl a rewarding experience that has taught her great dedication.
"I don't think I've ever been more passionate about anything in my life other than theater and this," she said. "This is something I absolutely love and I feel like I put a lot more work in it and beyond when it comes to mascot."
She was even asked to be the Grinch for a community Christmas party.
"The way I look at being mascot is I don't only represent Van High School, I represent Van community," Franklin said. "I just want to be there for the town."
Her mom, Monica Franklin, said Emily's experience as mascot has opened her up socially, improved her leadership skills and her ambition.
"It's made her push her limits. To be creative, you can't do the same thing every day," she said. "I believe it has developed her ability to communicate with others verbally or nonverbally and just outgoing, not being afraid to reach goals."
She's become accepted by various groups, including the cheerleaders, within the school through her time as mascot, her mom said.
"I think everybody should be a part of something," Monica Franklin said. "It doesn't matter what that something is as long as you're a part of something it helps you succeed, especially if it's something you enjoy every day."
As for the future, she wants to continue her mascot role into college. Her goal and dream in life is to be a pro mascot.
"It's kind of weird, but I'm excited for it. I hope I succeed," Franklin said.
She will attend Tyler Junior College and wants to bring back their mascot.
"They haven't had a mascot for almost two decades now, and I would like to bring it back," she said. "And I want to pitch them an idea like, 'I'm good for your school, I can do this.'"
Her favorite mascot of all time is the Chicago Bulls' Benny the Bull, and her favorite NFL mascot is the Houston Texans' Toro. For colleges, her top choices are University of Florida's Albert Gator and Alberta Gator, University of Alabama's Big Al, and University of Minnesota's Goldy Gopher.
On Feb. 8, she will be trying out in Plano to be a NCA mascot instructor. The opportunity to try out required an application and letter of recommendation from her mascot coach.