Misty Lewis was among many other East Texans "walking out" on lung cancer Thursday morning.
Lewis, lung nodule program manager and nurse in the pulmonary clinic at UT Health, was honoring her father who died years ago from chronic obstructive pulmonary disease, or COPD. The lung condition blocks airflow and restricts the lungs. Lewis said her father was a smoker and his condition got so bad, he couldn't walk 5 feet due to how easily he would run out of breath.
Lewis was among other physicians, nurses and healthcare professionals across the UT Health system and members of the public to "walk out lung cancer" at the Camp Fannin Walking Trail in Tyler. The walk allowed participants to advocate for patients and loved ones who have had a lung disease or cancer.
Lewis said it wasn't until she started working at the pulmonary clinic that she began to understand how hard it was for her father to stop smoking cigarettes.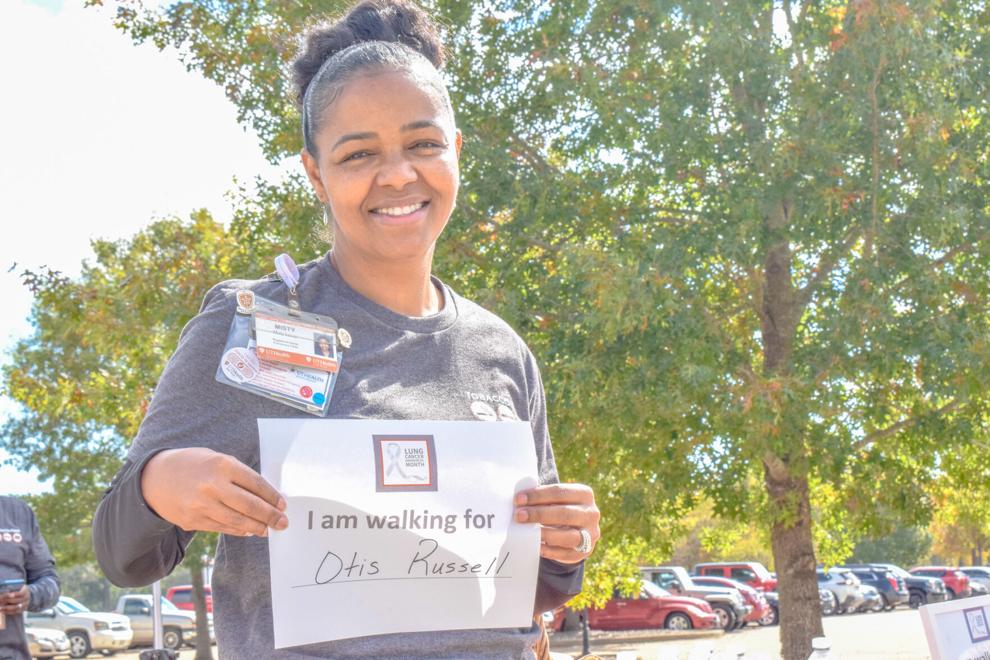 "It is actually an addiction, and we don't look at it like that. We can say, 'put that down' easily, but people cannot put a cigarette down easily. It's a struggle," Lewis said, adding the hospital has multiple programs to assist smokers in quitting, as well as over-the-counter remedies to stop nicotine cravings.
She said working in this profession showed her how much smoking can negatively affect a person's health.
"When you're smoking that cigarette, really, we look at the lungs, but that smoke is going through every organ in your body, so the damage can occur anywhere," Lewis said.
Dr. James Fox, physician in pulmonary and critical care at UT Health, said lung cancer is directly attributable to smoking cigarettes and it can be cured if detected and treated early. But if the cancer detected late, it is incurable.
"We want to promote wellness for our patients, both to make our patients aware of the dangers of smoking and that there are resources for patients," Fox said. "Their doctors can help them in learning how to quit smoking."
He emphasized lung cancer screenings, especially for people who have a heavy smoking history and those between 50 and 80 years of age. Fox said prior to screening technology, patients didn't see symptoms until they were at later stages of the cancer.
"We like to educate about how easy the lotus cat scan is. It has only about one-fifth or 20% of the radiation of the regular cat scan," Fox said, adding it's a fast tool used to evaluate a patient for lung cancer or diseases.
The main thing people can do to avoid lung cancer is to avoid smoking, as it is directly attributable to lung cancer.
"That's why we encourage our patients they can quit and there are things that can be done to assist them," Fox said.
Dr. Paul McGaha, Smith County health authority and physician at UT Health, also attended the event to educate on the smoking rate in the county, which is about 15 to 16%, above the national average of 14%.
He said rates are higher in rural areas of East Texas and encouraged smokers to quit and others to never pick up the habit.
"You can combine the number of deaths from breast cancer, colon cancer and prostate cancer and there will be more people who will die from lung cancer this year than all three of those," Fox said, emphasizing the importance of early screenings.
Fox also explained the difference between secondhand and thirdhand smoking. Thirdhand smoking, he said, is related to the effects of being in an environment where there has been ongoing smoking in confined space, leaving smoke in couches, walls, drapes and more. Secondhand smoking happens when someone is around a person who smokes cigarettes. Fox said secondhand smoking could cause aggravated conditions, such as asthma in children who are around smokers.
Three years ago, UT Health collaborated with the Cancer Prevention Institute of Texas to help smokers quit smoking cigarettes. They received a grant to fund a first-of-its-kind program at the hospital.
Tonny Williams, program coordinator for the Tobacco-Free Northeast Texas Grant Program, said Northeast Texas has the highest nicotine addiction rate in the state of Texas, at about 31%. The program is free to the citizens of Texas.
"As long as you're a Texas resident, you can get on this program. This program is free, as long as you're 18 years or older, live in the state of Texas and you are using nicotine," he said. Pregnant women do not qualify for the program.
Williams said program participants who wish to quit smoking visit with professionals over the phone and medications are sent directly to a mailing address. The program has a 43% success rate, he said. To enroll or for more information on the tobacco cessation program, call 713-794-3175.