A fundraiser has been set up for the woman who lived in the upstairs loft of the downtown Tyler antique shop that was severely damaged by a fire Tuesday morning.
Polly Hitt, a vendor for Ye Olde City Antique Mall, was able to get out safely, but she lost everything due to smoke and water damage.
After a couple of hours battling heavy flames, Tyler firefighters controlled the fire at the shop, 302 E. Locust St., and officials are conducting an investigation to determine the cause.
City of Tyler Fire Marshal Paul Findley said firefighters arrived at the structure at around 8:15 a.m. Flames and smoke were coming from the shop.
No injuries were reported. Findley said the bulk of the fire was controlled by about 10:30 a.m.
Findley said the fire caused severe damage throughout the building, but there are areas that have no damage. With at least one fire wall, the damage was contained to certain areas.
The fire damage was kept out of the upstairs residence but the room could have smoke damage, he added.
"We've had firefighters in that upper part and it looks like they were able to keep the fire out of that area," Findley said. "As you can see that is a large structure with a heavy, heavy fire load, meaning that there's lots of combustibles (lots of things that burn if it ever gets started). That's challenging for sure for these personnel."
Hitt sold necklaces at the antique shop as a part of her business, Neck Collections. The fundraiser can be found at gofundme.com by searching Polly Hitt.
Sandra Herring, manager of the Ye Olde City Antique Mall in downtown Tyler, said she was sad to see the business she ran for 12 years go up in flames. Herring said she received a phone call from Hitt about the fire.
Findley said the fire department regularly responds to fires in the city and there are policies in place in the event of larger incidents.
The fire department responded with five engine trucks and two ladder trucks. The Tyler Police Department assisted with diverting traffic as firefighters battled the flames. UT Health East Texas EMS were also on the scene in the event of injuries.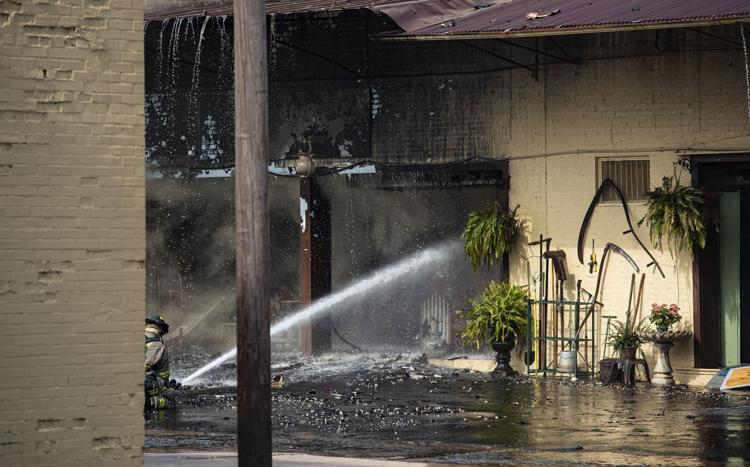 "It's good on a day like today with a fire out this magnitude to make sure we have them (EMS) on standby," he said.
As of Tuesday afternoon, there was one engine truck, a ladder truck and two investigators at the scene. Investigators were putting out hot spots after putting out the majority of the flames were controlled.
Herring said the building has a lot of history and her great-grandfather actually worked in the building.
"We have wonderful dealers and a great customer base that come to the mall all the time, and this is their getaway," Herring said. "This is their peaceful place. He was a pioneer in the city. He came to Tyler in the 20s to lay the water lines and the sewer lines."