Navy veteran Bob Walters, 91, of Tyler, served on the staff of the Western Seafront Command in San Francisco during World War II. On Thursday, he was at Tyler Pounds Regional Airport dressed in red, white and blue, waiting for his flight to depart.
Nearby, R.C. Lloyd, of Troup, a military policeman during the Korean War, also awaited the flight.
Lloyd and Walters were two of the World War II and Korean War veterans slated to go on the 18th Brookshire's and Super 1 Foods Heroes Flight to Washington, D.C., send-off event.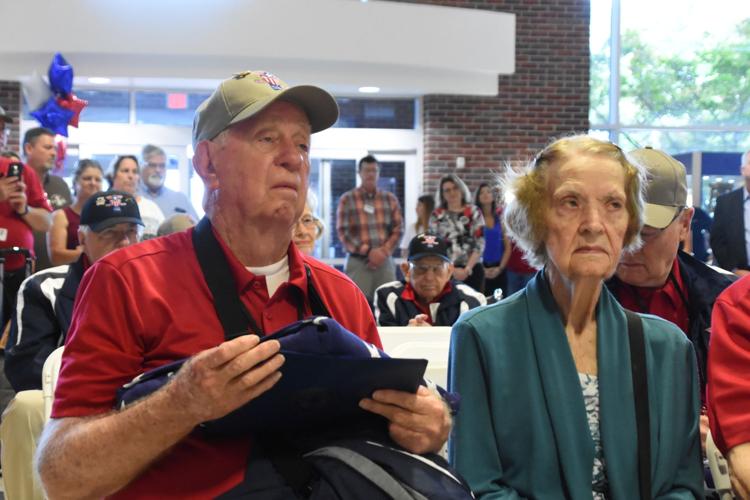 The Heroes Flight is an all-expenses-paid trip to visit the World War II, Korean War and Vietnam memorials; Arlington National Cemetery; the Air and Space Museum; and memorials honoring the U.S. Marines, Navy, Air Force, Abraham Lincoln, Franklin D. Roosevelt and the Rev. Martin Luther King Jr. The group also will tour the U.S. Capitol and meet with U.S. Rep. Louie Gohmert, R-Texas.
Walters said he loves to fly and got his private license after the war.
"I'm having a ball," he said. "I'm excited to see all the memorials and the Air and Space Museum."
Lloyd said he was in the 2nd Infantry Division and worked straggler control.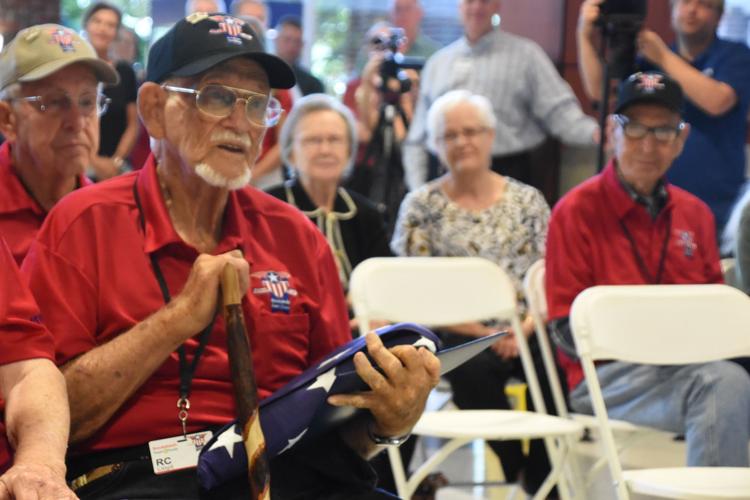 "We would stay about a quarter of a mile behind the front line and pick up soldiers who got separated from their units," he said. "We would get them back to their companies."
Lloyd, who was awarded the Bronze Star for his service, said he also served guard duty at Panmunjom during the peace talks that eventually put the war into a stalemate between North and South Korea.
During a ceremony at the airport, Brookshire Grocery Co. Chairman and CEO Brad Brookshire welcomed the group and thanked them for their service and sacrifices.
He said the trip is a chance for the veterans to be spoiled.
"This is our way as a company to thank you for your sacrifices," Brookshire said. "You are our country's greatest generation. Thank you for what you did for our country. You are a special group."
Students from All Saints Episcopal School gave each veteran a flag and certificates showing the flag was flown over the U.S. Capitol in their honor.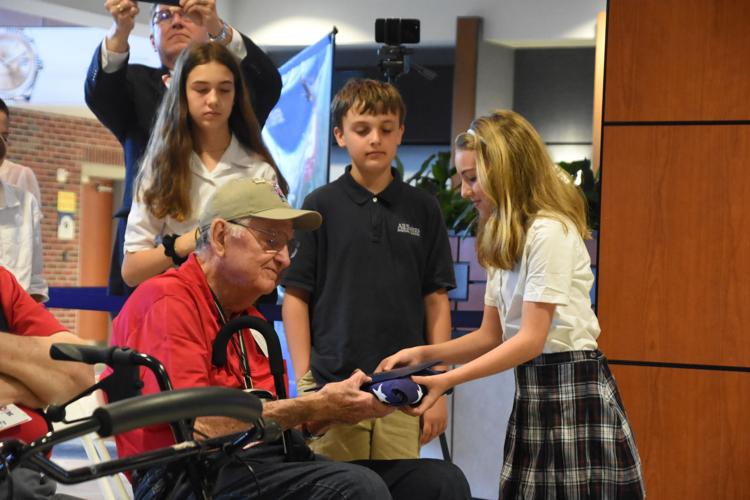 The veterans also received a Bible from the Gideons, much as they did prior to leaving for war. Many of the men tucked the Bibles into their shirt pockets while they waited to board the flight.
The Tyler Fire Department provided a water cannon salute to the plane as it taxied out onto the runway.
The plane was scheduled to stop in Monroe, Louisiana, to pick up another group of veterans before traveling on to Washington.
The group is scheduled to return about 6:15 p.m. Saturday. The community is invited to the welcome-home event.
East Texas Veterans on the Heroes flight included: 
Bill Battenfield of Troup
Raymond Flemming of Longview
Jerry Prestidge of Mount Pleasant
Roger Waggoner of Bullard