Day two of testimony is underway in the 241st District Court in Smith County for the intoxicated manslaughter trial of a Lindale woman who killed two people on Toll 49. 
Prosecutors rested their case against Jessica Lauren Vass, 36 on Tuesday after calling first responders and family members of Annette Burkhart, 56, of Garland and Gary McCrary, 62, of Flint, who were killed when Vass hit them when they were changing a tire on the side of Toll 49, north of Texas Highway 64, in Smith County.
Vass' defense team gave their opening statement to the jury Tuesday. Her attorney told the jury of seven women and five men they would be told about Vass' sobriety, hear from Vass' probation officer, mental health provider, her children, boss, ex-husband and also listen to Vass' personal testimony.  
Vass pleaded guilty to the second-degree felony charges on Monday. She waived her rights to a jury trial but elected to have a jury decide her punishment that could put her in prison for up to 20 years and make her pay a $10,000 fine. 
The defense focused its testimony on Vass' voluntary attendance in behavior modification training program. 
Vass' ex-husband Austin Vass took the stand and talked about the couple's two children a 9-year-old and an 8-year-old and their co-parenting arrangements.  
Austin Vass held back tears as he spoke about Jessica's parenting of their children. He praised Jessica's parenting. 
"She would get me Father's Day gifts for me from our kids even though we are divorced," he said. "She's dependable. I'd consider her empathetic."
He testified Jessica told him about the crash and accepted full responsibility for the crash on April 12, 2017. 
"I don't have to be here," he said. "If I thought she wasn't remorseful I wouldn't be here. I choose to be here because the person I know (Jessica) this is very much out of character. I want people to know I support her and I know she is genuine." 
In cross-examination, Smith County Assistant District Attorney Jeff Bullock asked Austin Vass what Jessica told him about the crash.
Austin Vass testified Jessica told him she went to a restaurant in downtown Tyler had dinner and drinks with her friends. 
"A friend drove her to Lindale where she went to another restaurant," he said. "Her friend dropped her off at her house in Lindale. Jessica got a text from a friend and she got in her car to pick him up in Chandler." 
Vass' defense team continued by calling Vass' former boss and a former teacher of Vass' child.
Vass' former boss told the court she hired Vass as a physical therapy assistant after the crash even through she was facing the intoxication manslaughter charges.
"This accident doesn't define who she is as a person," She said. "It didn't define her as a therapist. She told me what happened. How she stayed with Ms. Burkhart and how the thought of alcohol makes her physically ill."
Vass' current boss testified that Vass works for her as a physical therapy assistant in a home health care setting.
During the defense opening statements Vass' lawyer said she is still working, but not taking new patients because she knows she will be going to prison. 
"All of her patients love her and feel like she cares about them," she said. 
Vass' mentor and former Sunday school teacher testified she has talked to Vass extensively since the crash. She described her as having a servants heart. 
Vass' older brother Garrett Koslin testified to Vass' character. 
"She's a wonderful mother," he said. "The kids come first and foremost. She constantly does activities with them. We see each other at family gatherings in Austin." 
He said he picked up his mother and drove to Tyler from Austin after he found out about the fatal crash.  
"I saw a news article about the crash when we took her to the doctor," Koslin said. "She received a text from a friend that two people died in the crash. I was with her when she found out. She fell apart, cried and was on the edge of hysteria for about 15 minutes."
The defense also called a former babysitter of the Vass' children and a longtime friend to testify about Vass' character before the noon recess.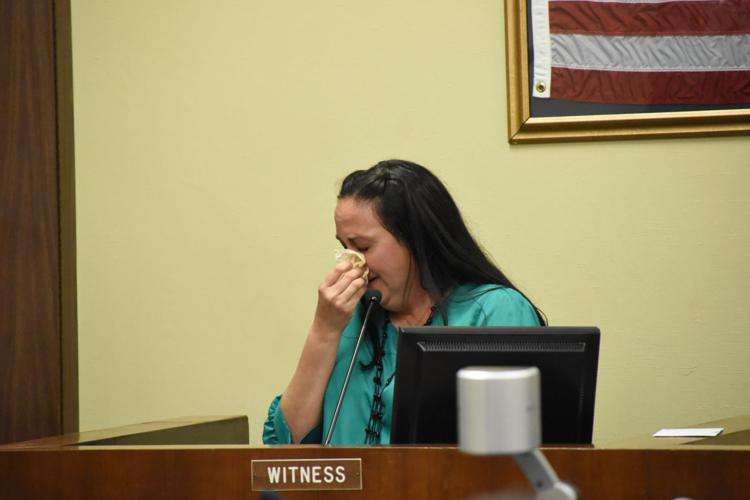 Vass' defense attorney will call at least two more witnesses before Vass takes the stand. 
A reporter is in the courtroom. 
This story will be updated when more information is available.