Tyler's city manager said that while the recent walk up COVID-19 testing sites did result in a lot of positive tests, the sites were unable to keep up with demand each day of testing. The Northeast Texas Public Health District also said that these increases in active cases do not include data from antibody testing.
City Manager Ed Broussard told the Tyler City Council on Wednesday that many of the 250 new active cases reported on Tuesday were from the recent walk up testing sites, and described the challenges they are facing getting residents tested.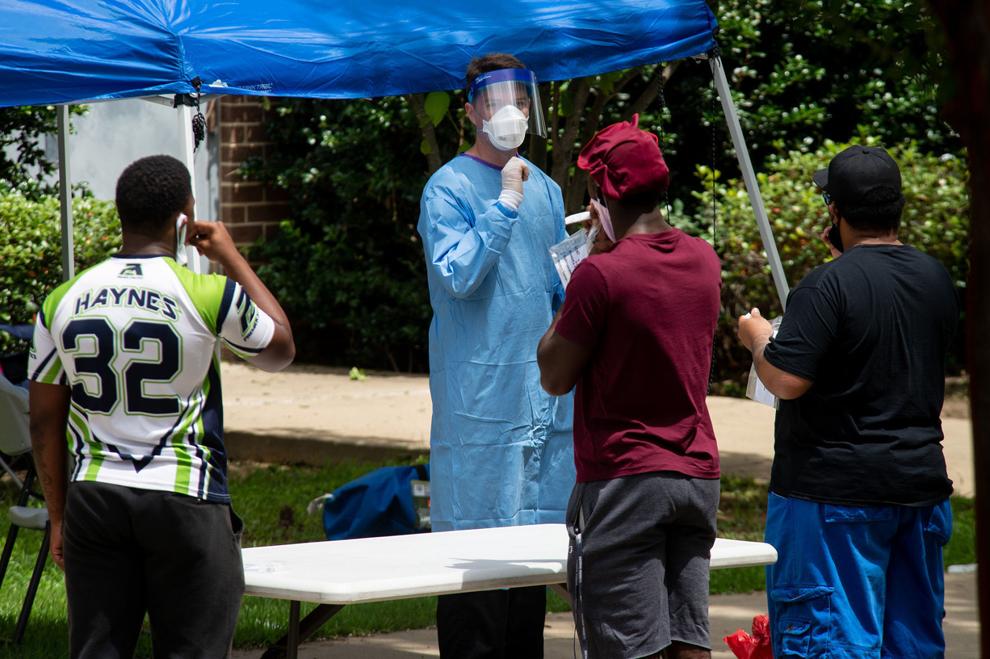 "We had 250 cases, much of that was St. Peter's Catholic (Claver) Church. Although with that I do want to state they actually ran out of testing materials each day," Broussard said.
He said that means that there are still a large number of people who felt they needed a test, but couldn't get one.
"That is still a major concern," Broussard said.
On Wednesday, NET Health said all daily reports of COVID-19 positive cases from mobile testing sites, hospitals and community clinics since early March do not include positive antibody tests.
"All of our 2,571 laboratory-confirmed positive COVID-19 results within our 7-county region are all positive results from polymerase chain reaction (PCR) tests that analyze samples from a persons nose or throat," NET Health stated.
Tyler Mayor Martin Heines, who was calling into the meeting, asked if contact tracing had began for those positive cases.
"With the huge number that was recorded yesterday, I'm assuming there are a lot of asymptomatic people in that list that were just walking around the community and didn't know they had it, but just wanted to be tested," Heines said.
Broussard said Tyler police and fire are stepping up to help contact trace.
Heines noted that he was in Sarasota, Florida, which also is seeing a significant increase in cases, and that residents seemed to be taking prevention more seriously than they had previously. Heines also asked how Gov. Greg Abbott's face covering order was being received locally.
Broussard said he was reluctant to speak anecdotally, but estimated around 50 to 75% of people he had seen were complying with the state's order to wear masks or face coverings.
Due to the increasing numbers of positive cases, Tyler Fire Chief David Coble said testing sites will likely shift to drive through formats, to keep people from having to queue in close contact.
Broussard noted that labs are close to their capacity to test, and expects that asymptomatic people who believe they may have the virus will have a harder time getting tested. Labs will likely begin prioritizing those with severe symptoms.
He also was asked about recovery rates, and offered some insight into how that number is calculated by the NET Health.
Broussard said that if NET Health is unable to contact people who have tested positive, then the organization will use a time-based formula to move them into the recovery numbers after two weeks.
"They'll have been taken off and put on the recovered list just because of time," Broussard said.
NET Health Public Information Officer Terrence Ates also noted the organization has been deluged with calls and emails about possible cases in the community. He said NET Health is actively responding to those situations as part of their duties for providing disease surveillance in the community and at work places, but noted they have an obligation to protect private health information.